Sports
Spieth knocking at the door
Mon., July 20, 2015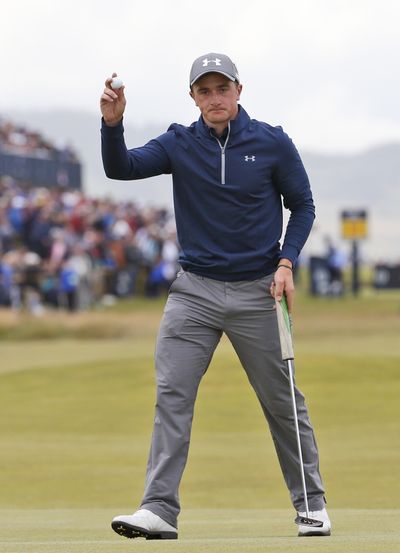 ST. ANDREWS, Scotland – Jordan Spieth was coming off three straight birdies when he trotted off the 13th tee, heading straight to a portable toilet reserved for players only.
Kicking the door playfully, yet firmly, it popped open. His surprised caddie quickly popped out, clearing the way for the boss to go in.
Nothing, it seems, gets in the way of this kid when he wants something. And right now there's nothing Spieth wants more than his name on the claret jug that goes to the British Open winner.
His 6-under 66 Sunday didn't crown a new Open champion, or give him the modern Grand Slam no one has ever won. There's still a day to go on the Old Course, and a PGA Championship to be played before we start talking about Spieth in terms of golf history, or perhaps even golf immortality.
But on Monday he'll play for a third straight major championship win at the tender age of 21. Judging from recent history, there's no reason to think he won't get it done.
Not after an impeccable back nine that pulled him within a shot of the lead. Not when he's so coolly confident that he's embracing the idea of what might be instead of worrying about the magnitude of what it would be.
"I'd like to have a chance to do something nobody has ever done," Spieth said. "To be able to try and go into the last major and accomplish something that's never been done in our sport is something that only comes around to a couple people ever. I'd like to be one of those people to have that happen."
He's Tiger Woods without the hysteria of Tigermania, and he's now on the verge of doing something even Woods wasn't able to do. The run Spieth is on is so special it brings back memories of Woods in 2000-01 when he held all four major championships – thought not in the same year – in what became known as the Tiger Slam.
Look at him, and he seems as non-descript as any other young player in what has become a homogenous game. Look closer, and he burns with the fire that only the greats can somehow find a way to channel.
Spieth won the Masters after leading from almost the moment he stepped on the first tee, then added the U.S. Open when Dustin Johnson 3-putted the last hole. He's not about to be overcome by the moment on Monday, something that those in front of him may not be able to honestly say.
"Right now I feel even more calm than the Open, when I was certainly feeling better than the Masters," Spieth said. "I just think I have a little more experience in this position than I did."
That experience showed when Spieth 3-putted from off the green on the ninth hole for a bogey that pretty much ruined any positive feelings he had about his front nine. He was so upset that he went over and punched his golf bag in anger.
Woods used to do the same kind of thing when he needed to refocus. Woods also used to do the kind of thing Spieth did next – reel off birdies on the next three holes.
"Walking off of nine green was as frustrated as I've been in a tournament other than off of 14 yesterday morning," Spieth said. "I don't normally ever display frustration. I did both times."
By the time he got to the 18th hole, Spieth was in a much better mood. He and Sergio Garcia shared a laugh when Garcia nearly played out of turn, and many in the crowd cheered when he pulled out a driver to replace his 3-wood off the tee.
"Tiger who?" someone screamed out.
Indeed, there was a feeling in the air that in a land of royals, this was golf's new king. People crowded 10 deep behind the fence on the 17th to watch, while John Daly and his fiancee were among those sitting on the veranda of the Old Course hotel to catch a glimpse.
Spieth will go out Monday a stroke behind three players, including Louis Oosthuizen, who won the Open the last time it was held here in 2010. He'll do it knowing he has stood up under pressure in major championships while not all those around him have.
"There's really no downside," Spieth said. "If we have a chance to win and we don't execute tomorrow, then we're going to be OK. And with that attitude, it actually frees me up a little bit to say I can take these extra chances. Maybe just a little more comfort tonight in my sleep."
Sleep shouldn't be a problem for Spieth, who after a late arrival this week – he was busy last Sunday winning the John Deere Classic – has finally adjusted to the time zone.
It's the other players who might toss and turn all night long knowing he's in position to win once again.
Local journalism is essential.
Give directly to The Spokesman-Review's Northwest Passages community forums series -- which helps to offset the costs of several reporter and editor positions at the newspaper -- by using the easy options below. Gifts processed in this system are not tax deductible, but are predominately used to help meet the local financial requirements needed to receive national matching-grant funds.
Subscribe to the sports newsletter
Get the day's top sports headlines and breaking news delivered to your inbox by subscribing here.
---