News > Nation/World
No plans to pull, update 'Cosby' book
Thu., July 23, 2015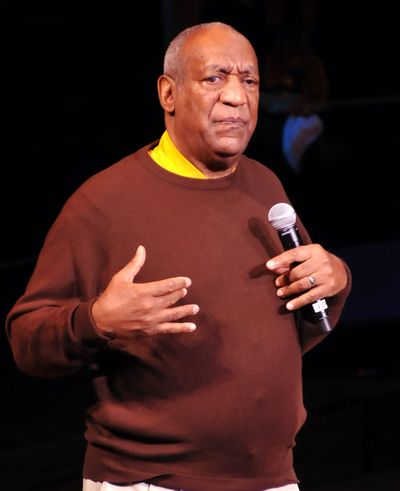 No revisions or future editions are planned for a disparaged Bill Cosby biography, the publisher told the Associated Press on Wednesday.
Simon & Schuster vice president and executive director of publicity Cary Goldstein told the AP that no paperback has been scheduled for Mark Whitaker's "Cosby" and that no changes will be made in the e-book or hardcover, which came out last September to positive reviews but was soon heavily criticized for overlooking the many allegations against Cosby, 78, of sexual assault.
Goldstein said there are no plans to pull the book entirely, although that decision seems unlikely to be needed. "Cosby" has sold poorly in recent months and the hardcover ranked No. 350,880 on Amazon.com's best-seller list as of late Wednesday afternoon. The only hardcovers available on Amazon were from third-party sellers, while the e-book ranked No. 301,470 on Amazon's list for Kindle purchases.
Earlier Wednesday, Simon & Schuster told the AP that because of "recent events" it had pulled blurbs from Billy Crystal, Mary Tyler Moore and other celebrities from dedicated Web pages on Amazon, Barnes & Noble.com and other retailers. Moore's quote had read: "If I was America's 'sweetheart' – turning the world on with a smile – then Bill Cosby was and still is our 'best man.' " Crystal had called the book "A revealing, honest look at my favorite comedian."
Others praising "Cosby" included Jerry Seinfeld, David Letterman and Wynton Marsalis. Goldstein said that representatives from some of the celebrities had contacted Simon & Schuster about removing their blurbs, but declined to cite specific names.
More than two dozen women have come forward in recent months to accuse Cosby of molesting them. His agents have disputed many of their accounts, and he has not been charged with a crime. In court documents obtained by the Associated Press, Cosby admitted to using quaaludes to drug women before sex.
Flavor Flav facing DUI in Las Vegas
Rapper Flavor Flav has been charged with DUI and other counts after being arrested in May near the Las Vegas airport.
Clark County prosecutors charged the reality television star on July 16 with driving under the influence involving cocaine, speeding and having an open container of alcohol.
The performer's legal name is William Jonathan Drayton.
The Nevada Highway Patrol said he was pulled over on a freeway on-ramp on May 21 near McCarran International Airport for traveling 87 mph in a 65-mph zone.
The birthday bunch
Actress Gloria DeHaven is 90. Supreme Court Justice Anthony Kennedy is 79. Radio personality Don Imus is 75. Actor Woody Harrelson is 54. Rock musician Martin Gore (Depeche Mode) is 54. Rock musician Slash is 50. Country singer Alison Krauss is 44. Actor-comedian Marlon Wayans is 43. Actress Kathryn Hahn is 42. Former White House intern Monica Lewinsky is 42. Rhythm-and-blues singer Michelle Williams is 35. Country musician Neil Perry is 25. Country singer Danielle Bradbery ("The Voice") is 19.
Local journalism is essential.
Give directly to The Spokesman-Review's Northwest Passages community forums series -- which helps to offset the costs of several reporter and editor positions at the newspaper -- by using the easy options below. Gifts processed in this system are not tax deductible, but are predominately used to help meet the local financial requirements needed to receive national matching-grant funds.
Subscribe now to get breaking news alerts in your email inbox
Get breaking news delivered to your inbox as it happens.
---