News > Obituaries
Obituary: Braun, David Lee "Dave"
Age 65
Wed., July 29, 2015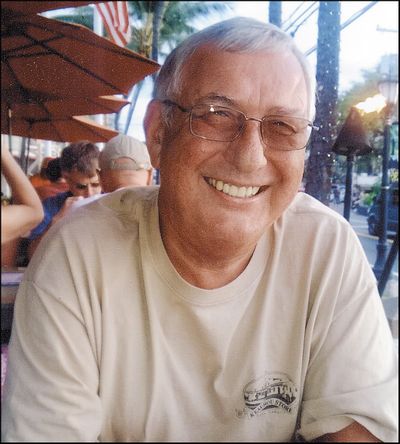 BRAUN, David Lee "Dave" (Age 65) Dave was the youngest of three children born to Aaron and Florence Braun.
He was born October 26, 1949 and passed away at home in Ritzville on July 24, 2015 after a brief but courageous battle with cancer.
He was preceded in death by his parents; his brother Dale and his daughter, Angie.
Dave is survived by his wife of 38 years, Carla Steinmetz Braun; his son, Dustan (Crystal) Braun of Spokane; four grandchildren: Aaron, Tyler, Sadie and Krista; one great-granddaughter, McKenna; and his sister, Kae (Harold) Koch of Chehalis.
Dave graduated from Ritzville High School in 1967, attended Big Bend Community College receiving his private pilot's license; the first step into his goal of becoming a commercial pilot.
Instead, he served in the Army as a warrant officer and helicopter pilot before returning home to Ritzville.
As a lifetime resident of Adams County, Dave loved farming and was awarded farmer of the year in 2008.
He was a jack of all trades and enjoyed working with his hands.
Many examples of his handwork in wood, glass or metal can be seen in and around the yard at his home.
Dave was a voracious reader of history, reading as much as one book a day when time allowed.
Dave and Carla traveled to many of the historical areas he read about and wanted to see.
Dave loved to cook.
His love of cooking showed in the meals he would prepare.
Often you would find a new recipe he "just had to try" gracing the dinner table.
I addition he cooked many several course dinners that were auctioned off with the proceeds benefiting local organizations.
Two things Dave collected and enjoyed were an extensive collection of cookbooks with recipes spanning over 100 years.
Also a collection of John Wayne memorabilia including copies of every movie made by John Wayne.
Dave was active in many community events doing whatever was needed to help.
He will be greatly missed by his family and friends.
A private interment will be held at Ritzville Memorial Cemetery.
A Celebration of Life service will be held Friday July 31, 2015 at 2:00 PM at Zion Philadelphia UCC in Ritzville.
In lieu of flowers, please consider a donation in David's memory to the Adams County Pet Rescue, PO Box 311, Ritzville, WA 99169.
Danekas Funeral Home and Crematory-Ritzville is entrusted with arrangements.
Local journalism is essential.
Give directly to The Spokesman-Review's Northwest Passages community forums series -- which helps to offset the costs of several reporter and editor positions at the newspaper -- by using the easy options below. Gifts processed in this system are not tax deductible, but are predominately used to help meet the local financial requirements needed to receive national matching-grant funds.
Subscribe now to get breaking news alerts in your email inbox
Get breaking news delivered to your inbox as it happens.
---