News > Spokane
Pasco ex-policeman arrested in 1986 Spokane killing
UPDATED: Wed., June 3, 2015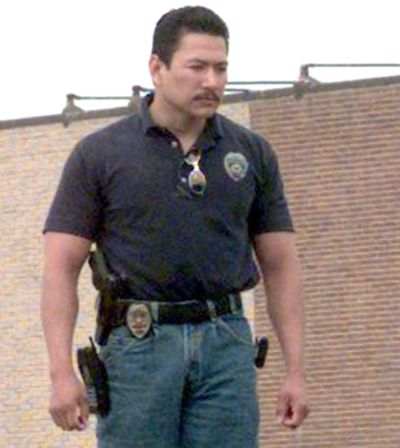 Update from Wednesday morning news conference
Spokane police said Wednesday morning that they have conducted five searches in the past month in the Tri-Cities area as part of an investigation into Richard Aguirre, a former Pasco police officer suspected of killing a woman in 1986.
Police said they have recovered a volume of video recordings, including audio sound, that show sexual acts.
Capt. Eric Olsen said police are asking that witnesses or potential victims of sex acts to come forward and provide information in the case. Investigators also seized cell phone and computer records.
He said charges of voyeurism and rape are being investigated. "We are still trying to locate more witnesses," Olsen said.
A court document filed in the case involving the 1986 death of Ruby Doss said that investigators found earrings, a steak knife and a used condom. Her body, found in the vicinity of the former Playfair horse track, was still warm.
Evidence showed that the two struggled in a manure pit at the track and that Doss was strangled to death after being bludgeoned.
In addition, detectives interviewed a man who grew up with Aguirre in Sunnyside, and the man said that he and Aguirre would go to strip clubs and taverns on East Sprague. On at least one occasion, the friend said they contacted or solicited prostitutes, the document said. The friend also said that Aguirre told him that he "hit a woman on the head" and choked her, but she was still moving when he walked away, according to the document.
Original story
Spokane police have arrested a former Pasco police officer suspected of strangling a woman in 1986.
Detectives brought Richard J. Aguirre, 51, to the Spokane County Jail, where he awaits formal murder charges in the killing of Ruby Doss.
Aguirre was identified through DNA evidence as a suspect in the three-decade-old Spokane homicide case about a month ago. Police suspect he killed Doss, a 27-year-old prostitute from Detroit, who was found strangled and with a head injury near the intersection of North Fiske Street and East Ferry Avenue in January 1986.
Aquirre was scheduled to appear this afternoon in Spokane County District Court on the charges.
Aguirre, who recently resigned after 27 years with the Pasco Police Department, also has been accused of an unrelated sexual assault in the Tri-Cities area last year. He pleaded not guilty May 6 to a third-degree rape charge in that case.
Aguirre had been on paid leave since the rape allegation was made in November. He was not in police custody, though a judge barred him from leaving Benton or Franklin counties.
Spokane police say DNA that Aguirre voluntarily submitted during the rape investigation matched DNA from evidence collected at the scene of Doss' killing. They say his DNA also is being considered in several other unsolved homicides. Doss was the first of at least five Spokane women, most of them prostitutes, who were strangled between January 1986 and August 1987.
Aguirre's attorney, Scott Johnson, maintained that Aguirre did not kill Doss and said he's disappointed about the arrest.
"But we're relieved in a sense because this has been hanging over Rich's head for some time," Johnson said. "Now we can actually fight the case with real facts."
On Tuesday, three Spokane police officers walked into a court hearing on the alleged sexual assault in Kennewick and arrested Aguirre, the Tri-City Herald reported. Spokane investigators previously showed up at a hearing in Franklin County Superior Court to ask Aguirre for his pass code to a cellphone seized during a search of his Pasco home, the newspaper reported.
Aguirre, who has no criminal history, lived in Spokane with his wife and was stationed at Fairchild Air Force Base during the time Doss was killed. Aguirre joined the Pasco Police Department in 1987 and the couple divorced in 1990, according to court records.
Local journalism is essential.
Give directly to The Spokesman-Review's Northwest Passages community forums series -- which helps to offset the costs of several reporter and editor positions at the newspaper -- by using the easy options below. Gifts processed in this system are not tax deductible, but are predominately used to help meet the local financial requirements needed to receive national matching-grant funds.
Subscribe to the Coronavirus newsletter
Get the day's latest Coronavirus news delivered to your inbox by subscribing to our newsletter.
---