Sports
Johnson scores as Lightning even Stanley Cup Final
Sun., June 7, 2015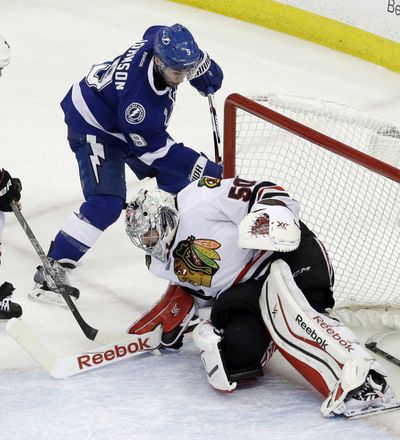 TAMPA, Fla. – Andrei Vasilevskiy had no warning before Ben Bishop skated over to the Tampa Bay bench and went up the tunnel. Just like that, a 20-year-old Russian rookie was playing goalie for the Lightning in the third period of a tied Stanley Cup Final game.
Vasilevskiy barely had time to feel any nerves before the Lightning scored. Bishop returned – and then left again, apparently struggling with an undisclosed injury.
But with his Tampa Bay teammates playing ferociously in front of him, Vasilevskiy had nothing to fear as the Lightning tied the series with a 4-3 win.
Jason Garrison scored the tiebreaking power-play goal with 11:11 to play, Vasilevskiy made five saves in a strange 9:13 of relief work, and the Lightning beat the Chicago Blackhawks in Game 2 on Saturday night to even the series.
"Nervous? Just maybe a little bit," Vasilevskiy said. "But after the first couple shots, I feel myself better. Every game I'm ready, and I keep my head ready for the game, and that's it. … First time, maybe more nervous. But second time, just play and that's it."
Nikita Kucherov had a goal and an assist for the Lightning, who played with all the aggression they lacked in the third period of Game 1 when Chicago rallied late to win.
The Lightning didn't say why Bishop left the game, came back and left again. He complained of interference on Brent Seabrook's tying goal early in the third period, but played on for a time.
Game 3 is Monday night in Chicago.
Spokane native Tyler Johnson and Cedric Paquette also scored, but the Lightning's revived offensive effort was somewhat overshadowed by three goalie changes in the third period.
Vasilevskiy earned his first career playoff victory, and the Lightning refused to say exactly what happened to Bishop or give any indication of his prognosis.
"No one really knew what was going on," Tampa Bay captain Steven Stamkos said. "We were kind of listening to the announcements for who was in net for our team a couple of times. But depth has been a part for our success all season, and it showed in the net tonight, as well."
Vasilevskiy has just 16 regular-season games of NHL experience, and he had played in just two games since March 31. But the Russian came in for 92 seconds before Garrison scored the go-ahead goal, and he returned to finish the game with 7:41 to play.
With his jarring No. 88 jersey and 45 previous minutes of NHL playoff experience, Vasilevskiy handled his surprise assignment splendidly. He made an outstanding pad save with less than 5 minutes to play as Tampa Bay killed a penalty, and he stayed strong while Tampa Bay prevented Chicago from mounting another third-period comeback.
Johnson then ended his five-game goal drought with his NHL-leading 13th goal of the postseason. Blackhawks goalie Corey Crawford probably should have saved the backhand, but it slid across his sweater and dropped in for Johnson's first goal since Game 3 of the Eastern Conference finals.
Seabrook evened it with 16:22 left in the third, teeing up a hard shot with no opposition after the Tampa Bay defense got distracted by captain Jonathan Toews. Bishop claimed Marian Hossa interfered with him on top of his crease, but the goal stood.
Local journalism is essential.
Give directly to The Spokesman-Review's Northwest Passages community forums series -- which helps to offset the costs of several reporter and editor positions at the newspaper -- by using the easy options below. Gifts processed in this system are not tax deductible, but are predominately used to help meet the local financial requirements needed to receive national matching-grant funds.
Subscribe to the sports newsletter
Get the day's top sports headlines and breaking news delivered to your inbox by subscribing here.
---
Subscribe and log in to the Spokesman-Review to read and comment on this story