News > Spokane
Spokane considering school zone cameras after study finds lots of speeders
Thu., March 5, 2015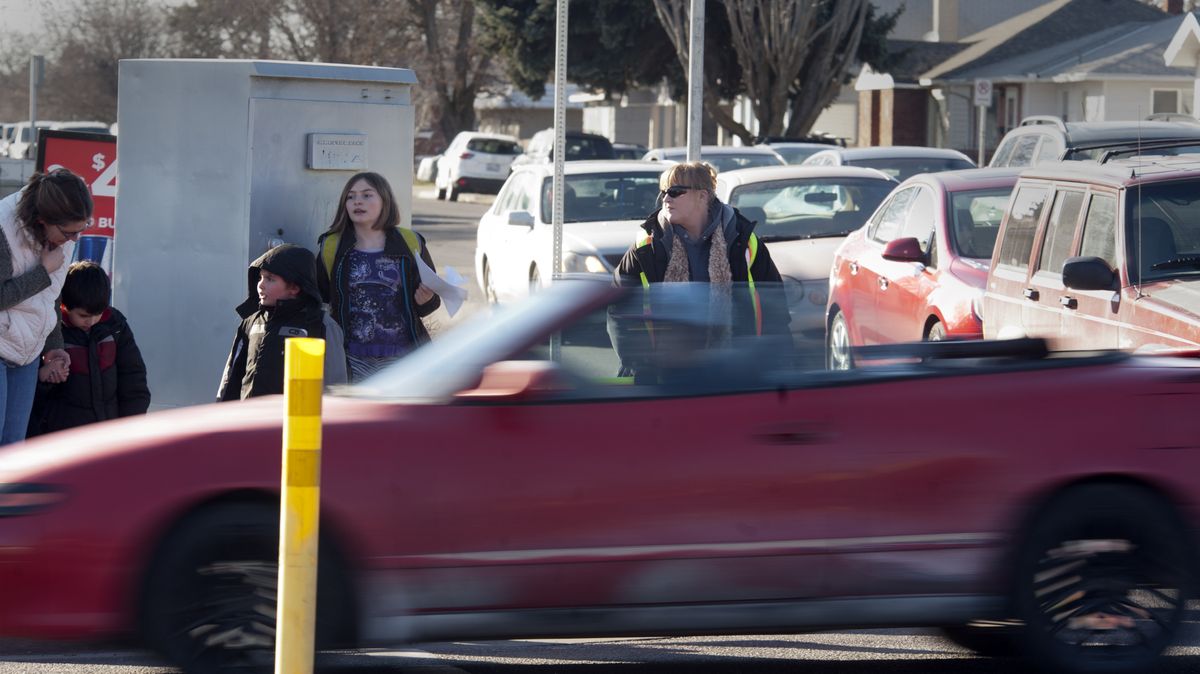 Crossing guard Jessica Martin, right, waits for the lights to change before helping Longfellow Elementary students cross Nevada Street at Empire Avenue in Spokane on Tuesday. The busy school crossing is one of the places the city of Spokane may place a speed camera to ticket those going over 20 mph during the times students are present before and after school. (Jesse Tinsley)
A couple of times each weekday, yellow lights flash along Spokane's Northwest Boulevard near Finch Elementary, warning drivers to check their speed and watch for children.
They usually go unnoticed.
On a recent day in February, 84 percent of drivers heading southeast on the road during posted "slow" hours were clocked at more than 26 mph – 6 mph over the 20 mph speed. If a police officer had written a ticket for each of the 438 people who sped that day, the $210 tickets would total at least $90,000.
Fortunately for them, no tickets were written. Instead, the statistics were collected for the Spokane City Council, which is considering putting traffic cameras up near schools to discourage unsafe driving. Finch and Longfellow Elementary are the two schools chosen for the project, because both are near arterials and have student bodies that primarily walk.
The proportion of speeders near Finch is startling. Aside from the 84 percent of speeders headed southeast, 76 percent of drivers going the opposite direction went more than 6 mph over the speed limit.
Near Longfellow, the ratio of speeders is lower, but the number of vehicles on North Nevada Street is much greater. Of the 1,189 northbound vehicles, 37 percent during one school day in November went more than 6 mph above the speed limit. About 1,200 trips were southbound, and 53 percent of those exceeded the speed limit.
As Longfellow let out on Tuesday, three crossing guards ferried the students through the intersection, and traffic did not relent.
Kiirki Hampton, who has been a guard for three years, said she supports the cameras, which would use devices similar to red-light cameras to help ensure the law is obeyed.
"A thousand times yes," Hampton said when asked if she thought the cameras would help calm traffic. "Kids will walk in one direction and, at the drop of a hat, go in the opposite direction. People don't understand that."
Hampton, who has two boys who attend Longfellow, said the simple threat of a fine would encourage safer driving.
"The only time people want to obey the law is when there's a fine," she said.
Spokane police Officer Teresa Fuller, who is overseeing the pilot project, said the cameras could be installed as early as this spring. After a 30-day warning period, tickets will be issued.
Councilman Jon Snyder said the council has yet to decide how big of a fine a speeder would be issued. Currently, if a school zone speeder is ticketed by an officer, the fine ranges from $189 to $784, depending on the speed.
American Traffic Solutions, which runs the city's red-light camera program, will also operate the school zone cameras. The contract between the Arizona-based company and the city was extended to November 2018. The city currently pays the company about $625,000 a year to operate the red-light cameras. The city pays $4,000 per month for each red-light camera and will pay a per-camera fee for speed cameras.
Snyder said the council also has yet to decide how the city will spend the collected fines, which could be significant if current speeding numbers hold.
"If we don't do anything, the money will go into the traffic-calming fund," he said, adding that he preferred allocating the money to the Spokane Regional Health District's Safe Routes to School program, as well as to traffic-calming projects in the vicinity of the school where the fine was collected.
Mariah McKay, coordinator of the health district's safe routes program, said the program educates and encourages kids to walk to school. Currently, the district is promoting its walk-to-school program, called the "walking school bus," at seven elementary schools including Holmes, Logan, Bemiss and Stevens within Spokane city limits. That program calls for two adult volunteers to chaperone up to 10 kids to school.
McKay said a recent survey asking Spokane's parents why they worried about letting their kids walk to school identified unsafe crosswalks and speeding traffic as their top two concerns.
Nine of Spokane Public Schools' 34 elementary schools are "walking schools," meaning all of the kids who attend them live within 1 mile of the school. Those schools provide no bus service.
Finch, with 530 kids, is one of the walking schools, located at 3717 N. Milton St. Only about 10 kids cross at the corner of Milton Street and Northwest Boulevard, where so many drivers were clocked speeding.
Longfellow, with 560 students, is also a walking school, at 800 E. Providence Ave.
"We have about 200 kids cross Nevada a day," said Meghan Anderson, Longfellow's principal. "Our crossing guards do complain a lot because it's difficult to get cars to slow down."
Hampton, the crossing guard, agreed.
"The cars try to drive in between us. They get really mad and they like to yell and cuss," she said. "It can get a little scary. I would like a little life insurance with my job."
Local journalism is essential.
Give directly to The Spokesman-Review's Northwest Passages community forums series -- which helps to offset the costs of several reporter and editor positions at the newspaper -- by using the easy options below. Gifts processed in this system are not tax deductible, but are predominately used to help meet the local financial requirements needed to receive national matching-grant funds.
Subscribe now to get breaking news alerts in your email inbox
Get breaking news delivered to your inbox as it happens.
---