News > Spokane
Hutterites embrace technology for business, education
Sun., March 8, 2015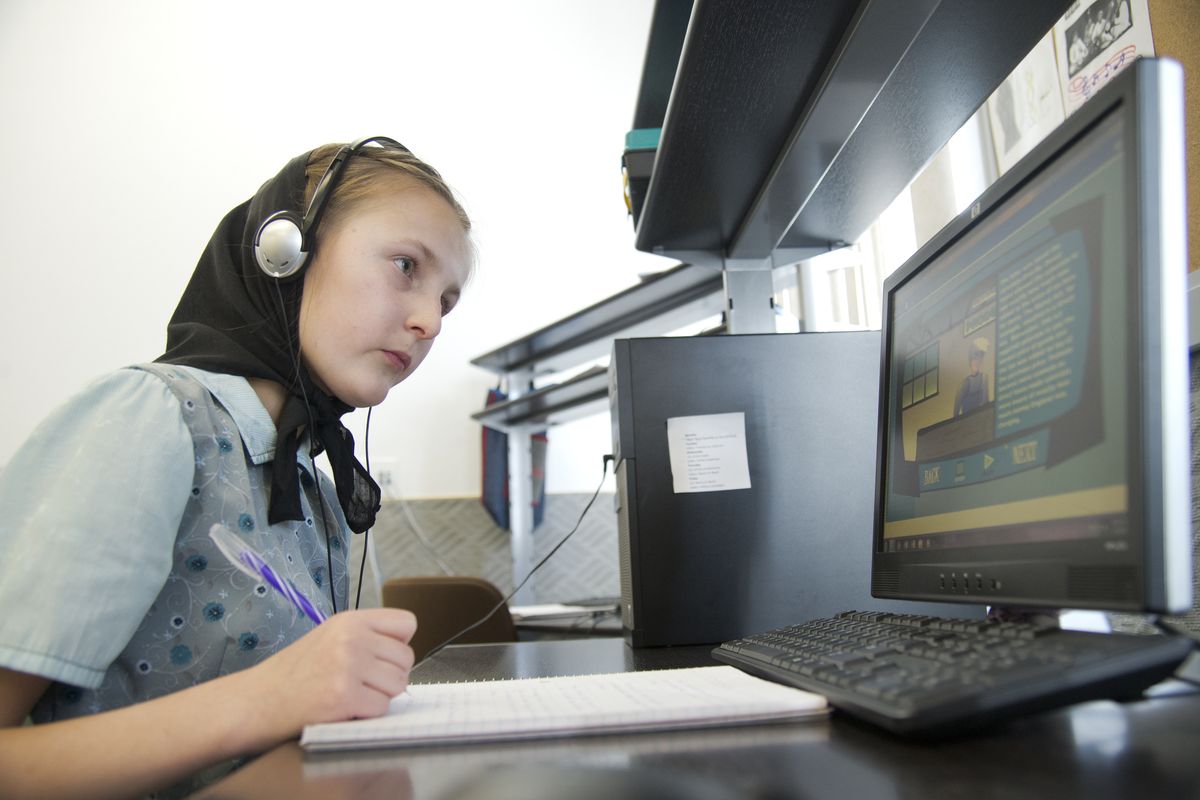 Sydney Stahl, a seventh-grader in the Hutterite community in rural Ritzville, works on school lessons on a computer in the Hutterite colony's private school Wednesday. The older students use a state-approved online curriculum along with lectures and assignments from an in-school teacher. (PHOTOS BY JESSE TINSLEY)
RITZVILLE – On a foggy morning, a woman in traditional black colonial dress darted from her home to the community mess hall, like a messenger with critically important news. Down the street, John Stahl Sr. sat at a wooden desk handmade by Hutterite colony members, typing on an iPhone 6.
"For us to survive, we got to be connected to the latest technology to be efficient," said Stahl, a Hutterite and president of Stahl Farms.
 Technology is seeping into this Dariusleut Hutterite colony outside of Ritzville. Known for its traditional, communal lifestyle, the colony of 80 people is confronting a world of smartphones and access to the broader world online. Television and radio have long been prohibited within the religious colony to minimize exposure to violence and inappropriate content. But with the challenges in restricting or monitoring content on smartphones, colony members face a new realm of ethics.
Unlike the Amish, the Hutterites have embraced much of modern technology. Agricultural technology, such as irrigation systems, has been a boon to the colony, which has grown from cultivating 3,000 acres in 1980 to 16,000 acres today.
Stahl said he accepts any technology that aids their society, whether it pertains to agriculture or communication. Stahl Farms has had years of successful potato harvests, thanks to the Hutterites' world-renowned agricultural practices, their implementation of the necessary technical tools and the communal labor.
But smartphones, computers and social media present new challenges for colony members.
The computers in the local school, as well as most personal computers, are equipped with parental locks that block sites with violent or inappropriate content. The intent is to shelter younger Hutterian generations from what Stahl calls the "corrupt areas of the Internet."
It's more difficult to monitor Internet use on individuals' phones, as well as being a potential invasion of privacy, so Stahl said adults try to educate younger members on appropriate uses of technology.
"Everything in moderation. I was young, too, at one time," Stahl said. "This isn't my first rodeo."
  Rules, in addition to a trusted honor system, have been put in place for younger smartphone users.
"Phones aren't allowed in school," said Michelle Stahl, John Stahl's niece and a ninth-grader at the colony's school. "We just do our work … there aren't really any distractions, but sometimes we'll talk with each other."
 Michelle got a phone because she will begin driver's education soon; it'll be used in case of an emergency. Instead of connecting on Facebook with her new phone, Michelle said she prefers to meet up with friends and talk.
"I just have a lot of other things to do, but I wouldn't mind going on Instagram to look at photos," she said.
 Martin Stahl, John Stahl's nephew, works in the farm warehouse repairing and maintaining equipment. Known as the "computer genius" on the farm, he taught himself how to operate and repair every piece of farming machinery on site with the help of older colony members and smartphones. He is now the resident information technology expert for the Dariusleut Hutterites.
"I've worked with electronics since I was little and I've just kept up with it," Stahl said. "I focus on what needs to be done on the farm and learn as I go."
 Stahl taught himself how to operate the new machinery by watching instructional videos on his iPhone.
"Have you ever heard of the 'college of hard knocks'? I learn everything the hard way," he said.
 John Stahl purchased his first cellphone 10 years ago and upgraded to the new iPhone 6 a few months ago. As the president of Stahl Farms, his smartphone allows him to stay in contact with his employees and business partners, as well as conduct research quickly. When he first purchased the iPhone, he said he only knew about 10 percent of what the smartphone is capable of doing.
"I was dumber than a post," he said, but "I've learned a lot on this. If I'm looking for a piece of equipment, I can punch it in here and find it. It's amazing."
 Stahl expects that technology's presence in Hutterite colonies will grow.
"In a Hutterian colony, it is difficult because our elders see (smartphone technology) as a detriment – most of them," Stahl said. "Personally, I see it as an advantage… This world is heading that way, high tech, so you might as well keep with it."
 Stahl said he admires the Amish and their efforts to preserve their minimalist lifestyle. Many Amish communities still prefer to use horse and buggy as means of transportation.
"But (technology) is here," Stahl said. "You might want to hold people back, which maybe you should in some aspects, but it's here. We can't stay with the horse-and-buggy tradition if we want to survive in this old world."
Local journalism is essential.
Give directly to The Spokesman-Review's Northwest Passages community forums series -- which helps to offset the costs of several reporter and editor positions at the newspaper -- by using the easy options below. Gifts processed in this system are not tax deductible, but are predominately used to help meet the local financial requirements needed to receive national matching-grant funds.
Subscribe now to get breaking news alerts in your email inbox
Get breaking news delivered to your inbox as it happens.
---