News > Spokane
Vaults under Spokane sidewalks pose hidden threat
Mon., March 9, 2015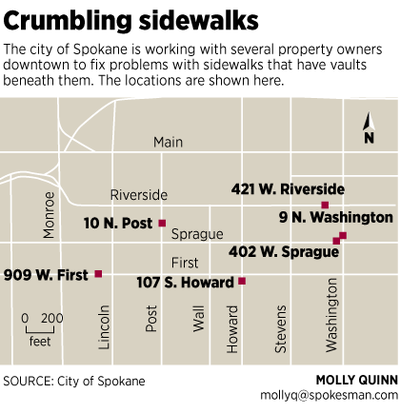 Some sidewalks in downtown Spokane have hidden dangers beneath them.
Underground vaults installed in the old days to provide space for shipping and storage are becoming a concern, so the city of Spokane hired a consultant to look at their conditions.
Six locations were deemed to have significant structural deficiencies.
One sidewalk outside the Monterey Café, 9 N. Washington St., is so bad that the city closed off street parking and placed a piece of plate steel over a vault opening just to be safe.
A $3 million federal grant is now available to either fix or fill in the walkways deemed to be the most dangerous.
The grant is paying for half of the cost of the work while property owners are agreeing to pay for the other half.
The owner of the building occupied by the Monterey Café is the Armstrong Building Trust, which is working with the city to fix the problem with the grant funding.
The other locations eligible for the grant funds are at 10 N. Post St.; 107 S. Howard St.; 402 W. Sprague Ave.; 421 W. Riverside Ave.; and 909 W. First Ave. Work on those locations is expected later this year.
Also, a dangerous sidewalk along the Otis Hotel building at First Avenue and Madison Street has been blocked off because of the risk of collapse. It is outside the area included in the grant funding, so the city is seeking separate funding to repair or fill in the vault at that location, said Julie Happy, city spokeswoman.
Bike lane meeting
In Spokane, a community meeting on the next phase of downtown bicycle improvements is set for Tuesday from 5 to 7 p.m. at the lobby of the Community Building, 35 W. Main Ave.
The project seeks to add bike lanes on Spokane Falls Boulevard from Division to Post streets and on Main Avenue from Howard to Pine streets. Main Avenue will be restriped to three vehicle lanes.
Parking proposal
Also in Spokane, another community meeting is planned for Wednesday from 6 to 8 p.m. to make changes to parking requirements in small neighborhood business zones.
The meeting will be in the Chase Gallery in the lower level of City Hall.
There are 72 small neighborhood business areas in the city that could be affected.
The proposal under consideration would eliminate the requirement to provide parking spaces for developments or additions involving areas of less than 3,000 square feet. In addition, parking requirements would be reduced for building projects from 3,000 to 5,000 square feet.
Changing the parking requirements will help property owners redevelop or expand uses in places where such investment is considered beneficial to the urban environment, city officials said.
Barker-Sprague
In Spokane Valley, residents are being asked to help the city improve the intersection of Barker Road and Sprague Avenue.
A community meeting is set for Wednesday from 6 to 7 p.m. at Greenacres Middle School, 17409 E. Sprague Ave., to talk about ideas for improvements.
City public works staff will make a presentation at 6:15 p.m. followed by public comments and questions.
The city last week said options include a roundabout and traffic light. Improvements for bicyclists and pedestrians also are being considered.
For more information, contact Ken Knutson at (509) 720-5010 or kknutson@spokanevalley.org.
Appleway Trail
Construction is going to resume this morning on the new Appleway Trail between University and Pines roads. Final work is expected by May.
The 12-foot-wide path that was nearly completed last fall is attracting residents even during the winter months.
Now, lighting and landscaping features will be installed as well as an entry plaza at University Road.
Crosswalks and sidewalk ramps will be installed at Bowdish, Union and Robie roads.
The trail provides a west-to-east connector route as well as north-to-south connections.
Construction of the second phase of the trail from Pines to Evergreen roads is expected in 2017 and 2018. Funding for that part of the project has been approved.
Funding is also being sought for the segment from Evergreen Road to Liberty Lake.
The trail is on the former Milwaukee Road rail right of way, now owned by Spokane County.
U-Hi traffic safety
Hunter Watson, a senior at University High School, is one of only four students across the country to be invited to speak at this weekend's Lifesavers National Conference on Highway Safety Priorities in Chicago.
Nearly 2,000 people from around the globe are expected to attend.
Watson was chosen by the Washington Traffic Safety Commission, which has been helping schools develop teen-to-teen traffic safety projects through a grant program from State Farm Insurance.
Two University High girls were killed in 2013 in a traffic accident at a hump on South Bates Road. The county has since removed the hump, which had been known as the Ponderosa Jump.
The deaths prompted the school to increase its traffic safety awareness programs. Watson submitted a video on the school programs to gain the invitation.
Local journalism is essential.
Give directly to The Spokesman-Review's Northwest Passages community forums series -- which helps to offset the costs of several reporter and editor positions at the newspaper -- by using the easy options below. Gifts processed in this system are not tax deductible, but are predominately used to help meet the local financial requirements needed to receive national matching-grant funds.
Subscribe to the Coronavirus newsletter
Get the day's latest Coronavirus news delivered to your inbox by subscribing to our newsletter.
---