News > Obituaries
Obituary: Kuhn, Gilbert "Nippy"
Age 84
Wed., March 11, 2015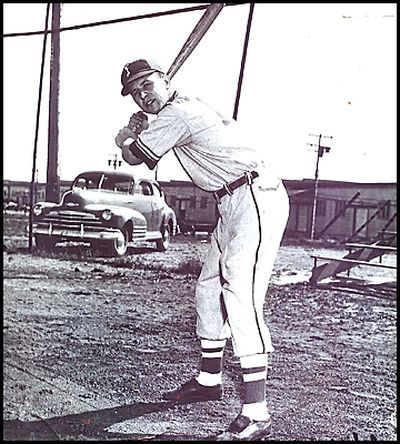 KUHN, Gilbert "Nippy" (Age 84) Gil passed away March 7, 2015.
He is survived by his wife Winona (Winnie), sons Gary (Karen) Kuhn, Gene (Ivy) Kuhn, and daughter Wendy Kensok (Jim); grandchildren include Jenny, Jared, Ryan, Amanda, Kristen, Mallory, and Jamin; great-grandchildren include Anna, Alexa, Wyatt, and Holly.
Gil was born April 10, 1930 in Hoquiam, WA.
He was a star baseball player at Hoquiam High School.
He then went into the air force and was stationed at Fairchild AFB for four years where he was a military policeman and starred on the base baseball team.
He played a year of pro ball then worked for Great Northern and Burlington Northern RR for 30 years in Spokane.
Gil enjoyed golf and bowling his entire life.
He actively followed his children's and grandchildren's sports and activities.
Gil enjoyed watching his sons finish the last couple of holes in the Twilight League at Downriver golf course.
He often joined the crew afterword to commiserate the round and the Mariners over a pint.
Gil, along with the family, struggled through many anxious moments watching the Cougars.
We will miss his hearty full facial laugh and his countless baseball stories.
The family would like to whole heartily thank Royal Park Care Center for their dedicated care of Gil from the start to the end.
Services for Gil will be held Thursday, March 12 at 2:00 pm at Holy Cross Cemetery Mausoleum, 7200 N. Wall St., Spokane.
Friends of family welcome.
To view Gil's online memorial, please visit www.hennesseyfuneralhomes.com
Local journalism is essential.
Give directly to The Spokesman-Review's Northwest Passages community forums series -- which helps to offset the costs of several reporter and editor positions at the newspaper -- by using the easy options below. Gifts processed in this system are not tax deductible, but are predominately used to help meet the local financial requirements needed to receive national matching-grant funds.
Subscribe to the Coronavirus newsletter
Get the day's latest Coronavirus news delivered to your inbox by subscribing to our newsletter.
---