News > Spokane
Sheriff's office opens investigation into Chattaroy boy's death
Fri., May 1, 2015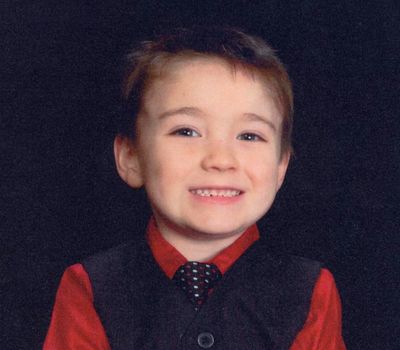 The Spokane County Sheriff's Office has launched an investigation into the death of a 5-year-old Chattaroy boy who died April 17 from a brain injury.
Gary Blanton III was in custody of his aunt following the death of both of his parents, according to an affidavit for a search warrant.
Doctors at Providence Sacred Heart Medical Center determined that Blanton suffered a fractured skull, fatal brain injuries, and large bruises on his elbow, leg, hip and arm, court records say. Blanton's aunt has not been arrested or charged with a crime. She told investigators that the boy fell from a bed or crib onto a carpeted concreted floor. As he was dying, hospital staff called 911 and said they believed his injuries may not be accidental, court records say. A medical examiner later determined that Blanton's injuries were "most likely not consistent with a fall from a crib or bed."
Blanton was born in Port Angeles and was an enrolled member of the Hoh tribe with Quileute ancestry, according to his obituary. He attended the ECEAP preschool program in the Chattaroy school district, enjoyed playing tee ball and loved pizza and salad.
He moved to Spokane County last August to live with his aunt, shortly after he and his two siblings were orphaned.
Blanton's father, Gary Blanton Jr., was murdered in 2012 at age 28. The killer, Patrick Drum, shot Blanton Jr. and another man as part of a plot to execute registered sex offenders in Clallam County. Drum is imprisoned on a life sentence.
Blanton Jr. had been living with Drum for about two weeks at the time of the murder. He moved in after he was accused of physically abusing his youngest son, who was 17 months old. The Atlantic reported that in a letter written from prison, Drum said he'd invited Blanton Jr. to move in specifically so he would be easier to kill.
Following the murder of their father, the Blanton children lost their mother, Leslie, who died last July of pneumonia at age 37, according to the Clallam County Coroner's Office.
Left without parents, Blanton and his brother and sister became wards of the Hoh tribe for several days before being placed in the paternal aunt's care, the aunt told investigators. The boy and his two younger siblings moved into a new home north of Chattaroy that the family purchased to make room for the three children along with her three biological children.
Typically, a child who is orphaned or otherwise becomes a ward of the state is placed in a temporary household within 72 hours, said John Wiley, a spokesman for the Department of Health and Human Services, which oversees child protective services in Washington. Under state and federal Indian Child Welfare Acts, priority is given to the child's extended family or another member of the tribe. A hearing is held later to determine a permanent placement, but that may take up to a year, Wiley said.
At about 5 a.m. on the morning of Blanton's death, his aunt told investigators she heard a bang and found the boy on the floor crying and complaining that his ear hurt, court documents say. She believed he may have fallen while climbing on his 4-year-old brother's crib, but checked him and found no visible injuries.
Believing he was uninjured, she told investigators she gave him children's Motrin and put him back to bed with his head elevated. But at 8 a.m., she was unable to wake her nephew and called 911. He died that day in the hospital.
Blanton's obituary, published Sunday in The Spokesman-Review, stressed the bond between the young boy and his aunt, who he called Mommy: "Most importantly he loved his Aunt Cynthia. Gary would always wake up to the sound of her voice and he would say "Good Morning Mommy, I LOVE YOU!"
Investigators spoke with a Chattaroy School District employee who worked with Blanton. She said the boy told her "Mommy punched me," on April 15 and complained his head hurt, court documents say.
Blanton's aunt was the subject of a report by Child Protective Services last December after Blanton arrived at school with multiple bruises, injuries and scratches. She told CPS that the injuries were due to accidents where the boy fell.
The search warrant does not indicate the outcome of that CPS case. Wiley declined to discuss the case or any findings from it, but said CPS generally aims to close investigations within 90 days.
The aunt's lawyer, Dominic Bartoletta, declined to comment on the investigation. He filed a motion on April 29 to seal the search warrant in the case, claiming that making it public would "draw unwarranted and unnecessary negative speculation" toward his client.
The warrant seeks cellphone records for Blanton's aunt. Investigators said she was using her phone to communicate with relatives about her nephew's condition.
Deputy Mark Gregory, spokesman for the Sheriff's Office, said the investigation is ongoing.
Local journalism is essential.
Give directly to The Spokesman-Review's Northwest Passages community forums series -- which helps to offset the costs of several reporter and editor positions at the newspaper -- by using the easy options below. Gifts processed in this system are not tax deductible, but are predominately used to help meet the local financial requirements needed to receive national matching-grant funds.
Subscribe now to get breaking news alerts in your email inbox
Get breaking news delivered to your inbox as it happens.
---