Woman on the Fly
Hodson leads ladies in no-trauma course to fly-fishing independence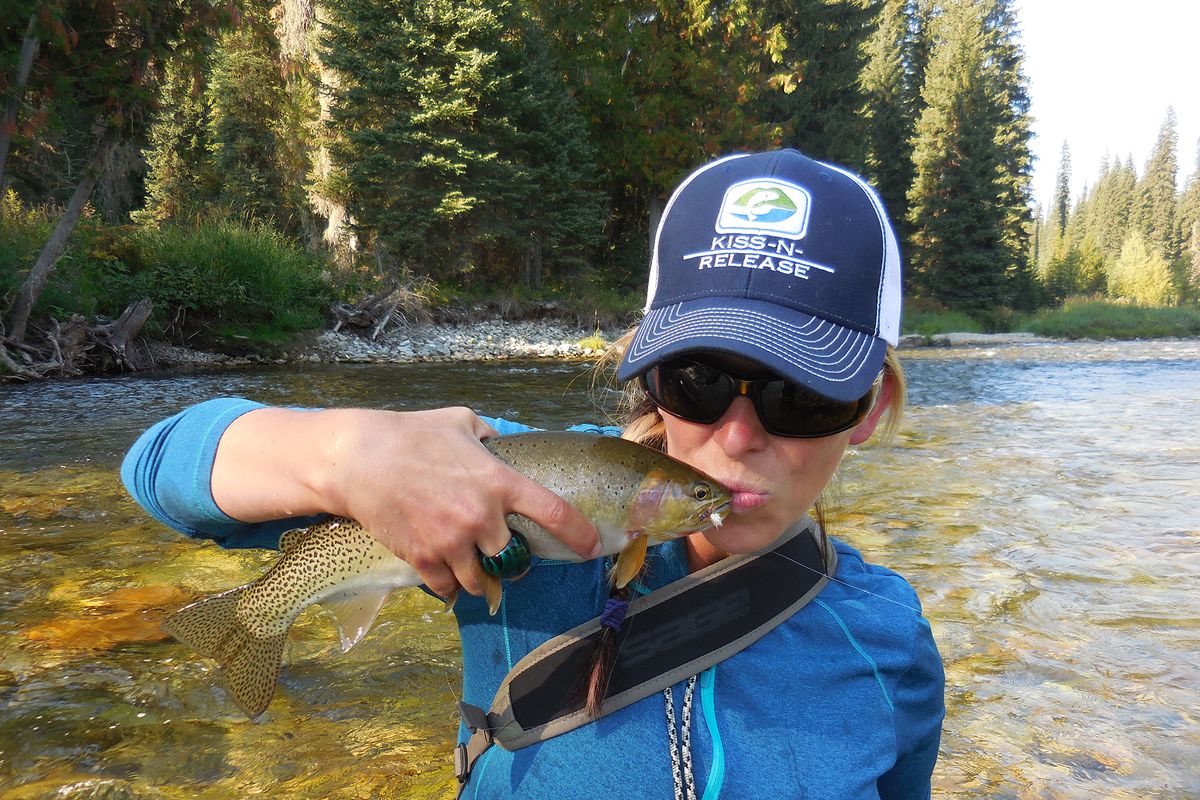 Heather Hodson is on a mission to remind fly fishers about an often-neglected angle to the sport.
"It's really fun," she said.
All anglers can enjoy fly fishing, at least when they're not hooking their ear with a backcast.
But while men don't necessarily talk about fly fishing in terms of being "really fun," Hodson is finding the theme plays well among women.
About 13 months ago she founded Spokane Women on the Fly (SWF), which has grown through word of mouth and social media to about 100 interested ladies and 35 active members.
An evening gathering to sip wine and create impressionistic paintings of a streamer pattern is as popular as a group outing to catch cutthroats on a North Idaho stream.
"We call that event 'Van Gogh and Merlot,' " Hodson said. "A lot of fly-fishing therapy is done while we're having a good time painting. We talk about shopping local, supporting local fishing programs, getting involved, making fishing dates, and we go home with something to hang on the wall or give a friend or husband."
The goal of starting the group is to dance around any barriers that are keeping women from the thrill of casting a fly into the path of a feeding fish.
"Just like buying a car, it can be very intimidating to walk into a fly shop the first time," she said.
Hodson was immediately hooked by fly fishing after taking her first lessons at Silver Bow Fly Shop in 2009.
"I grew up in Alaska, where my family hunted and fished with gear," she said. "Fly fishing was something new and the artistry of it really appealed to me."
She progressed quickly in the sport and soon was on Silver Bow's roster of fly-fishing instructors.
"Her enthusiasm for fly fishing is really contagious for other women," said Sean Visintainer, Silver Bow owner and guide. "Being relatively new to fly fishing is an advantage for her. Some people who have been fly fishing for a long time can have a lot of knowledge but don't necessarily relate as well to newbies.
"Heather takes our level-one course and teaches it just for women."
While some ladies learn to fish from their fathers or male companions, SWF has attracted another clientele, including a few women married to non-fishing husbands.
Meeting the ladies who enrolled in the courses validated the need for the group, she said. "A lot of women simply feel more comfortable learning to fish from other women."
Hodson's cheery outlook has made a big splash on the local fly-fishing scene, catching the interest of Backcountry Hunters & Anglers organizers, who held their annual Rendezvous in Spokane in March.
During a panel discussion on women in the sports of hunting and fishing, she described herself as a critical care nurse who works 12-hour shifts and a couple of other jobs. Fly fishing dominates her free time "especially in June during the salmonfly hatch."
She makes no attempt to hide her femininity to fit into a sport dominated by men.
"I profess kiss-and-release fly fishing," she said, noting that she's referring to the occasional symbolic smooch for a fish to honor its role in the sport.
Boiling it down to basics, she said SWF "is about going fishing, sipping some wine and peeing in the woods with no drama."
"Her enthusiasm is infectious," said Spokane Trout Unlimited member Mike Cochran. "I've been to a lot of fly-fishing meetings and never got a hug, until Heather came along."
On the SWF Facebook page, Hodson calls Silver Bow fly-fishing guide Britten Jay her "catch of a lifetime."
"He graciously comes along on some of the trips to be the camp nanny," she said.
Beyond that, SWF is all about the girls, including the fly-tying sessions she titles Hackle and Hops.
"We have a beer, socialize and learn to tie a fly pattern," she said, noting that she demonstrates the steps for tying proven fish-catchers like the Pat's Rubber Legs.
Last Friday, in the last fly-tying event of the season, she taught a group to tie her own creation, Heather's Rainbow Bright.
"It's an attractor – green, blue and purple body with yellow legs, yellow tail, black foam body and yellow foam post," she said. It's bright like her personality and, in her words, "This fly is a cutthroat crusher."
Women attending the fly-tying sessions are getting good at the craft, which means less and less instruction is needed, and more creativity flows.
Among the zany patterns they displayed at the Backcountry Hunters & Anglers Rendezvous was The Barfly, tied by sandwiching a shock of red-butted paper matches around a hook flanked by the handles of two plastic daggers used to spear martini olives.
"No tying events are scheduled in June through September," Hodson said. "We'll be fishing!"
Actually, there's no significant offseason for the group.
"We were at Rocky Ford Creek this winter, at Medical Lake in April, then the North Fork of the Coeur d'Alene," Hodson said. "We fish Washington, Idaho, Montana and Oregon. Mostly we've been oriented to trout, but we're expanding our horizons to bass, pike – anything you can catch on a fly.
"We've scheduled a campout fishing trip for tiger musky at Curlew Lake as well as a steelheading trip to the Olympic Peninsula."
Hodson logged 75 days of river fishing in 2014. "Even in my travels I find a way to go fishing," she said. "I use a lot of social media; I share pictures all the time on Facebook and Instagram, and that's translated into women fishing friends wherever I go. It's opened a lot of doors."
She shares photos of SWF, but only with permission, and usually without names.
"We're a no-trauma group for real women – or "reel" women, as we like to say. We're not the tall, skinny blonde models you see on the fishing calendars. We're all shapes and sizes. We're just a bunch of ladies who like to get out and fish.
"That doesn't mean I don't fish by myself," she said. "Sometimes you need some solitude. But it's also fun to meet up with fly-fishing girlfriends. It's a good balance."
The group's newsletter, the Monthly Mend, helps ladies keep up on what's hatching. Scheduled events include walk-and-wade outings on the Spokane River, an Upper Priest Lake kayak camping and fishing trip, travels to some of the region's signature streams as well as some family campouts.
"I try to be an example that helps other women," she said. "I'm a decent fly fisherwomen; not an expert by any means, but I have a passion for the sport."
She says she's used to being sized up as a fly-fisher person and having her qualifications scrutinized.
"I'll fish with whoever, whenever," she said, "because most of all it's all about having a good time."
---