News > Spokane
Federal official tours North Spokane Corridor
Thu., May 21, 2015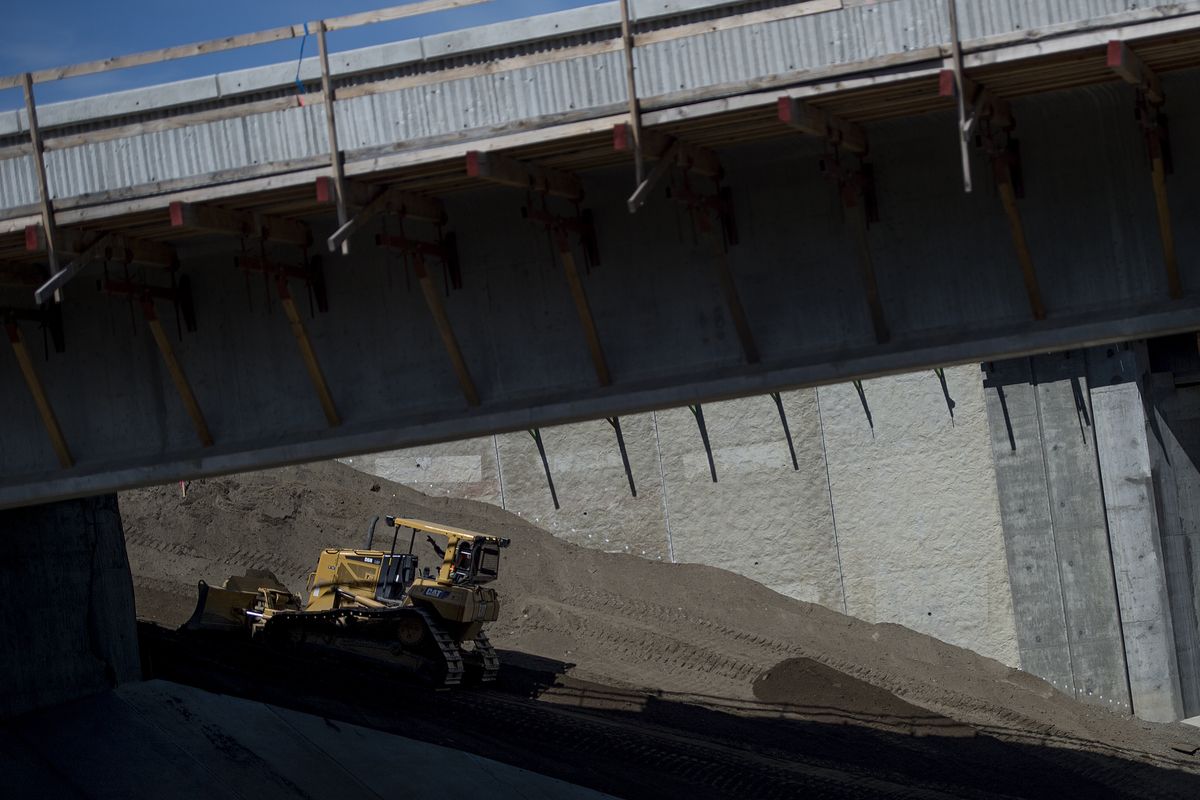 Construction continues Wednesday during a news conference at the North Spokane Corridor in Spokane. (Tyler Tjomsland)Buy a print of this photo
The Federal Highway Administration's top official lobbied for passage of a $478 billion transportation bill while touring Spokane's unfinished North Spokane Corridor on Wednesday.
Gregory Nadeau, acting administrator of the agency, said that while the community has identified the freeway as a priority, there's no long-term funding for the project or thousands of others across the country.
"The commitment to long-term funding still isn't there," Nadeau said.
Workers are building bridges and new rail lines in the vicinity of Francis Avenue under a $31 million project that began two years ago.
But funding to link the new freeway from Hillyard to Interstate 90 is not available from either state or federal sources.
The Obama administration is asking Congress to authorize the six-year Grow America Act that would provide $478 billion for surface transportation and to replace a series of short-term transportation funding extensions adopted by a gridlocked Congress.
The current extension expires in 10 days, Nadeau said.
He said the North Spokane Corridor is the type of project that would meet federal goals to provide safe transportation options, create jobs and stimulate the economy.
Public transit funding also is included in the Obama administration plan.
The new transportation law would be funded with a 14 percent tax on some $2 trillion in untaxed foreign earnings that U.S. companies have accumulated overseas.
Washington state transportation officials said Wednesday that a pared-down project to link the north Spokane freeway with I-90 would cost $750 million.
That version eliminates new collector and distributor lanes running east-west alongside I-90 in the East Central Neighborhood. Instead, the connections between the new freeway and I-90 would be made through modifications of Second and Third avenues, officials said.
Washington Transportation Secretary Lynn Peterson, who accompanied Nadeau on his visit, said she's optimistic state lawmakers can agree on a plan to raise $15 billion for transportation by increasing the gas tax by 11.7 cents a gallon over three years.
Both the House and Senate include the money needed to link the North Spokane Corridor to I-90.
Money earmarked for the Hillyard-to-Wandermere portion of the freeway is nearly gone, officials said. The current construction is being funded with extra money available from earlier gas-tax increases that was freed up after other construction contracts came in below projections.
Local journalism is essential.
Give directly to The Spokesman-Review's Northwest Passages community forums series -- which helps to offset the costs of several reporter and editor positions at the newspaper -- by using the easy options below. Gifts processed in this system are not tax deductible, but are predominately used to help meet the local financial requirements needed to receive national matching-grant funds.
Subscribe now to get breaking news alerts in your email inbox
Get breaking news delivered to your inbox as it happens.
---