News > Washington Voices
Tekoa throwing party for trestle
Thu., May 28, 2015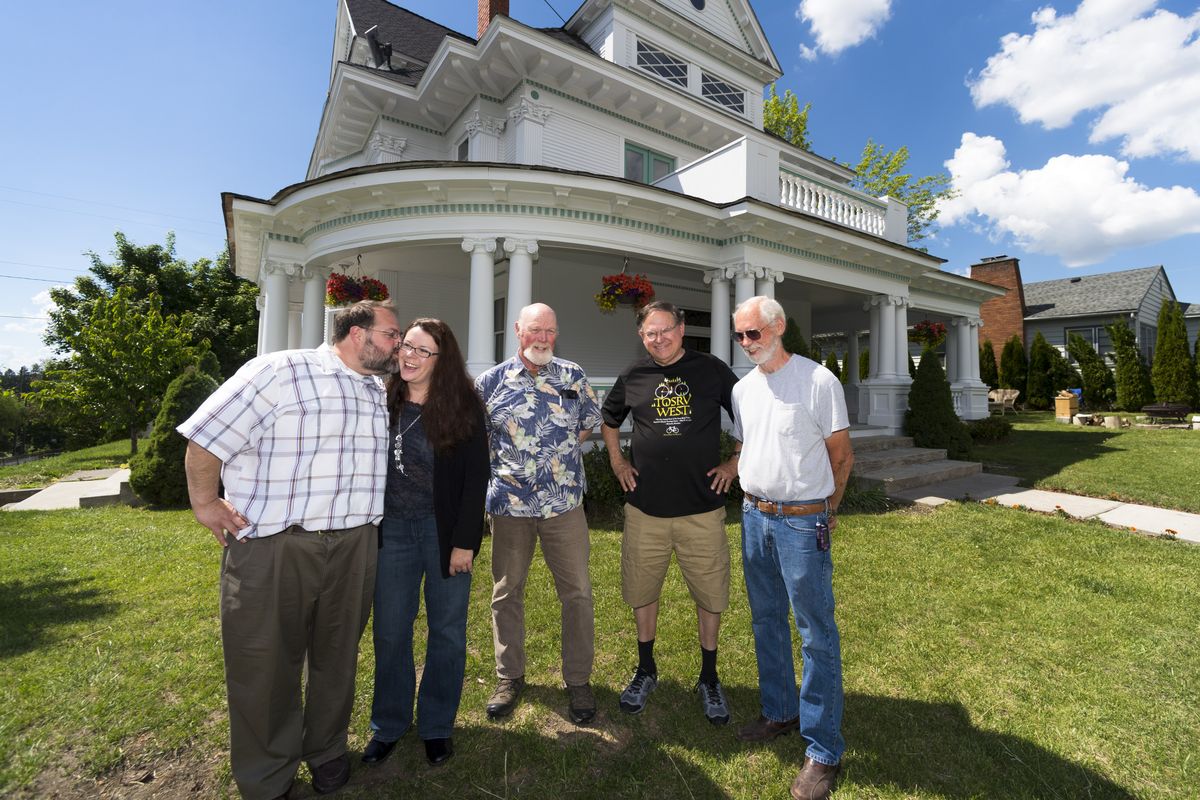 The small town of Tekoa has trestle fever. Supporters, left to right, Ted Blaszak, and his wife, Debra Blaszak, John Miller, Pete Martin and Monte Morgan, want to renovate the old trestle as an attraction for recreational use on the John Wayne Trail. They are having a fundraiser gala at the Blaszak's historic mansion on Friday, as well as other events to promote the trail. (Colin Mulvany)
TEKOA – A group of residents is trying to whip up support for restoring a historic rail trestle here that is a symbol of this northeast Whitman County community.
They are throwing a Tekoa Trail and Trestle Gala on Friday from 6 to 9 p.m. at the historic mansion of Ted and Debra Blaszak at 141 S. Howard St. in Tekoa.
Money from the gala will be used to support a bicycle expedition next month of the entire length of the John Wayne Trail from North Bend, Washington, to Tekoa.
The trail is owned by Washington state parks and is the former right of way of the Chicago, Milwaukee, St. Paul and Pacific Railroad, better known as the Milwaukee Road.
The Tekoa Trestle and Trail Association wants the trestle and railroad bed restored for trail use as part of the 300-mile right of way.
"We've got trestle fever in this town," said Ted Blaszak, who along with his wife, Debra, is hosting the gala.
"There is a ton of interest in that trail," said Pete Martin, of the Tekoa Bike Club.
Martin is going to drive as trail support for riders Fred Wagner and Tristan Smith, both of Tekoa.
The goal is to document trail conditions and determine what needs to be done to make this cross-state route useable across its length.
The riders will embark from North Bend on June 14 and arrive back in Tekoa in time for Slippery Gulch Days. The festival parade is June 20 and the town's float features riders on a four-seat bike.
Renovation of the steel trestle would become a magnet for trail users, Martin and others said.
But the 975-foot-long steel trestle needs significant work to make it passable to trail users, state parks officials have said.
"The whole thing is to get people to come to Tekoa, said Monte Morgan, trail advocate and a grand marshal of the Slippery Gulch Days parade.
Blaszak said, "This is kind of the end of the trail literally."
The trail supporters would like to create a cross-state bike race ending in Tekoa.
Blaszak and others are working with state Sen. Mark Schoesler, R-Ritzville, to get state funding for trail completion and trestle renovation in the Tekoa area.
The Milwaukee Road went into bankruptcy in 1977 and the state acquired large segments of the right of way in 1982. Pieces of the trail are claimed by adjoining property owners, which has created gaps in the route in Eastern Washington, including a segment near Rock Lake in Whitman County.
So far, most of the trail development has been west of the Columbia River.
The state has been moving ahead with restoration in the vicinity of Rosalia and Malden.
The John Wayne Pioneer Wagons and Riders Association, which holds an annual cross-state ride from North Bend to Tekoa, said on its website that the line from Chicago to Seattle was built from 1906 to 1909 and electrified in 1915. The last train ran in 1972.
The gala will be at the Tekoa Mansion, which the Blaszaks bought about a year ago. There will be food and wine on the main floor. Spanish guitarist Abe Kenney and violin accompanist will entertain guests. The second floor will be devoted to a silent fundraising auction and the third floor will house casino games. A beer garden will be set up in the yard at the side of the home.
"We want to make our neighbors feel welcomed in a house that is often considered a town treasure," Ted Blaszak said.
For more information, contact Blaszak at (509) 284-2080 or at tekoatrailandtrestle @gmail.com.
Local journalism is essential.
Give directly to The Spokesman-Review's Northwest Passages community forums series -- which helps to offset the costs of several reporter and editor positions at the newspaper -- by using the easy options below. Gifts processed in this system are not tax deductible, but are predominately used to help meet the local financial requirements needed to receive national matching-grant funds.
Subscribe now to get breaking news alerts in your email inbox
Get breaking news delivered to your inbox as it happens.
---