News > Spokane
Breeden turns down interim ombudsman job
UPDATED: Mon., Oct. 5, 2015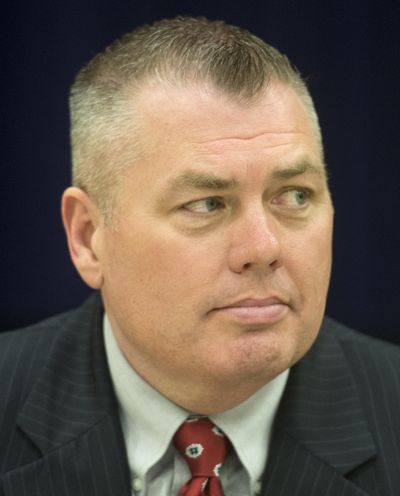 The ombudsman commission's top pick for Spokane's police oversight position has turned down an offer to do the job for four months while the city continues vetting his background and management style.
Robert Breeden, the former second-in-command at the Florida Department of Law Enforcement's Miami office, said in an email to commissioners Sunday that he was unable to accept the interim job due to "my current personal, financial and professional obligations," but remained interested in the permanent ombudsman position. Both jobs have a salary range of $82,634 to $101,375.
Ombudsman commission attorney Breean Beggs said no specific salary or other offer details were discussed with Breeden. He rejected the position because he was not interested in doing the job on an interim basis, Beggs said.
The city's five-member ombudsman commission voted last week to offer Breeden the interim job to allow time for the city to send an investigator to Florida to evaluate claims that Breeden belittled employees he supervised there. Breeden has said those allegations were retaliation for blowing the whistle on his supervisor for neglecting her work, and has filed a lawsuit against the Florida Department of Law Enforcement.
"When I applied for the position five months ago, I recognized that the issue with my previous employer was going to be a hurdle that had to be overcome. Therefore, with my application I provided eleven personal and professional references to include current and former FDLE employees who worked with me," Breeden said in the email to ombudsman commissioners.
Commissioners are expected to move forward with further vetting before making a hiring decision. Breeden is competing for the job against Raheel Humayun, an investigator with the British Columbia Office of the Ombudsperson. A third finalist, Allen Huggins, has been effectively eliminated from consideration.
Spokane has been without an ombudsman for 10 months, after Tim Burns resigned at the end of 2014. Burns was hired in 2009 as Spokane's first ombudsman.
At their meeting last week, commissioners expressed concerns about hiring Breeden. Only commissioner AJ VanderPol advocated for hiring a permanent ombudsman at that meeting. Other commissioners said they didn't want to offer a permanent job to someone accused of being hostile to employees without evaluating those accusations further.
"His situation is the exact same situation that got three commissioners removed from this commission, that got Chief Straub removed," commissioner Scott Richter said at the meeting.
Former Spokane police Chief Frank Straub was forced to resign in September after allegations surfaced that he harassed and belittled employees.
Commissioners also had concerns about selecting Humayun, who would require a work visa to take the job. The process for that can take over a year, and there's no guarantee Humayun would be awarded a visa.
Commissioners voted last week to ask the Spokane City Council for an investigator to travel to Florida and British Columbia to interview references for both candidates.
Breeden has made his attorney available to commissioners to answer questions and is willing to provide documents related to his whistleblower lawsuit, ombudsman commission chairwoman Deb Conklin said.
Commissioners will discuss the issue at a meeting Tuesday night.
Local journalism is essential.
Give directly to The Spokesman-Review's Northwest Passages community forums series -- which helps to offset the costs of several reporter and editor positions at the newspaper -- by using the easy options below. Gifts processed in this system are not tax deductible, but are predominately used to help meet the local financial requirements needed to receive national matching-grant funds.
Subscribe to the Coronavirus newsletter
Get the day's latest Coronavirus news delivered to your inbox by subscribing to our newsletter.
---