Sports
EWU spring football: Eagles' defensive line ready to push back
Fri., April 15, 2016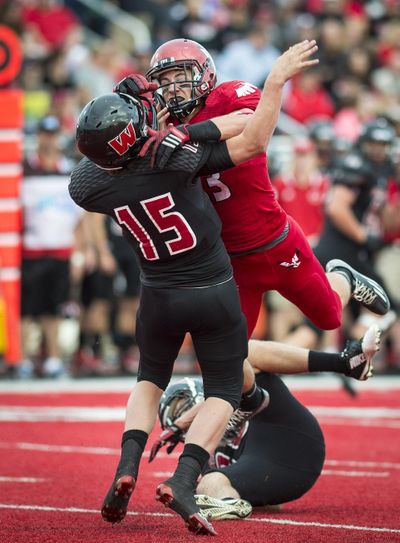 This is the fifth of an eight-part series on spring football at Eastern Washington. Today: the defensive line.
Spring didn't come a moment too soon for Eastern Washington's defensive linemen.
The Eagles got pushed around last season – a major reason the 2015 season ended about a month earlier than usual.
Now they're ready to push back.
"We need to regain that toughness, and spring ball is the time to do that," said defensive end Marcus Saugen, who had all winter to think about the Eagles' struggles on third down and the three straight losses in November that cost them a trip to the postseason.
"It was definitely a rough end to the year, but we're going to come back and get better," said Saugen, a North Central product who was one of seven Eagles who saw action as true freshmen in 2014.
There's a lot of excitement on the D-line this year. For most of the 16 returnees, winter brought large gains in the weight room, but the big addition is new defensive front coordinator Eti Ena.
"He's keeping it positive, but he's pushing us and keeping us working," Saugen said of Ena, an Eastern alum who held the same position for three years at Big Sky Conference rival Cal Poly.
Ena replaces Ryan Sawyer, who left to pursue opportunities outside football. During practices, Ena is working mostly with the ends while assistant Brian Strandley coaches the tackles.
Says Ena: "The players have done a great job to this point, and I'm thrilled with how serious they are about their game."
"The culture that's been set here has been an easy one to come in to," Ena said.
Here's how the defensive line is shaping up this spring:
Tackle
The Eagles typically employ a nose tackle and a "3 Technique" tackle, with some players seeing game action at both spots.
Senior Matthew Sommer has been a presence at nose tackle since his true freshman season in 2013. Last year he started all 11 games; now the 6-foot-5, 310-pounder from Salem, Oregon, is looking to fill a leadership role as well as filling gaps. "He's really stepped it up," said Strandley, who says he's impressed with Sommer's explosiveness in spring camp.
The Eagles have quality depth at the nose in Dylan Donahue (a 6-1 redshirt sophomore from Marysville, Washington) and junior Jay-Tee Tiuli 6-3, 315, Seattle) – a must in a system that rotates up to 11 players a game. Both can play the 3 Technique position. Tiuli started two games there last fall.
The starter figures to be junior Andre Lino, who's only 6-3 and 265, but "is showing a lot of improvement and more explosion this spring," Strandley said.
Kaleb Levao, a 290-pounder from Aberdeen, Washington, figures to see more playing time after improving his technique and enjoying what Strandley calls "a great winter as far as improvement in the weight room."
End
Eastern's scheme often uses a speedier "rush end" on the weak side and a bigger "field end" on the strong side of the opposing offense. Several players are capable at either position.
One of the most athletic players on the roster is senior Samson Ebukam, a 6-3, 240-pounder who recorded four tackles and seven tackles for loss while playing all 11 games in 2015. Ebukam is sitting out spring ball after minor surgery, but is expected to be a major contributor again in 2016.
Saugen offers a change of pace. He's only 215 pounds, but his quickness – his "slipperiness," Strandley calls is – is an asset in the pass rush. Nick Foerstel, a 230-pound junior from Tumwater, also can bring pressure from the edge.
The Eagles got a big boost at field end last from freshman Keenan Williams, a three-star recruit from Cheney who enrolled last spring. The 6-3, 260-pound Williams started nine games last year, providing 43 tackles and two sacks while showing deceptive speed.
Coaches have a wealth of backups at field end, including sophomore Jonah Jordan (a 6-2, 250-pounder from Mead High School); junior Conner Baumann (6-2, 230, Bellevue); and Jim Townsend (6-4, 230, Okanogan).
Also in the mix is former middle linebacker Albert Havili, who missed last season with a knee injury.
Coming Tuesday: Part six, the linebackers
Local journalism is essential.
Give directly to The Spokesman-Review's Northwest Passages community forums series -- which helps to offset the costs of several reporter and editor positions at the newspaper -- by using the easy options below. Gifts processed in this system are not tax deductible, but are predominately used to help meet the local financial requirements needed to receive national matching-grant funds.
Subscribe to the sports newsletter
Get the day's top sports headlines and breaking news delivered to your inbox by subscribing here.
---
Subscribe and log in to the Spokesman-Review to read and comment on this story