News > Spokane
Inslee signs budget but vetoes cuts to funds for performance audits
Mon., April 18, 2016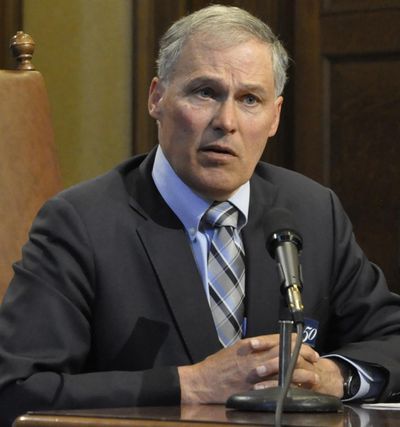 OLYMPIA – Washington can continue state programs, pay employee salaries and begin some construction projects over the next 14 months under operating and capital budgets signed Monday by Gov. Jay Inslee – although they're a bit different than the spending plans approved by the Legislature.
The approved budgets have $189.5 million to pay for fighting last year's wildfires, $69 million to add classrooms around the state for kindergarten through third-grade students and $19 million for additional facilities for mental health patients.
"It sets up the state for success in 2017" for a more comprehensive budget, Inslee said.
The operating budget doesn't raise general taxes or college tuition and provides more than $7 million to cover some unexpected costs of cutting that tuition last year.
But with his veto pen, Inslee took out some things lawmakers approved, such as changes to a state pension fund, moving money out of a fund that pays for public works projects, and $600,000 that was set aside for a study of the University of Washington School of Medicine's multistate medical education program. And he left $10 million in the state auditor's budget for performance audits that lawmakers proposed cutting.
"We think these performance audits have value to the state," Inslee said of the reports that examine whether programs are operating the way the law intended.
In vetoing the money for the University of Washington study – which was to check the cost per student of the UW program training doctors in Spokane and determine whether Washington tax money was subsidizing students from other states – Inslee's veto message said the auditor's office can do that with money set aside in the original budget last year.
The state budgets on a two-year cycle, so major budget decisions were made last year, before the first year of the 2015-17 cycle started on July 1. This year's supplemental budget was essentially an update of those spending plans, although they required significant negotiation – much of it behind closed doors – and took the Legislature an extra 20 days to complete.
One of the biggest expenses not covered in the original 2015-17 operating budget was the cost of fighting last year's record wildfires, which took place after the 2015 session ended. After negotiations, lawmakers agreed to tap a reserve fund known as the Budget Stabilization Account, or "rainy day fund," for $189.5 million for those expenses.
Inslee called the changes from his vetoes "specks of sand on a beach" compared to the state's big budget challenge for next year, coming up with money to meet the state Supreme Court's order to adequately pay for public schools. Estimates for complying with what's often called the McCleary decision, after the family name of the lead plaintiffs, range from $1 billion to more than $3 billion.
"The important thing people need to know is we've made a commitment to the billions" for McCleary, the governor said. A bill Inslee previously signed commits the Legislature to developing a way to meet that obligation next year.
Local journalism is essential.
Give directly to The Spokesman-Review's Northwest Passages community forums series -- which helps to offset the costs of several reporter and editor positions at the newspaper -- by using the easy options below. Gifts processed in this system are not tax deductible, but are predominately used to help meet the local financial requirements needed to receive national matching-grant funds.
Subscribe to the Coronavirus newsletter
Get the day's latest Coronavirus news delivered to your inbox by subscribing to our newsletter.
---