Sports
WSU spring football: Specialists using time to refine their crafts
Wed., April 20, 2016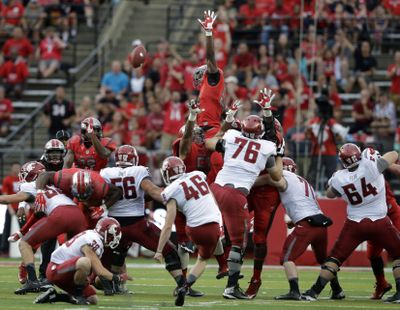 PULLMAN – Offseason improvement can be difficult to discern, particularly when it comes to kickers.
Even for a pair like Washington State kicker Erik Powell and punter Zach Charme, both of whom have started since their freshmen season, growth may not appear to be linear.
Charme could go from an uncertain 18-year-old to an all-conference punter, and only improve on his average punt by a couple years. Powell might never improve on his career-long field goal of 47 yards, but could become a significantly more impactful player for the Cougars.
The specialists have been putting in a lot of work on the minutiae of their craft. Two of the better kickers in school history, Andrew Furney and Rian Lindell, have been out to practice this spring to share some advice. All of the specialists are about to embark on a strength-training regimen recommended by Lindell.
With only a few opportunities throughout the spring to practice in game-type situations, the returning starting specialists have to find other ways to track their improvements.
"I think for me it's being more consistent," Powell said. "More than trying to get distance, if someone asks what your longest field goal is, I try to say I want to be as consistent as possible from the long-40s or 50-plus (yards)."
Powell was fairly consistent last season, hitting 20 of 26 field goal attempts and making all 49 of his extra points.
Charme says that the most important thing for him this spring is just learning how to relax. As a true freshman last season, he was often antsy on the field, and did not have much time to play around with technique.
This spring has given Charme the opportunity to make some mistakes and find out what does not work, as well as what does.
"The biggest thing that I've learned this spring and from last year is you can't really force the punt," Charme said. "You just have to trust your motion."
By doing so, Charme hopes to improve what were often erratic results last season. He showed a big leg, to be sure, with a season-long of 62 yards and eight punts that traveled more than 50 yards, but averaged just 39.6 yards per punt.
By improving his floor and eliminating the drastically short punts, Charme could see his average improve dramatically.
"It's not just the one punt that's a 45 yarder with 4.6 hang-time," special teams coordinator Eric Mele said. "His bad punts are elevated to where, now, they're Pac-12 football. They're not a shank or anything."
Mele added that he has seen a lot of improvement from the coverage units, who gave up four return touchdowns last season, and six the year before that. The Cougars hold two sessions every practice to work on special teams, the first is more focused on individual technique and the second is when the team practices its schemes and coverages.
Mele anticipates using more starters on the coverage team this year than last.
Wide receiver Tavares Martin is expected to return kicks again after returning 25 of them as a true freshman last season, returning one kick 51 yards and showing the requisite speed to take one to the end zone for the first time since Sammy Moore did it in 2003.
Watch out for redshirt freshman James Williams to possibly return a couple as well.
Kaleb Fossum, a walk-on wide receiver, appears likely to return punts, with Gabe Marks likely also receiving some opportunities.
Local journalism is essential.
Give directly to The Spokesman-Review's Northwest Passages community forums series -- which helps to offset the costs of several reporter and editor positions at the newspaper -- by using the easy options below. Gifts processed in this system are not tax deductible, but are predominately used to help meet the local financial requirements needed to receive national matching-grant funds.
Subscribe to the sports newsletter
Get the day's top sports headlines and breaking news delivered to your inbox by subscribing here.
---
Subscribe and log in to the Spokesman-Review to read and comment on this story