News > Spokane
It'll be Jay Inslee vs. Bill Bryant in Washington governor race
Tue., Aug. 2, 2016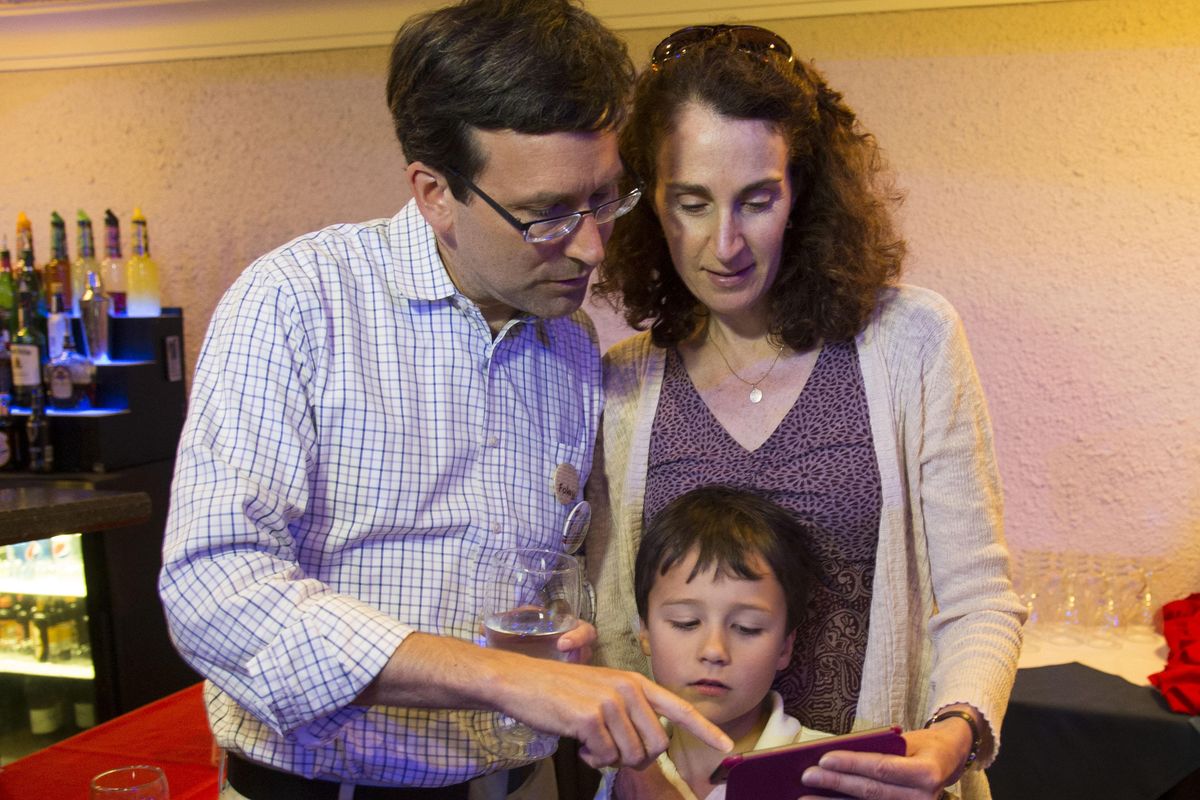 State Attorney General Bob Ferguson, who is running for re-election, looks for early results with his wife Colleen and son, Jack, 8, at the Lincoln Center in Spokane. He easily topped his only challenger. (Colin Mulvany / The Spokesman-Review)Buy a print of this photo
Washington Gov. Jay Inslee will face Republican Bill Bryant in the general election after the favored candidates of both major parties easily outdistanced other candidates in a crowded gubernatorial field.
Appearing at U.S. Rep. Cathy McMorris Rodgers' campaign headquarters Tuesday night in Spokane, Bryant said he believed finishing within 10 points of Inslee would be a strong launching pad for his campaign. He fell just short of that mark in early returns, trailing the incumbent by 11 percentage points.
In an interview before the returns, Bryant said Inslee was focusing on the presidential race and Donald Trump instead of the issues facing Washington: high unemployment, a troubled Department of Social and Health Services and a lack of funding for public education.
"If I had his record of failure, I'd focus on Mr. Trump, too," Bryant said.
Inslee touted increases in jobs in the state over the past four years and increased staet spending on early learning, full-day kindergarten and smaller classes in lower grades. "I'm proud of what we've accomplished," he said in a statement. "We're not done yet."
Republican Marty McClendon of Gig Harbor will square off against state Sen. Cyrus Habib, a Democrat from suburban King County for lieutenant governor.
All nine of the state's executive positions are up for election this year, with the governor and lieutenant governor's posts drawing the most interest and a string of retirements bringing a wealth of political hopefuls and perennial candidates onto the ticket.
Inslee, who is seeking a second term, finished the evening with nearly 49 percent of the vote while Bryant, a businessman and former Seattle Port District commissioner, outdistanced the rest of the field with 38 percent. They were at the bottom of the long candidate list on the primary ballot but were the only ones spending significant amounts on their campaigns.
With five-term incumbent Brad Owen retiring from the lieutenant governor's spot, that office, too, drew unusual attention from candidates. Sitting atop the pile in Tuesday's tallies were McClendon, a real estate salesman and radio talk show host, and Habib, a lawyer and legislator who finished slightly ahead of two other Democratic legislators, Karen Fraser and Steve Hobbs.
Erin Jones, a former Rogers High School teacher, and Chris Reykdal, an Olympia legislator, are at the top of a nine-person list in the race to replace Randy Dorn as the state's next superintendent of public instruction.
The general election race for state auditor, another open seat because embattled incumbent Troy Kelley opted not to seek a second term, will come down to Mark Miloscia, a Republican legislator, and Pat McCarthy, a Democrat who serves as Pierce County executive.
Secretary of State Kim Wyman, a Republican who is seeking her second term, will face Democrat Tina Podlodowski in the general election. With election night results from all 39 counties tallied, Wyman has 48.4 percent of the vote and Podlodowski has 45.8 percent.
Attorney General Bob Ferguson picked up 73 percent of the vote against Libertarian Joshua Trumbull but both move on to the general election because they were the only two in the race.
Reporter Kip Hill contributed to this report.
Local journalism is essential.
Give directly to The Spokesman-Review's Northwest Passages community forums series -- which helps to offset the costs of several reporter and editor positions at the newspaper -- by using the easy options below. Gifts processed in this system are not tax deductible, but are predominately used to help meet the local financial requirements needed to receive national matching-grant funds.
Subscribe now to get breaking news alerts in your email inbox
Get breaking news delivered to your inbox as it happens.
---