News > Spokane
Spokane comedians work together to raise profile of the scene
Sun., Aug. 7, 2016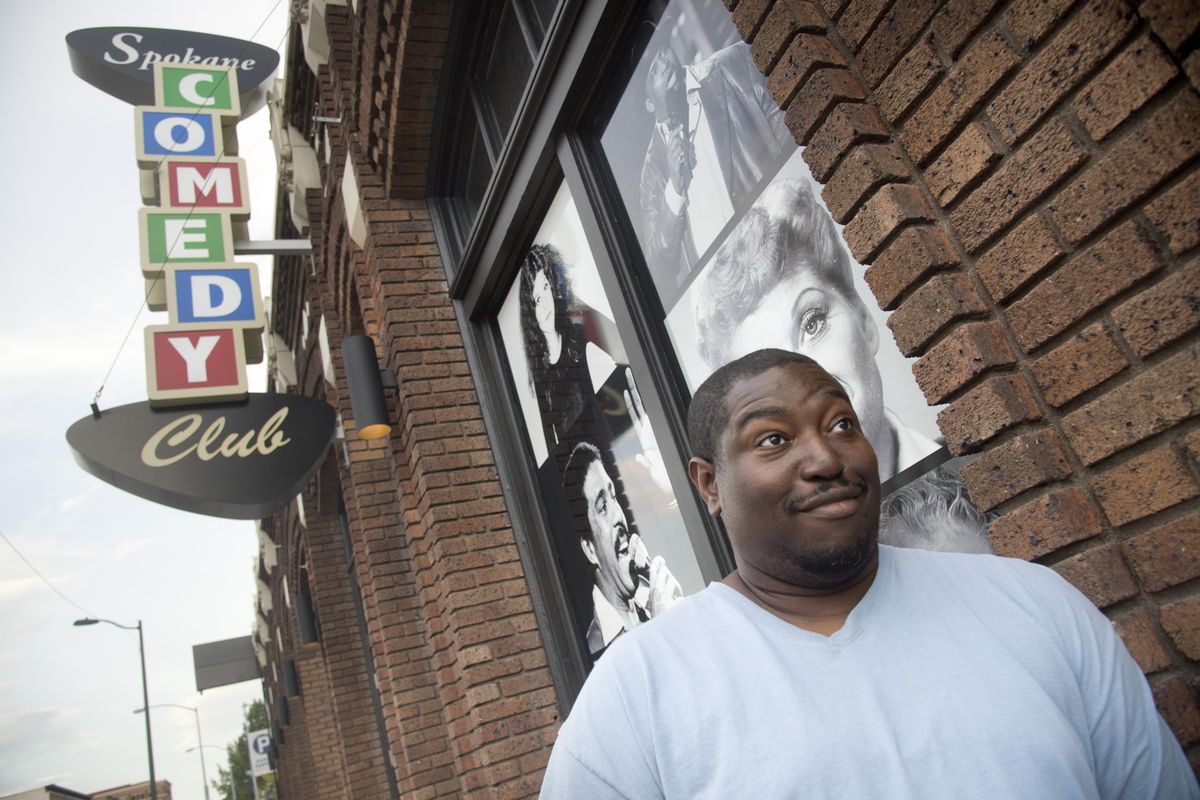 Harry Riley Jr., a comedian based in Spokane, stands outside the Spokane Comedy Club, a venue where he sometimes works on his material in front of an audience, Sunday, July 17, 2016. (Jesse Tinsley / The Spokesman-Review)Buy a print of this photo
Stand-up comedy is not for the fainthearted.
That's especially true in Spokane, where performers battle the usual foes of the fledgling stand-up – disinterested or even hostile audiences, fierce competition for few paying gigs and the need to hold a day job in order to make ends meet – as well as the knowledge they're thousands of miles from clubs and bookers in Las Vegas, Los Angeles and New York, where comedians make their mark.
"A lot of the rooms that people from Spokane have done, you go do that room and it's like half the town's there," said Phil Kopczynski, a local comic who's been performing stand-up for about three years. "You're doing Kellogg, Idaho, Grand Coulee, Colville, Chewelah. These really small towns."
Spokane performers with stars in their eyes have to temper their expectations, said Harry Riley, a former Air Force service member who started performing about a decade ago. But the opening of a new club, with marquee talent, is just one of the developments that has energized a comedy scene that's been relatively sleepy since the boom of the 1980s and '90s, when local comics could get work at three or four clubs each night.
"Now you get big guys in that you would never see in Spokane," Riley said. "It's amazing."
A local grass-roots comedy movement started on social media, and a growing community of young comedians sharing the stage with seasoned performers for unique shows is allowing more talent to appear onstage in Spokane.
Though their motivations for performing and their professional goals may be different, they're united by one simple desire: "Laughter, man," Riley said. "I mean, what's cooler than making people laugh?"
A family affair
Ken McComb used to bum rides to Missoula with a friend to perform comedy.
"He had a Gran Torino, '72; we called it the Millennium Falcon," said McComb, 54. "He would drive, and I'd lay down in the back and take a nap, and wake up and it'd be a show."
Like many of his comedy colleagues in Spokane, McComb joined the military before leaving to take odd jobs around Spokane. Back in the 1980s, he said, performers had a chance to tell jokes at three or four rooms a night, roving around downtown in dives, coffee shops and sports bars, where the crowds weren't always so pleasant.
"We used to do open mic comedy after Monday Night Football," McComb said. "It was the stupidest idea ever. If your team wins you're happy, if your team loses you're sore. Who cares about comedy?"
All the time he was performing, McComb kept a day job, sometimes delivering singing telegrams, as did his wife. McComb would open a show at one venue north of downtown, drive his wife to work and perform at a nearby coffee shop, then return north to close the first show. He called it "the trifecta."
"It's a whole different approach," McComb said. "The thing that kept me going – I was young, and … damn it was fun."
It's still fun for McComb, even when there are few laughs. He served as host for a recent open mic at the comedy club, and chose to open the show with a series of rapid-fire puns. Some landed. Others didn't.
"People in Ritzville were crying, man, their crackers got all wet," McComb said after a story about his wife and girlfriend failed to elicit many chuckles. "Ritz? OK. Spelling joke, right off the bat."
"Man, this feels good already. Thanks for coming out," he deadpanned.
The love of comedy rubbed off on Ryan McComb, Ken's 24-year-old son. He's now a regular at Spokane Comedy Club open mics and other performances around town.
At a recent Drink and Debate competition, a show with a healthy quantity of the former and an increasingly incoherent stream of the latter, Ryan McComb deadpanned a one-liner intended to explain why Melania Trump would make a better first lady than Bill Clinton.
"Michelle Obama has been great," McComb says, striding up to the microphone. "Melania can be great, too. She's obviously been taking notes."
The joke, spoofing the plagiarism charges against Donald Trump's wife at the Republican National Convention, draws some of the biggest laughs from a crowd at the Spokane Comedy Club on this Sunday night. The younger McComb, who started performing in Spokane three years ago, said in an interview his first experience in comedy was similar to many hopefuls taking the stage for the first time.
"It went terribly," McComb said. "There were a lot of sympathy laughs."
Though the two McCombs have contrasting styles – Ken prefers punny one-liners while Ryan opts for observational humor sardonically delivered – their philosophy on the priority of comedy in personal life is similar.
"It's always been, where I could pay the rent, get some food," Ken McComb said. "There was a gig where I worked Tuesday through Sunday, and you'd get a couple bucks a night and a dinner. I wouldn't eat dinner all week. On Saturday I'd have my kids, and everybody would have something."
Ryan McComb said he's never heard "a big speech" from his dad on how to make ends meet as a comic, but he has spoken with him on their carpool to work at a local electronics supplier.
"No, I don't want to drop everything and try to be a full-time stand-up comedian tomorrow," Ryan McComb said. "I'm not saying it can't be done. But it's not for me. A 9-to-5 job, and comedy at night, that sounds A-OK."
Comedy at the grass-roots level
Nick Cavasier, 25, delivers jokes in rapid-fire succession, almost always donning a black fedora-style hat covering his shoulder-length hair.
Cavasier's blunt observations about his life experiences, including his time in the Army, landed him in hot water with club owner Don Parkins, and for a while Cavasier was banned from performing at Uncle D's Comedy Underground, the premier location for local comics looking to hone their craft.
"For a new comedian, there wasn't anything to do," Cavasier said. "There wasn't anything I could do. That's crippling for a lot of people."
Parkins said he had criteria for his acts to follow, and that Cavasier was eventually invited back.
Cavasier started calling up bars in Spokane, asking if he could organize performances. The only taker was the Brooklyn Lounge, and to differentiate his show from Uncle D's, Cavasier pitted two comedians against each other and called it "the Stand-Up Show-Down." The germ ended up producing the Drink and Debate shows, which have been held at Brooklyn, the Big Dipper and, now, the Spokane Comedy Club.
That was the start of the grass-roots comedy movement that produced Spokomedy, a social media platform to promote other comics, Cavasier said. The venture has always been an extension of his own desire to perform.
"My day job is working here, at the comedy club," Cavasier said. "I love everything about comedy, all the different styles, and I like everyone's different approach to it."
From a childhood spent watching Richard Pryor, Cheech Marin and Tommy Chong, who he thought didn't prepare any material before walking onstage, Cavasier joined the military and served in Texas before returning to Spokane and trying comedy. His style is best described as a rambling laugh-track about growing up poor, with mixed racial identities, sprinkled with the self-deprecation that seems to come easily for people in constant pursuit of a laugh.
Thinking back to his first performance, Cavasier remembered telling a joke about sexting.
"I talked about how bad I was at it," he said. "Like, 'What are you doing right now?' 'I'm doing the dishes.' 'But what would you do if I was there?' 'Finish doing the dishes.' "
Cavasier said he can't pinpoint what makes a successful comedian, but he encourages newcomers to get in front of a crowd as much as possible and observe other performers, two things the Spokomedy venture offers new comics.
"There's no way I can give you any tips," Cavasier said. "Watch. Figure out what type of comedian you're going to be."
Coping through comedy
Connie Ehrhardt isn't what you'd expect in the crowd of an open mic night at the Spokane Comedy Club.
She's old enough to be many performers' grandmother, but her material is sometimes blue enough to make them blush. The bright lights pointed at the stage catch her makeup and clothes, sparkling as she slays with a stream-of-consciousness story about a puzzling telemarketer who calls her home every day. Her voice is squeaky and high-pitched, even off-stage, as if she just took a puff from a helium balloon.
"I found out that I'm not a seal, I cannot perform," said Ehrhardt, 66, who moved to Spokane recently after losing the job she'd held at the Hanford nuclear site for decades. "But, by God, I can get up there and tell you something funny."
In 2010, Ehrhardt said, she had a reaction to medication she was taking that affected her memory. She tried hiding the symptoms and retreated from the public to avoid embarassing social interactions. When she asked the doctor to test her for Alzheimer's, she was told there was no test, and she should just keep her family informed of her condition.
Performing comedy, and being around Spokane's many young, talented comedians, has been transformative, Ehrhardt said.
"These people are so funny," Ehrhardt said. "It's the first time I've ever felt like myself."
The need to be on stage
When Phil Kopczynski started performing stand-up three years ago, he'd hit four or five open mics a week. He set a low standard for success to keep himself from going crazy or getting discouraged.
"It was getting to the point where I was like, 'OK, I'll do three where no one laughs, and if I can't get that fourth one, I'm out,' " Kopczynski said in an interview.
Stand-up has become an addiction for the 36-year-old general manager of an industrial maintenance firm in Spokane Valley. Kopczynksi switched to stand-up a few years ago after performing improv comedy at the Blue Door in Spokane's Garland District. Talking directly to an audience, as a solo performer, provided an experience Kopczynski now craves.
"Improv's like the gateway drug," Kopczynski said. "Stand-up's like the heroin."
To improve his act, Kopczynski sought out four shows a week to perform in front of an audience. Sometimes that meant crashing open mics in town that were intended for musicians, leading to some awkward but telling moments on stage.
"People are typically going to give you their attention, but they're not going to give you a pity laugh," Kopczynski said. "When people go to a comedy club, they're there to laugh. These people are there to chill and listen to music."
"People will come up to you after and say, 'That was great,' even though I was like, 'That sucked. Everyone was silent, no one made a sound,' " he said.
Stand-up performers need feedback more than any other type of performance artist, Kopczynski said.
"The only real practice you get in stand-up is being in front of people," he said. "You can practice it all you want in your basement, or whatever, but reading the audience is your real practice."
Kopczynski has spent three years building relationships with clubs throughout the region, working to ascend a ladder that begins with hosting shows, then becoming a "feature" comic and finally headlining a set. Even headliners rarely make the big bucks fans associate with acts like Louis C.K. and Kevin Hart, who sell out packed arenas.
Fame is also fleeting. Dane Cook, once the gold standard in arena comedy, is once again performing in the smaller theaters closer to where he got his start, Kopczynski said.
To meet booking agents that could help raise his profile, Kopczynski performed as part of the World Series of Comedy nationwide talent search earlier this summer. He placed second at a satellite event in Colorado, good enough to earn a berth at a performance in Las Vegas at the beginning of September.
Kopczynski said he'd be thrilled if he won. But networking is the key to getting a leg up in the industry.
"The goal is, really, just to meet bookers," he said. "I'll feel confident that I'll do competently. But comedy competitions are so insane."
Persona and personality
Whether he's in the audience or onstage, Harry J. Riley is an unavoidable presence at Spokane comedy shows.
From the audience, his thundering guffaw punctuates the jokes of other performers. When he takes the microphone, the South Carolina native with a slight drawl is assertive, talking about his confusion with the female anatomy ("It runs like a diesel engine. This runs without spark plugs? What?") as if he was holding court at a bar or house party.
Offstage, Riley envies his alter ego.
The 35-year-old comedian is soft-spoken, his eyes searching his surroundings as if in pursuit of the right words. He knows the person on stage conflicts with his own personality.
"People would like that person a little bit more," Riley said outside the Spokane Comedy Club before a show last month. "But that's not really who I am. That's not all of me. That's more like 40 percent of me."
Riley found comedy a decade ago in the midst of a rough patch in life. He'd been diagnosed with lupus and received a discharge from the Air Force. He was also in the middle of a divorce.
"A friend of mine, who was also in the military, he was like, hey, there's an open mic at this club," Riley said. "My first time going up, I loved it. It wasn't like open mic nowadays, when you actually have people. It was like four comedians."
From that first show in the lounge of a Quality Inn, Riley has earned a name and the respect of Spokane comedians. Cavasier named him a judge of the Drink and Debate show, and his colleagues laud his outlandish style and how it conflicts with his offstage persona.
Riley's personality as a child resembled more closely the extroverted, bombastic performer he's become. But then he developed a stutter and – like Ehrhardt – retreated inward to avoid embarrassment and social anxiety.
"I had to take three years of speech therapy when I was in elementary school," he said. "I think after a while, enough people started picking on me, and you grow up poor. That makes you withdraw more and more. By the time I got to high school, I was just a shell, you know?"
Being in the military forced Riley to interact socially, but not to the degree required to perform onstage. Riley said he had to learn how to read an audience and deliver the jokes they wanted to hear, a skill Kopczynski, Cavasier and the McCombs all said was key to improving as a comedian.
Riley said the comedy opportunities in Spokane are few. But he's trying to make the most of them, including an appearance in the cable series "Z Nation" that has been filming in town for the past few years. He was cast as Carl, a character Riley describes as an overly ambitious post-apocalyptic cannibal.
"It looks like I took all the food from everybody else," Riley said outside the comedy club, his voice rising and quickening on the street to match his delivery onstage. "I'm just sucking marrow out of bones, and everybody else looks like a normal apocalypse person. I look like I'm in the apocalypse, but I'm having way too much fun."
The future of Spokane comedy
Club owners and comedians in Spokane recognize the limitations of the scene, but they're working and supporting each other to produce top talent.
Don Parkins, the longtime owner of Uncle D's and a Spokane-based performer and promoter for decades, said the lack of venues these days could hurt the young crop of comedians looking to go pro.
"There's not enough places to work and get paid," Parkins said.
The Spokane Comedy Club took over as the city's most visible comedy location just as Parkins closed his club earlier this year to get back to touring and performing.
Adam Norwest, owner of the Spokane Comedy Club and himself a traveling comic, said he sees the space as a hub for the local scene where they can learn from observing and performing with not only celebrities but mid-level comedians earning a living.
"It's no different than a football player watching tape," Norwest said.
Parkins said the key was establishing a series of shows on the weekends that encourage performers not to work without pay, a goal that's tougher with the advent of social media. Established comics can use it to grow their audience, but the focus for up-and-coming acts serious about performing should be on looking past open mics and toward a paycheck, Parkins said.
"Young comedians should not work on a Friday or Saturday night for free," he said. "They're never going to get over the hump that way."
Norwest said pay for comics varies, but usually hosting or performing as a featured comic will net the comedian between $25 and $100 a night, plus drinks and snacks.
Comic Mika Lahman, 31, said the current crop of Spokane comedians have had to work hard to establish their own rooms and a support system. She's gotten over her own fear of being onstage and has hosted open mic nights at the comedy club, as well as performing in the Drink and Debate show and other competitions.
"I do think that Spokane has a really nice, supportive scene," Lahman said. "I think it's a really cool place to start doing comedy."
Ken McComb sees the enthusiasm of the next generation of Spokane comics in his son and also in the performers he continues to share the stage with. But he won't be sharing it for long. His retirement roast, with Lahman, Riley, Ryan McComb and Parkins slated to perform, is scheduled at the comedy club on Aug. 14.
"Every few couple of years, it's like a class," Ken McComb said. "This new group of comedians, they're off the charts. It's next level. It's a whole new thing."
Local journalism is essential.
Give directly to The Spokesman-Review's Northwest Passages community forums series -- which helps to offset the costs of several reporter and editor positions at the newspaper -- by using the easy options below. Gifts processed in this system are not tax deductible, but are predominately used to help meet the local financial requirements needed to receive national matching-grant funds.
Subscribe now to get breaking news alerts in your email inbox
Get breaking news delivered to your inbox as it happens.
---