Sports
Digest: Tim Tebow will try to play professional baseball
Tue., Aug. 9, 2016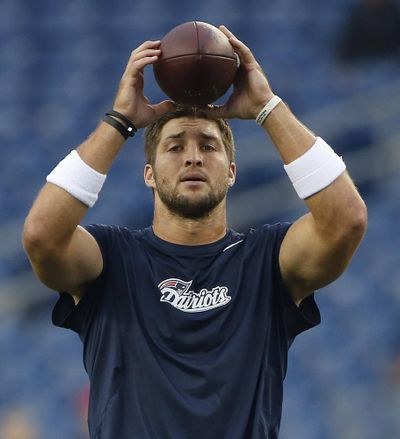 NFL: With professional football not working out, Tim Tebow is going to give baseball a try.
The 2007 Heisman Trophy winner and former NFL first-round draft pick plans to hold a workout for Major League Baseball teams to scout him. Tebow last played organized baseball in high school.
Agent Brodie Van Wagenen, the co-head of CAA Baseball, said in a statement that the workout is not a publicity stunt.
"His work ethic is unprecedented, and his passion for the game is infectious. He knows the challenges that lie ahead of him given his age and experience, but he is determined to achieve his goal of playing in the Major Leagues," Van Wagenen said.
Tebow, who turns 29 on Sunday, has been training in Scottsdale with former major league catcher Chad Moeller.
"I am beyond impressed with Tim's athleticism and swing, and it goes without saying that he has shown a high level of discipline and strong work ethic," Moeller said in a statement released by CAA. "I see bat speed and power and real baseball talent. I truly believe Tim has the skill set and potential to achieve his goal of playing in the Major Leagues, and based on what I have seen over the past two months, it could happen relatively quickly."
Former All-Star slugger Gary Sheffield came to bat for Tebow on Twitter.
"I spent time with Tim Tebow in the cages," Sheffield wrote, "he's a NATURAL. Tim has IT."
Tebow won the Heisman and two national championships with the University of Florida and was drafted in the first round by the Denver Broncos in in 2010. He has not played in the NFL since 2012 with the New York Jets. He went to training camp with the New England Patriots in 2013 and the Philadelphia Eagles in 2015 but was cut before the season each time.
Tebow last played baseball more than a decade ago, hitting .494 as a junior for Nease High School in Florida. He didn't play baseball as a senior, concentrating instead on football.
"He was a six-tool player," Tebow's high school coach Greg "Boo" Mullins said in a 2013 interview with The Sporting News. "He has arm strength, he could run, he could hit, he could hit for power, he could field, but his character made him that six-tool guy."
John Fox, the Chicago Bears coach who coached at Denver when Tebow played there, said "good for him" when told of his decision to try baseball.
"He was very competitive," Fox said Tuesday, "a super, super young person, very dedicated to life, a guy that I was very impressed with that took us to the playoffs and won a playoff game."
ESPN reported that Tebow will work out for major league teams later this month.
Cleveland Indians manager Terry Francona managed Michael Jordan when the basketball star did a stint in the minors with the Birmingham Barons in Double-A in 1994.
"It's a little harder jump, though, than I think people realize," Francona said. "Even the lower A-ball, the lower rungs of professional baseball, are still pretty good baseball."
New York Jets receiver Eric Decker, who was Tebow's teammate in Denver and who played baseball at the University of Minnesota, said he doesn't know if Tebow will be good enough, but he is confident people will pay to find out.
"I don't know what the chances are (of Tebow being successful), but if I was a Double-A or a Single-A team, I'm signing him to get the ticket sales up. I'm sure he'll have success in that field," Decker said.
Tebow already has drawn the attention of minor league teams that always are on the lookout for a successful promotion.
The Schaumburg, Illinois, Boomers of the Independent Frontier League issued a news release saying they have offered Tebow a contract .
"We're looking for an athletic outfielder who can bring some leadership and competitiveness into the clubhouse," Boomers manager Jamie Bennett said. "Tebow brings all of those characteristics and then some. I think he'd be a great fit here in Schaumburg."
The Fort Myers Miracle, a Class A affiliate of the Minnesota Twins, quickly planned a "What Would Tim Tebow Do?" night on Thursday.
As for the majors, New York Mets general manager Sandy Alderson was asked if the team had any interest in Tebow.
"Are you insinuating we need a Hail Mary at this point?" he said.
Fans to sue NFL: Several fans who traveled to Canton, Ohio, for the Hall of Fame game that was canceled on Sunday night because of poor field conditions are planning to sue the NFL and the hall. Attorney Michael Avenatti, who represented ticket holders for the 2011 Super Bowl who wound up without seats in Dallas, told The Associated Press on Tuesday that no fewer than 20 individuals have approached him about a class-action lawsuit. He said his firm has fielded another 10 calls about seeking further reimbursements, including travel expenses.
Avenatti said his clients are from a variety of states, including Wisconsin and Indiana, who came to see the Packers play the Colts.
"We have been approached by no fewer than 20 individuals who traveled to the game to participate and be ready to enjoy the game," he said. "And unfortunately they did not have the opportunity to enjoy the game, and as a result lost a significant amount of money."
The game was canceled after paint congealed and hardened on portions of the field at Tom Benson Hall of Fame Stadium.
This is not the first time an NFL field has been reported as having poor field conditions. Last season Buffalo Bills running back Reggie Bush tore a knee ligament after slipping on concrete alongside the playing field in St. Louis.
Bengals offensive lineman Eric Winston, the head of the players' union, said NFL fields have come a long way from the days of lumpy artificial surfaces, but there's still a lot of room for improvement. Winston said the league and the NFL Players Association need to identify trouble spots in advance. The NFLPA and the league have formed a committee to evaluate field conditions overall. The league already has standards for game-day field conditions.
Johnson denies report of suspension: Eagles tackle Lane Johnson denied a report that he will be suspended for 10 games for a second violation of the NFL's performance-enhancing drug policy. Several news outlets say he faces a suspension. Johnson said he tested positive for a substance he believed to be approved for use.
Johnson's agent, Ken Sarnoff, said in a statement that they are aware of the report but that "Lane has not been suspended, and any report to the contrary is false."
The NFL had no comment. The Eagles did not respond to a request for comment.
A report first surfaced Tuesday afternoon from a local radio host that Johnson will be suspended for 10 games. In a text message to the Inquirer, Johnson said "all was good" and denied the report.
Kubiak prolongs No. 1 QB decision: Gary Kubiak was expected to announce his starting quarterback Tuesday morning for Denver's preseason opener. The Broncos coach instead dragged out the drama another 24 hours. The biggest question at Broncos training camp – who is the No. 1 quarterback – is still unanswered. Kubiak and his staff are deliberating whether veteran Mark Sanchez or Trevor Siemian will start at Chicago on Thursday night, with a decision now expected Wednesday.
Cruz could miss preseason opener: Giants wide receiver Victor Cruz, who missed all of last season with a calf injury and has been limited to six regular-season games in the last two years, is looking iffy for the Giants' preseason opener against the Miami Dolphins after sustaining a groin injury in practice.
Coach Ben McAdoo was taking a wait-and-see approach when asked whether Cruz would play on Friday night at MetLife Stadium.
Dolphins sign Culliver: Cornerback Chris Culliver has signed with the Miami Dolphins, who hope he can return from knee surgery and help their thin secondary. Culliver tore ACL and MCL ligaments in his right knee during practice last Thanksgiving with the Washington Redskins, and they released him in May.
Study reveals new NCAA data
Miscellany: Big-money sports football and men's basketball were involved in 83 percent of NCAA Division I major infractions cases from 1953 to 2014, according to the first study of its kind. Probation and public reprimand and censure were the most common penalties.
Temple University's Sport Industry Research Center prepared the study for the NCAA Division I Committee on Infractions.
"The NCAA has never compiled all this data into one place and to run these types of analysis, so to look at all 554 cases under the former penalty matrix, we found it very informative to understand how often a certain infraction was occurring or how often a certain penalty was prescribed," said Jeremy Jordan, the research center director and a study co-author.
The release of the study comes three years after the NCAA moved to a system that metes out specific penalties dependent on an infraction's magnitude on a four-tier scale. Previously, infractions were considered either major or secondary.
The most common infractions over the 61 years analyzed were recruiting inducements (57 percent), impermissible benefits (54 percent) and other recruiting violations (48 percent). The most common penalties were probation (87 percent) and public reprimand and censure (86 percent). Recruiting restrictions were a distant third (50 percent).
Jordan said the type of penalty prescribed for certain infractions were predictable, but each case was unique. So penalties could vary depending on factors such as the magnitude of the infraction, how many people were involved and whether the school was a repeat offender or on probation at the time of the infraction.
Hamlin's Daytona 500 trophy has a typo: Daytona 500 winner Denny Hamlin tweeted a picture after he received his version of the Harley J. Earl Trophy that goes to drivers who win the Great American Race. But instead of the correct year of 2016, the silver plate read "2015."
"It just hasn't been the best week as far as mis-prints go," Hamlin said, referring to a headline he saw Monday after his victory at Watkins Glen that said the winner was "Hamilton."
The win was Hamlin's first on a road course. The Sprint Cup series is off until the Aug. 20 race at Bristol Motor Speedway.
Real Madrid tops Sevilla in Super Cup: A solo goal by Dani Carvajal just before the end of extra time gave Real Madrid a 3-2 victory over 10-man Spanish rival Sevilla in the UEFA Super Cup in Trondheim, Norway.
Madrid, the Champions League winners in May, took the lead in the 21st minute through Marco Asensio against a Sevilla side that lifted the Europa League trophy for a third straight time last season. Sergio Ramos leveled for Madrid in the third minute of stoppage time and Sevilla defender Timothee Kolodziejczak was sent off at the start of extra time, before Carvajal went on a run from the halfway line to score the winner in the 119th minute.
Local journalism is essential.
Give directly to The Spokesman-Review's Northwest Passages community forums series -- which helps to offset the costs of several reporter and editor positions at the newspaper -- by using the easy options below. Gifts processed in this system are not tax deductible, but are predominately used to help meet the local financial requirements needed to receive national matching-grant funds.
Subscribe to the sports newsletter
Get the day's top sports headlines and breaking news delivered to your inbox by subscribing here.
---