News > Voices
New pedestrian beacon at Mead High
Wed., Aug. 10, 2016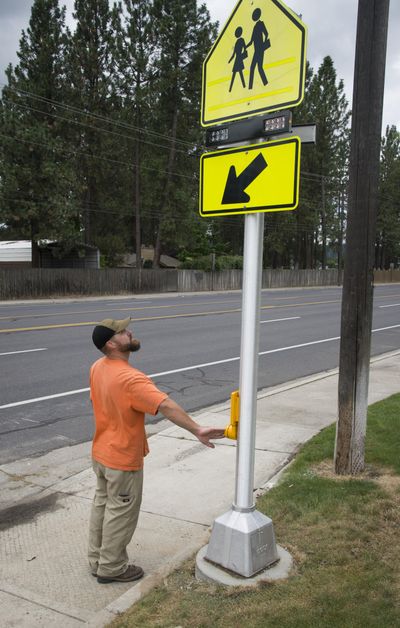 Spokane County crews this week installed new rapid-flashing beacons to protect students and other pedestrians crossing Hastings Road at Mead High School.
The installation was a cooperative community project involving the county, Mead School District, Fairwood Farmers Market and others in the area.
The project took two years to complete after the initial request for a flasher-protected crossing came up, said Rob Allen, director of the farmers market.
"Safety will be enhanced," he said.
The rapid-flashing beacons are mounted on two poles, one on each side of Hastings Road.
Allen said that accidents involving pedestrians have occurred in the past outside the high school, and there has been a lot of concern about pedestrian safety there.
Allen said he worked with a group of students in a leadership class to count crosswalk use and then interview students about any incidents that may have occurred.
He said the survey showed that half of the students interviewed said they had been involved in a close call either as a pedestrian or an occupant in a vehicle.
Barry Greene, county traffic engineer, said studies show the beacons cause drivers to be more diligent in watching for pedestrians and the flashers act as a reminder that pedestrians crossing the street is a likelihood.
"Driver compliance has been better with them than without them," he said of the studies.
The beacons that went up at Mead are similar to ones near Gonzaga University on Hamilton Street.
The flashers are activated by pedestrians and are timed to flash for the approximate time it takes to cross on foot, Greene said.
The school district purchased the beacons, which cost about $20,000.
The farmers market raised an additional $2,500 for the project, Allen said.
He said the farmers market wants to continue reaching out to the surrounding community on various projects, including a proposal to get land on the Little Spokane River floodplain protected under the county's Conservation Futures program.
On the flashers project, Allen said he contacted the owner of a residential property on the south side of the crossing where vegetation had grown so large that it might obscure the visibility of the flashers for drivers approaching the crosswalk.
Avista Corp. has offered to use one of its crews to do the pruning, Allen said.
Local journalism is essential.
Give directly to The Spokesman-Review's Northwest Passages community forums series -- which helps to offset the costs of several reporter and editor positions at the newspaper -- by using the easy options below. Gifts processed in this system are not tax deductible, but are predominately used to help meet the local financial requirements needed to receive national matching-grant funds.
Subscribe now to get breaking news alerts in your email inbox
Get breaking news delivered to your inbox as it happens.
---