Sports
Eastern's receiver corps is deep and talented, which is a nice problem to have
Mon., Aug. 15, 2016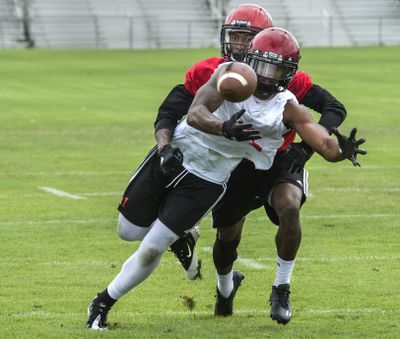 As the torch is being passed to a new generation of Eastern Washington receivers, many hands are reaching out.
They're grasping on to every bit of wisdom imparted by seniors Cooper Kupp, Kendrick Bourne and Shaq Hill, but they're also trying to seize some playing time. Even with an offense as wide-open as the Eagles', there are only so many balls to go around.
"I'm just hoping to get in the rotation," said redshirt freshman Jayson Williams, who's looked strong in fall camp. Then again, so has almost everyone else on what is probably the best unit in the Football Championship Subdivision.
The Eagles have 13 wide receivers on the fall roster, including just a pair of true freshmen. Kupp, an All-American with 114 catches for 1,642 yards and 19 touchdowns last year, and Bourne (73 catches, 998 yards, eight TDs) will be fixtures in most three- and four-receiver sets.
The next generation already has made an impact with the likes of true junior Terence Grady (25 catches, 281 yards last season) redshirt junior Nic Sblendorio (23 catches, 366 yards) and sophomores Nsimba Webster, Zach Eagle and Mt. Spokane product Stu Stiles.
Also in the mix are Williams, fellow redshirt freshman Dre' Sonte Dorton and redshirt junior Roy Ebong.
Meanwhile, Hill – one of the top big-play and kick returners in school history – is back from injury.
If the Eagles have an embarrassment of riches, it's one of their own creation. To a man, the youngsters credit Kupp, Bourne and receivers coach Nicholas Edwards (an All-American at EWU in 2011) with their development.
"They've taught me patience, hard work and to watch film a lot," said Webster, who also returned kicks last year in Hill's absence.
"When they leave, I hope to carry on what they brought to the team," Webster said.
Specifically, that means mental toughness as well as technique.
"Honestly, we're just showing them how to work hard and make every practice count instead of just getting through the day," Bourne said Monday morning at what promised to be a warm practice on the grass fields behind Reese Court.
"We also try to make sure they work on something different every day," Bourne said.
So at the end of the day, who's going to see the field? Coach Beau Baldwin isn't worried.
"With this offense and the way we keep teams spread out … by the end you'll see five, six or seven guys who'll have big impacts."
That may not include the 6-foot-5 Grady, who has yet to redshirt. "That seems to make the most sense," said Grady, who discussed the possibility with coaches last spring.
"But that's not the mentality I'm going into camp with," Grady said.
Notes: The Eagles will have two-a-days on Tuesday on the grass fields, then move for good to Roos Field on Wednesday morning to prepare for Saturday's scrimmage. Baldwin promises to pit "the best of the best" on Saturday morning in what will be a situational scrimmage, including red-zone and two-minute drills. "We're trying to see them grow in those types of situations," said Baldwin, who added that the scrimmage will not be a big determinant on who will be the starting quarterback for the opener on Sept. 3 at Washington State. … Baldwin said that team captains won't be chosen until the end of fall camp, which is somewhat later than in recent years.
Local journalism is essential.
Give directly to The Spokesman-Review's Northwest Passages community forums series -- which helps to offset the costs of several reporter and editor positions at the newspaper -- by using the easy options below. Gifts processed in this system are not tax deductible, but are predominately used to help meet the local financial requirements needed to receive national matching-grant funds.
Subscribe to the sports newsletter
Get the day's top sports headlines and breaking news delivered to your inbox by subscribing here.
---