News > Spokane
Then & Now: Earl Clack and Husky Oil
Mon., Aug. 15, 2016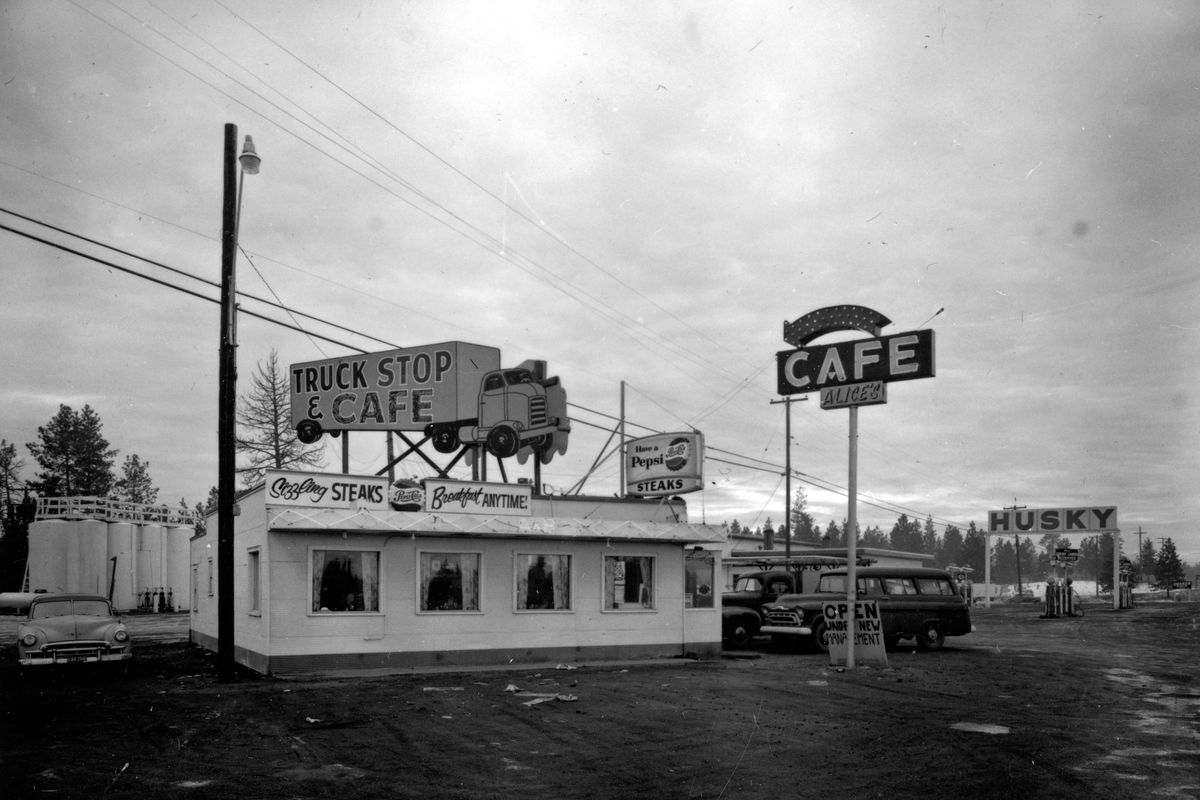 1962: Kirk's Geiger Field Truck Stop, which sat along the Sunset Highway, was bought by Husky Hi Power Inc. in 1959 and rebranded, adding to a long list of Husky gas stations and wholesale outlets around the region. Husky's chain of gas and oil outlets more than doubled when it merged with the H. Earl Clack Co., which had spread refineries, distribution points and retail outlets from North Dakota to the West Coast. (Libby Collection/Eastern Washington State Historical Society Archives)
When you see an advertisement extolling the quality of one brand of gasoline over another, think of H. Earl Clack of Havre, Montana.
He was one of the region's foremost oilmen because of his marketing skill. Born in Texas in 1881, Clack arrived in Havre in 1899. He spent his early years peddling gas and kerosene by horse and wagon. In 1913 he formed his own company and opened his first gas station. Clack built stations across Montana and ran a chain of grain elevators.
Clack entered the Spokane market in 1922, setting up tanks, distribution and new stations. He watched as competition grew and his profit margin dropped. In desperation, he tried a new idea. He placed a second gas pump next to his first and labeled it "Hi Power," charging a penny more per gallon. Sure enough, customers bought 6 gallons of "Hi Power" for every gallon of regular.
"Salesmanship is a better avenue to success than price-cutting," he told a reporter.
There were about 200 Clack wholesale and retail facilities across seven northern states when Husky Oil, founded in Cody, Wyoming, but now based in Canada, merged with Clack in a multimillion-dollar deal in 1954. Husky Hi Power became the retail name on gas stations. Clack became the chairman of the new company and his son, W. Turner Clack, stayed in Spokane and continued to run marketing operations after the merger.
A 1961 advertisement showed almost 40 Husky outlets at that time.
Earl Clack died in 1955.
– Jesse Tinsley
Local journalism is essential.
Give directly to The Spokesman-Review's Northwest Passages community forums series -- which helps to offset the costs of several reporter and editor positions at the newspaper -- by using the easy options below. Gifts processed in this system are not tax deductible, but are predominately used to help meet the local financial requirements needed to receive national matching-grant funds.
Subscribe now to get breaking news alerts in your email inbox
Get breaking news delivered to your inbox as it happens.
---