Sports
Sunday's best bets to watch Olympics on TV
Sat., Aug. 20, 2016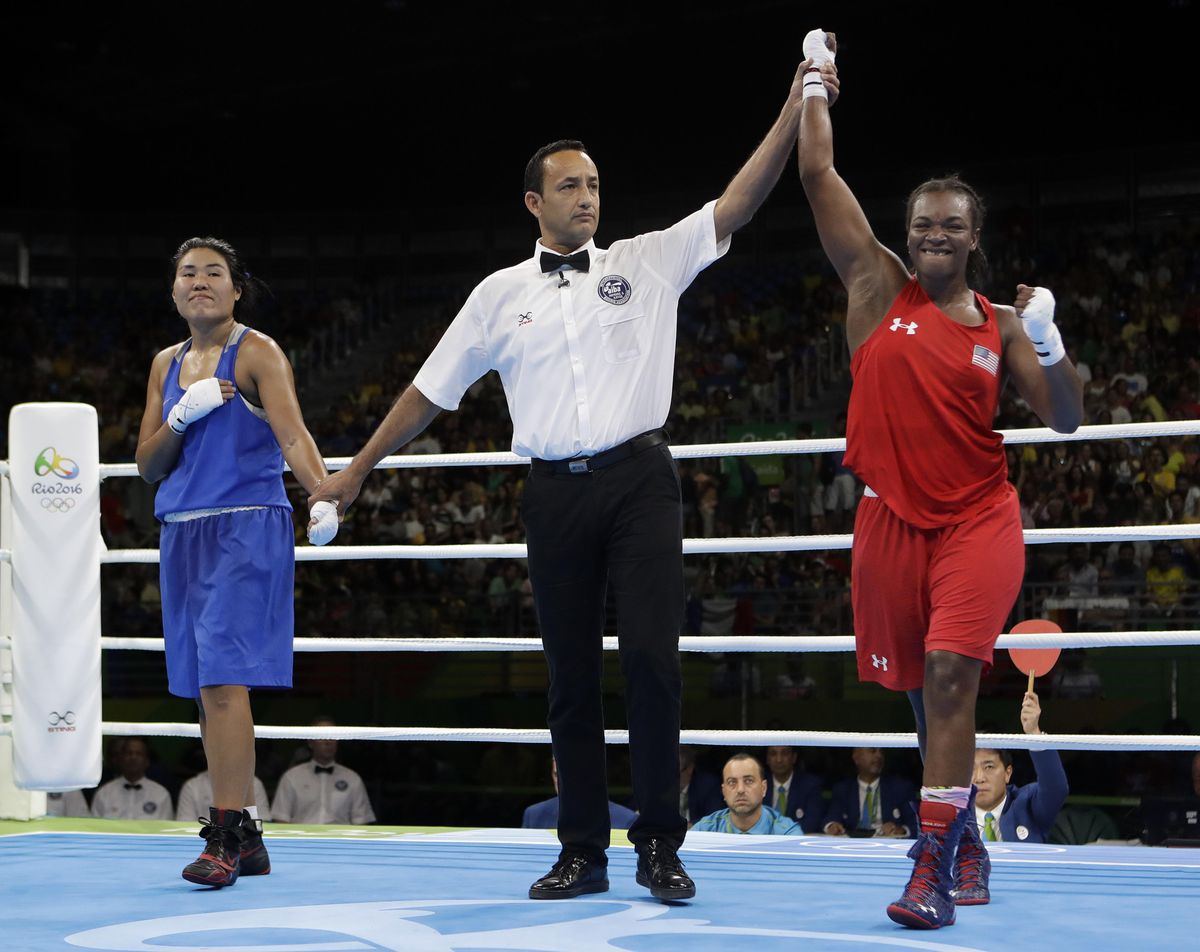 CORRECTS SPELLING OF CLARESSA - United States' Claressa Maria Shields, right, reacts as she won a women's middleweight 75-kg semifinals boxing match against Kazakhstan's Dariga Shakimova at the 2016 Summer Olympics in Rio de Janeiro, Brazil, Friday, Aug. 19, 2016. (AP Photo/Frank Franklin II) ORG XMIT: OBOX155 (Frank Franklin II / AP)
Basketball
Today we find out if the U.S. men's basketball team is going to finally slip up and lose a game. It plays Serbia so the answer is likely no. The U.S. struggled when it played Serbia in pool play, winning 94-91. The Serbs even had an open look at a 3 at the buzzer but missed. The U.S. is unbeaten despite four games decided by 10 or less points.
Boxing
American Claressa Shields aims for second straight gold medal in the women's middleweight class. She hasn't lost a fight since the London Games in 2012. She will fight Nouchka Fontijn of the Netherlands. Shields also has won two world championships and a Pan-Am Games title.
Closing ceremony
It all comes to an end and the flag is passed to Tokyo. Olympic fans will be interested to see how IOC President Thomas Bach summarizes the games, which were beset with problems ranging from venues to transport to local facilities. It was the only time the games have been to South America. He was asked at a news conference whether he would want them back in Brazil and he said "yes" without hesitation. The rest of the ceremony will be a lot of singing, dancing and partying.
Local journalism is essential.
Give directly to The Spokesman-Review's Northwest Passages community forums series -- which helps to offset the costs of several reporter and editor positions at the newspaper -- by using the easy options below. Gifts processed in this system are not tax deductible, but are predominately used to help meet the local financial requirements needed to receive national matching-grant funds.
Subscribe to the sports newsletter
Get the day's top sports headlines and breaking news delivered to your inbox by subscribing here.
---