News > Spokane
The Dirt: BNSF building vehicle unloading facility
Sat., Aug. 20, 2016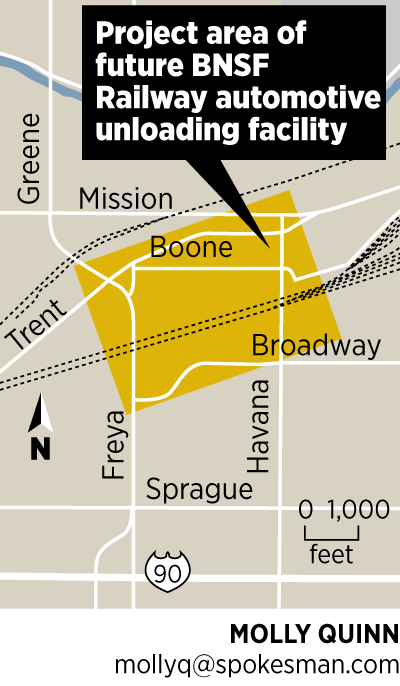 BNSF Railway started construction this month on a $6 million Spokane automotive unloading facility near its Parkwater rail yard.
Among other commodities, BNSF transports and delivers about 12,000 vehicles a year to Spokane, a majority that go to Inland Northwest car lots. The new expanded automotive unloading facility, on BNSF property near Wisconsin Avenue, is twice the size of an older automotive unloading site on Mission about a mile away, said BNSF spokesman Gus Melonas.
A majority of the new project is on about 13 acres west of Havana Street and south of Trent Avenue, city planning documents say. After grading work, the project will include paving for about 1,000 automotive storage spaces, a small office, LED lighting towers, and fencing.
Depending on weather conditions, the facility is expected to be operational by year-end and replace the former facility, Melonas said. The new infrastructure will enable more efficient delivery from auto-rack rail cars closer to the mainline tracks, he added.
Melonas said BNSF separately has spent about $10 million on recent upgrades to the Spokane rail yard, including new rail lines and track surfacing. BNSF serves about 75 Spokane customers to move inbound and outbound commodities.
"We'll evaluate what we will do with the current facility at Mission; that will be under review," Melonas said. "We'll continue to use the current facility in the meantime."
Dialysis company leases North Division space
ISD Renal, a dialysis company, recently leased 10,400 square feet of space in Spokane at 7701 N. Division St.
Chris Bell and Jim Orcutt, both of Black Commercial, were the brokers.
Auto parts firm to open on North Market
An auto parts business has secured a site at 7826 N. Market St., in Spokane.
Adam Harding leased the 2,400 square feet of space.
The brokers were Drew Ulrick, of Black Commercial, and Steve Peterson, of Coldwell Banker Tomlinson North.
Local journalism is essential.
Give directly to The Spokesman-Review's Northwest Passages community forums series -- which helps to offset the costs of several reporter and editor positions at the newspaper -- by using the easy options below. Gifts processed in this system are not tax deductible, but are predominately used to help meet the local financial requirements needed to receive national matching-grant funds.
Subscribe now to get breaking news alerts in your email inbox
Get breaking news delivered to your inbox as it happens.
---