News > Spokane
Fire near Davenport grows to 1,600 acres
Sun., Aug. 21, 2016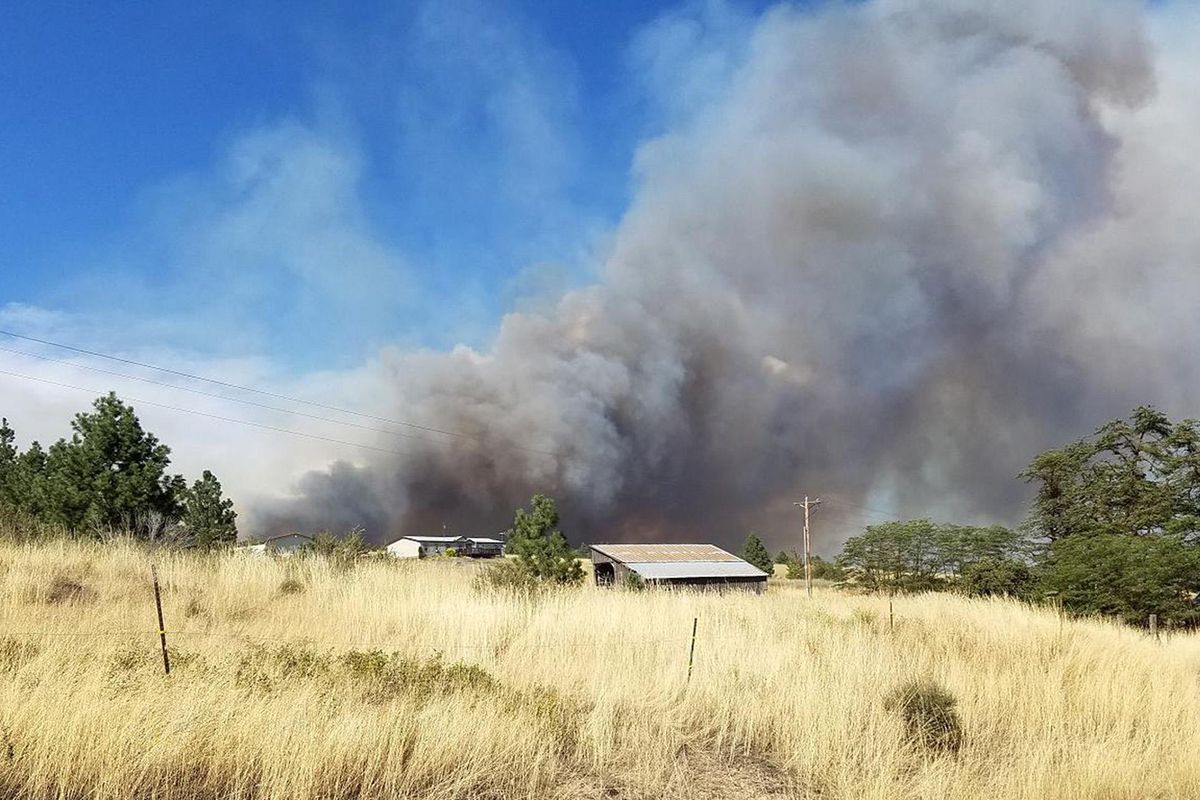 Smoke can be seen from Hart Road about a mile east of Highway 25. (Daniel Moldrem)
A fast-moving fire north of Davenport, Washington, grew to at least 1,600 acres Sunday, triggering evacuations.
The Hart Road fire burned down multiple structures and was threatening 60 homes as of Sunday evening, the Washington Department of Natural Resources said. The fire jumped the Spokane River in multiple places onto the Spokane Indian Reservation, forcing Wellpinit residents to begin evacuating homes late Sunday.
Daniel Moldrem, who lives on Hart Road about a mile east of state Route 25, said he was at home with his family around 2:50 p.m. Sunday when they saw smoke coming over a nearby hill. Ten minutes later, a Lincoln County sheriff's deputy showed up telling them to leave immediately.
"We just kind of scrambled, grabbed what we could and threw it all in the cars," he said.
Moldrem left with his parents and brother as DNR crews watched the house, he said. The family gathered at the Old Apostolic Lutheran Church in Davenport, which is serving as an impromptu meeting place for people displaced by the fire.
"Pretty much everyone who was evacuated kind of just came to the parking lot and we've been waiting here," Moldrem said Sunday evening. He estimated about 200 people were in the parking lot and said the church cooked dinner for the group.
Rob Harper said he was on the Spokane River a few miles upstream from the Porcupine Bay boat launch when he noticed smoke starting to fill the sky around 3 p.m.
"We didn't worry about it too much until it started getting thick and ash started falling on us out of the sky," he said. Around 5 p.m., he said, the fire approached the river.
All residents within a 5-mile area north and northeast of state Route 25 and Hart Road were asked to evacuate immediately due to the wildfire north of Davenport, in what's called a Level 3 evacuation order. Wellpinit residents were ordered to evacuate immediately late Sunday. A temporary shelter was set up at the Lincoln County Fairgrounds.
A Level 2 evacuation was in place for residents east of Hart Road to Mill Canyon Road, meaning residents should be ready to leave the area at a moment's notice, the Lincoln County Sheriff's Office said. The state began sending resources to help fight the fire Sunday evening.
A second fire, estimated at 250 acres, started near Deep Lake in Stevens County on Sunday, DNR said. That fire was in heavy timber and threatening structures.
Local journalism is essential.
Give directly to The Spokesman-Review's Northwest Passages community forums series -- which helps to offset the costs of several reporter and editor positions at the newspaper -- by using the easy options below. Gifts processed in this system are not tax deductible, but are predominately used to help meet the local financial requirements needed to receive national matching-grant funds.
Subscribe now to get breaking news alerts in your email inbox
Get breaking news delivered to your inbox as it happens.
---