News > Spokane
Downed power line sparks 2,500-acre wildfire near Spangle
Sun., Aug. 21, 2016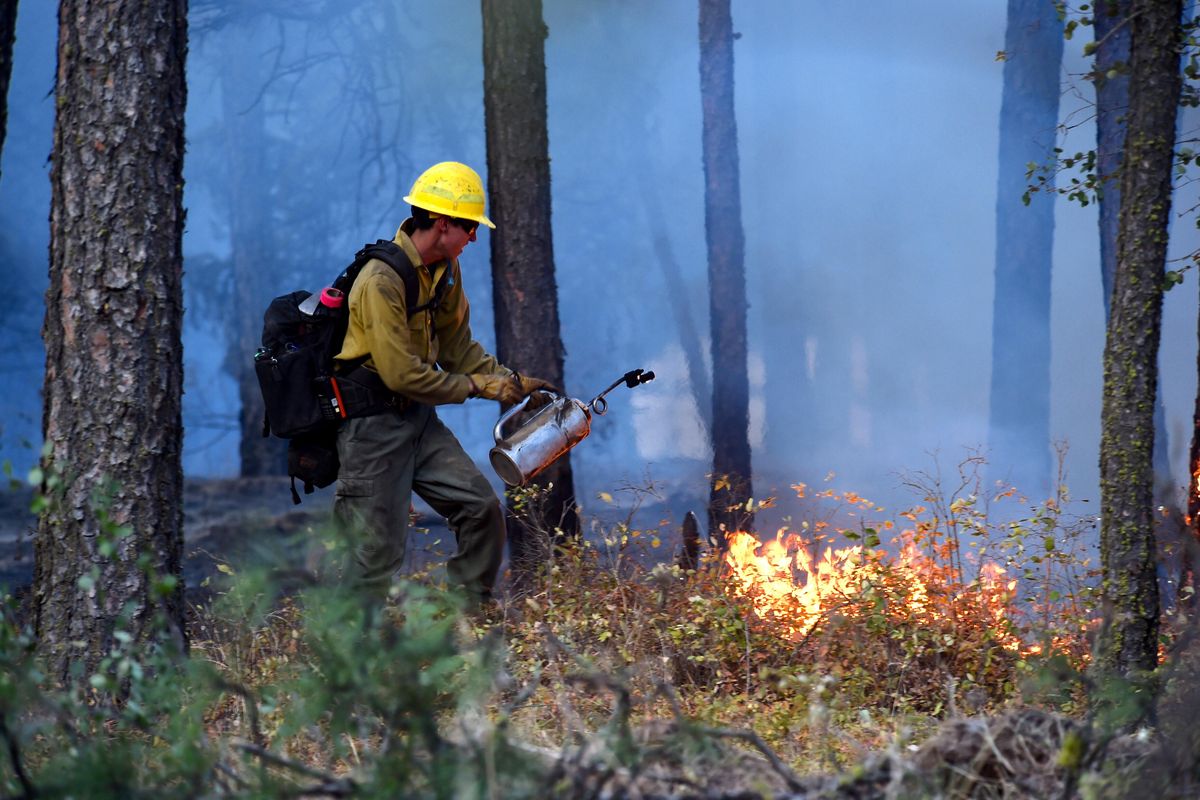 In the aftermath of the fire that swept through a rural area south of Spokane, firefighters sent a back up burn to get rid of fuels on the ground, Sunday, August 21, 2016. (Jesse Tinsley / The Spokesman-Review)
A downed power line sparked a wildfire about 6 miles northeast of Spangle that raced eastward Sunday evening through farm fields, brush and forests. Multiple homes, farm buildings and power poles burned, but no one was reported hurt.
The fire burned an estimated 2,500 acres by 7:30 p.m. as firefighters evacuated hundreds of people in a wide area around Valleyford.
Tony Nielsen, the chief of Fire District 8 based in Valleyford, said his crews were trying to save homes and contain the flames in the face of whipping winds and a shortage of manpower and water-dropping aircraft – resources that were helping to fight other fires in the region.
"This really is a significant fire moving very quickly," Gerry Bozarth, a spokesman for Spokane County Emergency Management, said Sunday evening.
Crews worked to prevent the fire from threatening Freeman High School.
The homes were destroyed after the fire jumped a canyon, according to eyewitnesses. On state Highway 27, a chaotic stream of trucks and cars hauled livestock, boats, classic cars and other possessions away from the fire perimeter.
Along rural roads, anxious neighbors watched as black smoke billowed where homes stood. Many turned their lawn sprinklers on.
Some people were told to drive their horses and other livestock to the Spokane County Fair and Expo Center for care until the fire danger passes.
Becky Delano rushed from her North Idaho home to help her grandmother evacuate her century-old home south of Valleyford. After taking her grandmother, Pat Terry, out of the house, Delano loaded her family's gun collection into a dog crate, and then into a wheelchair to rescue it. Her uncle Jason Terry's home just up Madison Road burned, Delano said.
Bruce Berglund and his wife, Kris, were ordered to evacuate their home surrounded by wheat stubble from the recent harvest. They grabbed their two children and the family dog and fled. Berglund said he hopes everything else is protected in their fireproof safe.
"The things that matter most are us," he said. "We're out."
Farmers in the area climbed into their tractors to pull tillers across stubble fields, burying the combustible wheat straw beneath dirt.
About a mile from the fire, however, fields of wheat planted this spring were not yet harvested.
Evacuations for what was called the Yale Road fire were ordered from the Palouse Highway on the north, Cornwall/Valley Chapel Road on the south, Hangman Creek on the west and state Highway 27 on the east.
Local journalism is essential.
Give directly to The Spokesman-Review's Northwest Passages community forums series -- which helps to offset the costs of several reporter and editor positions at the newspaper -- by using the easy options below. Gifts processed in this system are not tax deductible, but are predominately used to help meet the local financial requirements needed to receive national matching-grant funds.
Subscribe now to get breaking news alerts in your email inbox
Get breaking news delivered to your inbox as it happens.
---