Business use of drones takes off as new rules kick in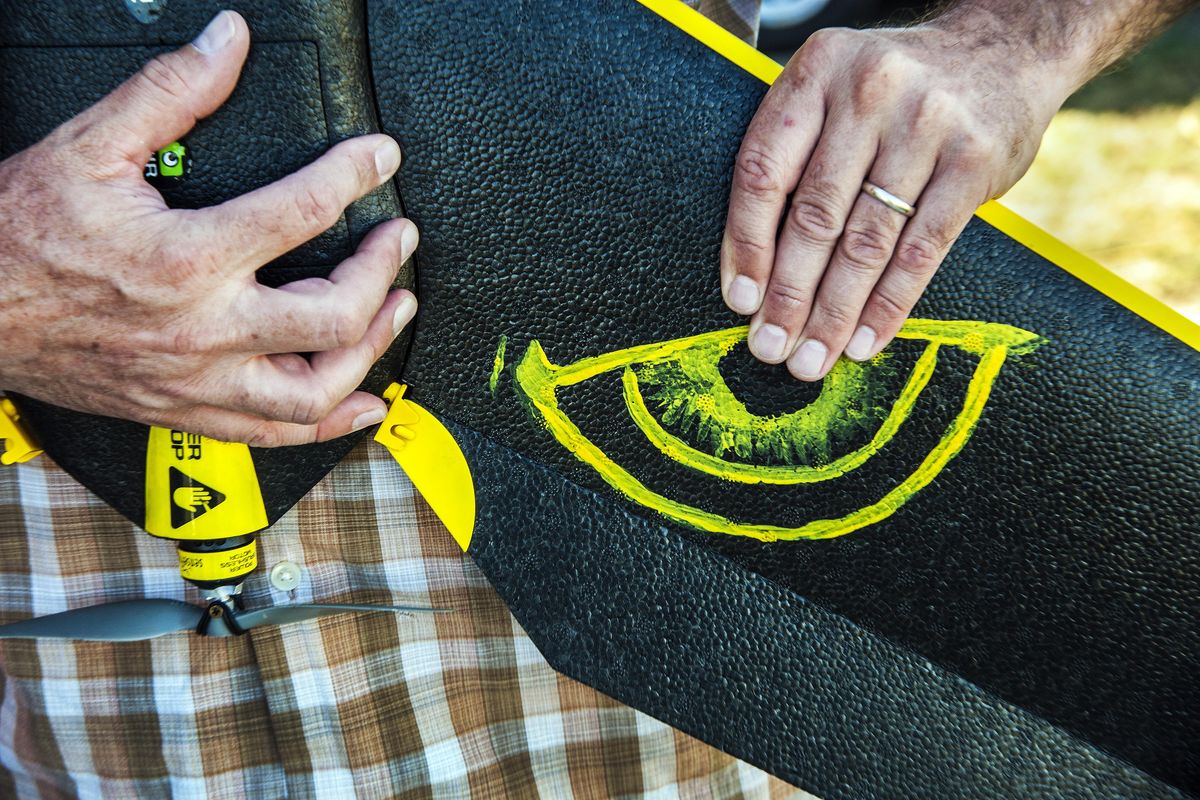 Before the flames were completely out on last summer's Three Sisters Fire, the Idaho Department of Lands hired Empire Unmanned to fly a drone over the North Idaho scene.
The aerial footage helped wildfire managers locate and extinguish the remaining hot spots in the 209-acre blaze that burned in steep terrain on Lake Pend Oreille's western shore.
"You could plug the thumb drive into a laptop and see what was happening on the ground within 20 and 30 minutes of the flight," said Kjell Truesdell, a state fire warden. "It was huge."
The price was right, too. Paying for the drone cost the state agency about $1,000 a day compared to $1,000 an hour for a pilot to fly a plane over the area.
The use of unmanned aircraft is transforming natural resource management in the West, said Bradley Ward, founder of Empire Unmanned.
The company – a division of Coeur d'Alene-based Empire Airlines – flew 325 drone flights on 67 jobs last year. Clients used the footage and remote sensing technology to manage timber stands, track the spread of invasive weeds, audit mine reclamation work and monitor cows in feedlots.
Ward expects the industry's growth to accelerate after the Federal Aviation Administration relaxes the rules next week on who can operate small drones for commercial or government purposes. In the past, operators had to be licensed pilots, unless the drones were being used for hobby purposes.
The rules change on Monday. People 16 and older can apply for a remote pilot certificate to operate small, unmanned aircraft to collect data for government and commercial use.
To qualify, drone operators must pass a test of aeronautical knowledge at an FAA-approved facility and pass a federal background check. The new rules also allow people who don't have the certification to operate a drone if they're under the direct supervision of someone who is certified.
"We're part of a new era in aviation, and the potential for unmanned aircraft will make it safer and easier to do certain jobs, gather information and deploy disaster relief," U.S. Transportation Secretary Anthony Foxx said at a news conference announcing the new rules this summer.
The FAA predicts that 100,000 new jobs could be created over the next decade as the use of drones makes some types of research and information gathering faster and less costly.
At Idaho Department of Lands, officials are just starting to ponder what the new FAA rule could mean for future management activities, Truesdell said.
"There's a ton of applications where the efficiency of your job can be increased by having an aerial view," he said. "But we're still in the vetting stage. …We don't know what the public's reaction to us using one would be."
Images captured by drones could help managers detect pockets of root rot in timber standards, or monitor if pine cones hundreds of feet above the ground are ready to be harvested for seed collection.
Truesdell also sees the potential for increased use of drones during wildfires. Drones can't operate when other aircraft are flying because of the collision risks, and in several highly publicized incidents, hobbyists flying drones in restricted air space forced officials to ground air tankers fighting the fires.
But used appropriately, drones can be a valuable, cost-effective tool, Truesdell said. They can help map wildfires before larger aircraft arrive. Post-fire images can assist with investigations into how fires started and provide better estimates of how much timber burned.
"Some drones are small enough to fit in the palm of your hand," Truesdell said. "We're starting to ask, 'Would it make sense to have a firefighter have one in a backpack?'"
The answer probably still is about five years away, he said.
Meanwhile, the Department of Lands contracts with Empire Unmanned for drone services. In January 2015, Empire became one of the first companies with FAA approval to operate drones for commercial purposes.
Empire Airlines is better known as a contractor for Federal Express. The company also provides passenger service as a local carrier for Hawaiian Airlines. But the 38-year-old business has a long history of innovation and seeking out new markets, Ward said.
A retired Air Force pilot, Ward spent 13 years flying aircraft and seven years working with drones for the military. Empire hired him to start its drone division.
About 14 people work for Empire Unmanned, with employees based in Coeur d'Alene, Boise, Pocatello, California's Central Valley and Monument, Colorado. Staff members include a geographic information system director and two analysts.
Irrigated agriculture is the company's largest client base, accounting for about 40 percent of its revenues. The drones are programmed to fly grids over fields and collect images at identified GPS points. Software then stitches the images together for a comprehensive aerial view, Ward said.
The information helps farmers monitor plant growth. They can see where plants are stressed and need more water, or where fertilizer or herbicides are needed. In another agricultural application, Empire Unmanned uses its drones to monitor the temperature of cows in feedlots. The data helps track if the animals are sick and running a fever.
Most of the work is done with a battery-operated drone that weighs less than 2 pounds. Per FAA regulations, the drones can't fly more than 400 feet above the ground and must remain within sight of the operator.
With a 38-inch wingspan, the drones sometimes attract the attention of hawks, ospreys and eagles. When Empire Unmanned flew one last year over the Coeur d'Alene River to inventory invasive weeds on the shoreline, the drone was attacked by an eagle defending the space around its nest.
In another instance, "we had a plane completely destroyed by a northern harrier," a type of hawk, Ward said.
The new FAA regulations prohibit drones from flying over people on the ground who aren't part of the commercial venture or government research.
The FAA doesn't regulate how drones gather information about people or property, but the agency recommends that operators check state and local laws to make sure they're in compliance. Voluntary federal guidelines attempt to strike a balance between legitimate use of drones for research and people's expectation of privacy. The guidelines address notifying neighbors that drones will be in use and about the collection of personal information.
Ward expects privacy regulations to evolve as more drones take to the airways for research.
---