News > Spokane
New Spokane teachers' contract includes early school release for students on a dozen Fridays
Wed., Aug. 24, 2016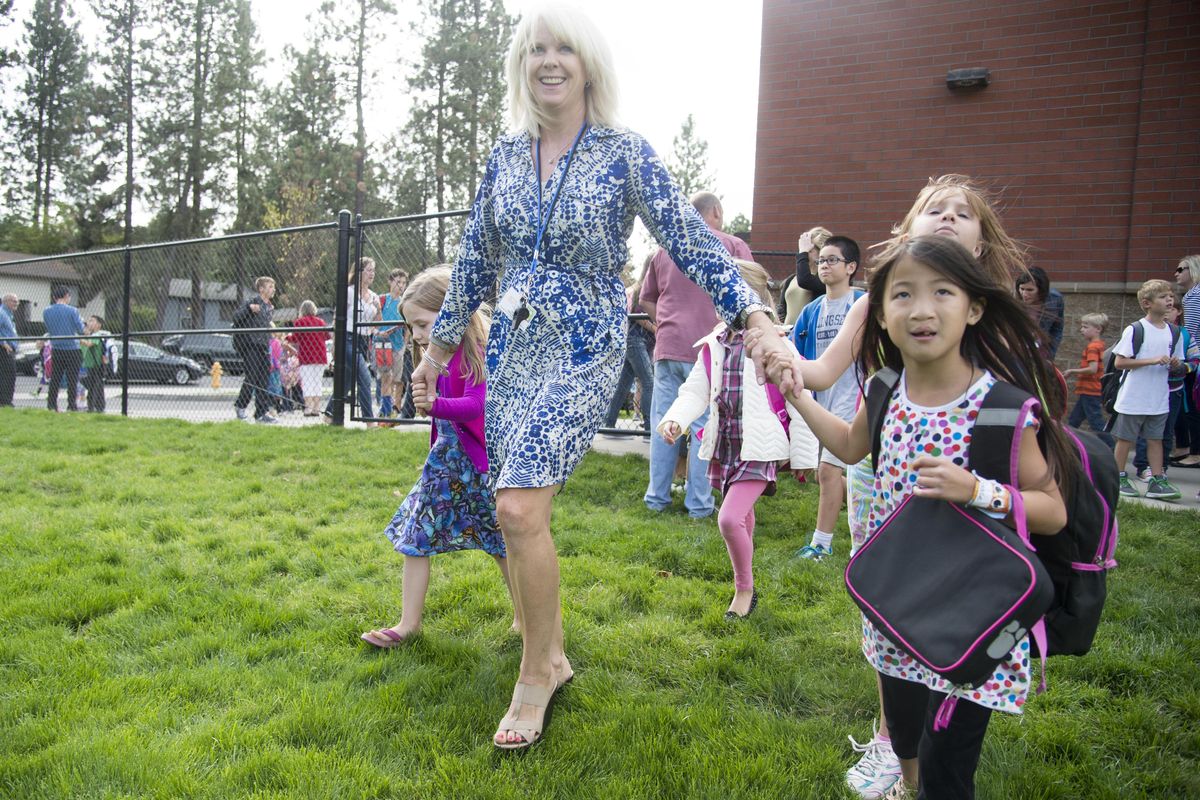 First-grade teacher Trish Campbell leads some of her students outside to find their buses after school Monday, Aug. 31, 2015 at Hutton Elementary. (Jesse Tinsley / The Spokesman-Review)Buy a print of this photo
A new contract for Spokane teachers includes three years of pay raises and a series of scheduling changes that include 12 early-release Fridays throughout the school year and an agreement that starting next year the first day of school will be on the last Thursday of August.
The Spokane Public Schools Board unanimously approved the union contact Wednesday with the Spokane Education Association, which also covers clerical workers, teaching assistants and support staff.
"The approach that both sides took was very good," said board member Bob Douthitt. "This was far more efficient than we've done in the past."
The union approved the contract Tuesday. It increases teacher salaries by 3.5 percent this year, 3 percent next year and 2.5 percent in 2018-2019. Each year will also include cost of living adjustments to compensate for inflation, in addition to compensation for additional professional development hours; in 2016 that amounts to a 6.1 percent pay increase.
Before that, salaries had remained stagnant, with about a 3 percent increase in three years, said union president Jenny Rose, adding: "2012 was pretty pathetic."
Other staff salaries also increase by about 3 percent every year.
"It shows the district respects what we do for kids, for families," said Joseph Kahovec, a sixth-grade teacher at Sheridan Elementary who serves as a union representative for the building. "I love that piece. It's going to make me work harder."
This year's contract also bringsback what's called Professional Peer Learning days – time where teachers meet and collaborate with other educators. In the past, the district allowed late starts every Thursday for collaboration time, but that arrangement ended last year with the board saying it wanted to focus on instructional time with students.
Rose said many teachers missed the collaboration time and reinstating it in some way was one of main the reasons contract negotiations lasted until the last day of bargaining on Aug. 5.
"This particular item, the professional peer learning, probably was the longest bargained item," she said.
To make time for teacher collaboration, the union agreed to 12 early-release days on Fridays throughout the year, where school will let out one hour and 15 minutes early. Elementary students will leave at 1:45 p.m., middle school students at 2:15 p.m. and high school students at 1:15 p.m. A calendar for the 2016-2017 school year shows early-release days mostly falling on the second and third Fridays of each month.
Shannon Thomsen, whose daughter is an elementary school student in the district, said she was surprised to be finding out about those days so close to the start of the school year.
"The changes to the routine are happening every year," she said, referring to lengthened school days and the cuts to prior late-start Thursdays for professional development. She hoped the three-year contract would provide more stability.
Thomsen said she supported teachers, but was worried the days might post challenges for parents without flexibility in their work schedules and child care arrangements. She said she was curious how the school district will handle the changes.
"I'm sure I'll be able to take off those extra Fridays somehow. I have a big support system that can help with that," she said.
Teachers say they understand those Fridays might pose childcare challenges for some parents, but hoped concerns could be alleviated with good communication about the value of the days.
"It just gives you a lot of time to pick your peers' brains," said Lisa Foster, a kindergarten teacher at Sheridan Elementary. She said teachers would spend much of the time discussing data about student performance and working with special education and English language development staff.
The union looked to other districts for inspiration in deciding which days and times were best. They originally wanted early-release on Wednesdays, like Seattle Public Schools, but the board pushed for Friday, and the union agreed, Rose said. As for why it changed from late-start to early-release, the union again followed the lead of other districts.
"We knew we had to change it around and we knew a lot of districts had an early release," Rose said.
The district will also start paying $25 per member, per month into a funded health reimbursement arrangement, or HRA account. The money can be used on prescription drugs, medical co-pays and other health-related matters. The money rolls over if it's unused and will still be available to teachers after they retire, Rose said.
Mark McCune, a counselor at Sheridan Elementary who also serves as a union representative for the school, said the new account "was a great start in helping get some relief on the rising costs" of health care.
Teachers praised the negotiations as more collaborative than last year's. Foster, the kindergarten teacher, said the tone of communications from the district and school board has changed.
"They knew fences needed to be mended on both sides," she said, referring to last year's contentious negotiations that nearly led to a strike before school started.
Other points of interest on the contract are an additional seven hours of professional development time, and three hours principal-led professional development time.
Staff writers Nina Culver and Rachel Alexander contributed to this report.
Local journalism is essential.
Give directly to The Spokesman-Review's Northwest Passages community forums series -- which helps to offset the costs of several reporter and editor positions at the newspaper -- by using the easy options below. Gifts processed in this system are not tax deductible, but are predominately used to help meet the local financial requirements needed to receive national matching-grant funds.
Subscribe now to get breaking news alerts in your email inbox
Get breaking news delivered to your inbox as it happens.
---