News > Spokane
Downed power line confirmed cause of Yale Road fire
Wed., Aug. 24, 2016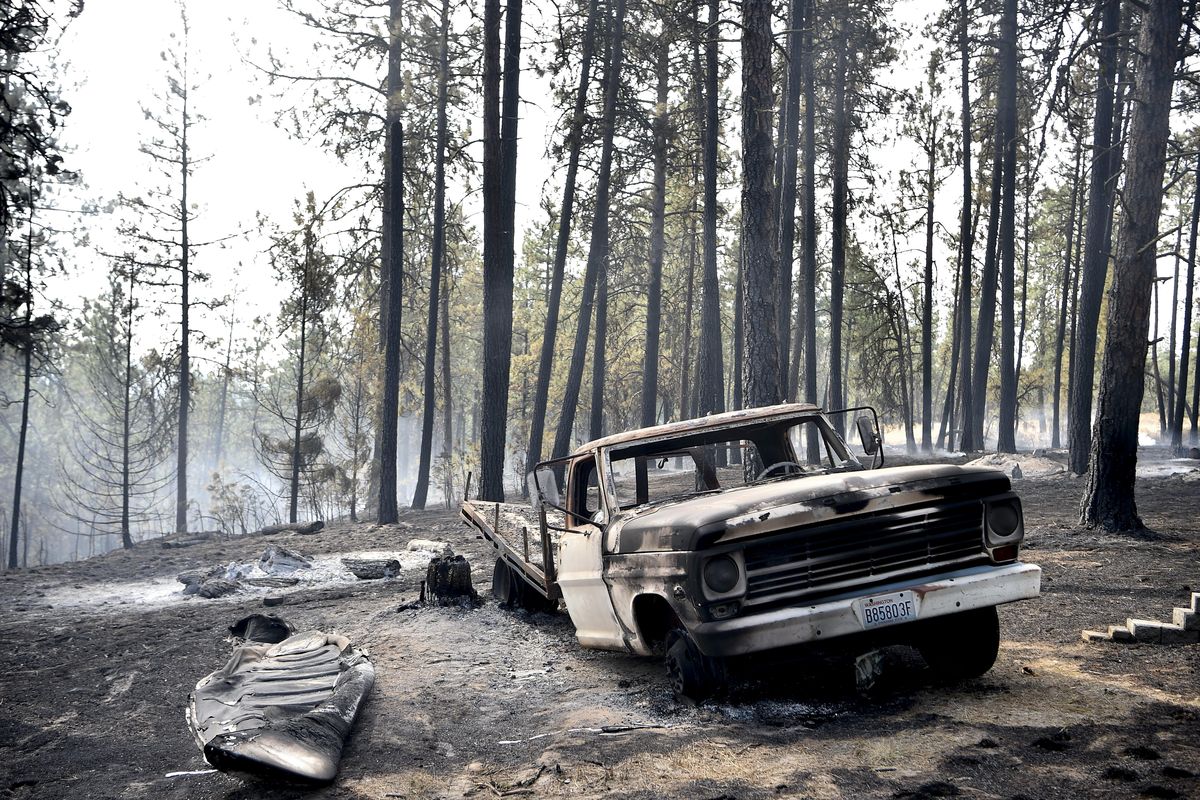 A charred truck is seen near Julie Thayer and her husband Art's home on Monday, Aug 22, 2016, on South Yale Road near Valleyford, Wash. The Thayers had been hiking over the weekend and returned home Sunday night to find their home destroyed. (Tyler Tjomsland / The Spokesman-Review)Buy a print of this photo
Spokane Valley Fire Department Capt. Don Kresse was having a normal day off Sunday when his wife's worst nightmare came true – a massive wildfire right outside their front door.
Kresse, who lives on Yale Road in Spokane County Fire District 3, spent the early afternoon doing yard work and watering his lawn. He went inside, opened the windows and settled down to watch the Mariners game.
He heard two loud pops and his power went out. A few minutes later, he smelled smoke. Worried, he ran outside and down his long driveway toward the road. The flames were already four feet high and moving pretty good," he said.
A tree had fallen against a power line. The loud pops he heard were the power lines being snapped off the pole, the opening salvo of a fire that scorched 5,700 acres and razed multiple homes in the area of Spangle and Valleyford.
Kresse ran up a nearby hill to get a cell signal so he could call 911. His son rushed next door to warn the neighbors about the coming flames, but they weren't home.
The family quickly gathered a few things and Kresse said within five minutes the smoke was so thick he couldn't see his house anymore. "I thought I would never see it again," he said.
His neighbor's house burned to the ground. Kresse's home was saved by the green, wet lawn around his house. The flames completely encircled his home, leaving a blackened landscape and charred trees.
At a packed community meeting at Freeman High School Wednesday night, District 3 Fire Chief Bruce Holloway confirmed that a downed power line started the fire.
The weather that day was "just a a son of a gun" and winds rapidly pushed the fire north and west, Holloway said. State mobilization of fire resources was requested about two hours after the fire began.
"When you have days like that, you can't keep up," he said.
Holloway credited local farmers for helping keep the fire in check by using their tractors to till up fire lines in fields of wheat stubble.
"You guys did a heck of a job," he said.
The fire is now 50 percent contained as firefighters rush to stop it as forecasts call for strong winds this weekend.
"We have a line around the entire fire now," said Incident Commander Nathan Rabe Wednesday night at a community meeting. "We still have several days of work securing those lines."
National Weather Service forecaster Jon Fox said he's expecting another dry cold front to move through on Saturday, bringing much the same windy weather that rapidly spread fires on Sunday. The prospect has fire officials nervous.
The other fire that burned homes on Sunday afternoon near Beacon Hill, the Wellesley Fire, is 100 percent contained and burned 365 acres.
Hart Fire/Cayuse Mountain Fire
Firefighters have made progress containing wildfires that have burned 30,000 acres this week in Spokane region.
Helicopter GPS mapping put the size of the Cayuse Mountain Fire on the Spokane Indian Reservation at 18,220 acres on Wednesday, said public information officer Linda Parker.
Thirteen homes have been lost in the blaze that started Sunday, and Level 3 and Level 2 evacuations remain in effect.
Parker said the Bureau of Indian Affairs, the Spokane Tribe and the Department of Natural Resources did excellent work putting a line around most of the fire.
"We're out there right now improving those lines and mopping up along those lines," Parker said.
The goal is to keep the fire contained within those barriers and the lower winds, cooler temperatures and higher humidity are helping firefighters, she said.
"We don't want to see it grow any more," Parker said.
The neighboring Hart Fire has burned about 4,200 acres and is 20 percent contained. The fire jumped the Spokane River in several places and caused the Cayuse Mountain Fire.
Staff reporter Chad Sokol contributed to this report.
Local journalism is essential.
Give directly to The Spokesman-Review's Northwest Passages community forums series -- which helps to offset the costs of several reporter and editor positions at the newspaper -- by using the easy options below. Gifts processed in this system are not tax deductible, but are predominately used to help meet the local financial requirements needed to receive national matching-grant funds.
Subscribe now to get breaking news alerts in your email inbox
Get breaking news delivered to your inbox as it happens.
---