Sports
Kicker Eric Powell has earned the most stripes on WSU's special teams
Thu., Aug. 25, 2016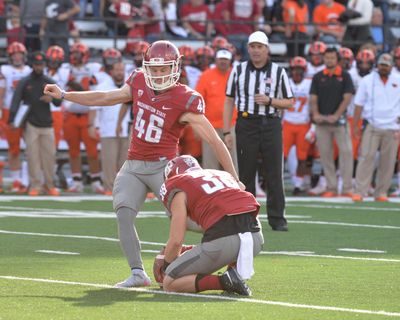 PULLMAN – When Eric Mele got his first shot at a premier assistant coaching gig, he militarized Washington State's special teams.
He gave the group a "special forces" identity, promoted Colton Teglovic to lieutenant (in nickname, at least) and gave the group gear with a distinct military theme.
It's about time he had his sniper.
Kicker Erik Powell has been arguably the MVP of WSU's preseason, showing off enough leg to shave an entire first down of the offense's drives. He nailed a 55-yard field goal in the Cougars' most recent scrimmage, and the coaches are so sure of Powell's leg they barely ever have him try anything inside 45 yards other than extra points.
And how much point-after practice could he really need? He made all 49 attempts last season.
The situation at punter was more fluid, but may have resolved itself. Zach Charme is back after starting as a freshman last season. The Cougars also gave reps at punter to safety Shalom Luani, who was a national team soccer player in his native American Samoa.
But Luani was charged with second degree assault on Wednesday in Pullman after a fight, and has not been available to punt in practice since. So, Charme it is.
Mele seems pleased with Charme's progress, and what issues exist are what one would expect from an underclassman thrust into a starting role.
"We just need more consistency out of him and his best ball every time," Mele said. "His operation has sped up, which is kind of a key thing we were looking for, too, in the offseason."
For return men, Mele has sought out talent from all parts of the team. He's got receiver Tavares Martin, running back James Williams and defensive back Robert Taylor each returning kickoffs in practice. Any of them or all of them could return a kickoff or two against Eastern Washington in the season opener.
"It's not decided yet. We've got another solid week here to decide who the best option is. I think they bring value, each guy has different value that the bring," Mele said. "Tavares, obviously if we block it right he's going to take it to the end zone. One of the fastest guys on the team. Robert's a guy who can start and stop quick, explosive and he gets to full speed really fast. James, just being a running back he can break tackles and do some things as well."
Receivers Gabe Marks, Kaleb Fossum and River Cracraft all have experience returning punts. Mele mentioned Fossum's sure hands and Marks' big-play ability as reasons to use either in that role, depending on who has the hot hand.
Local journalism is essential.
Give directly to The Spokesman-Review's Northwest Passages community forums series -- which helps to offset the costs of several reporter and editor positions at the newspaper -- by using the easy options below. Gifts processed in this system are not tax deductible, but are predominately used to help meet the local financial requirements needed to receive national matching-grant funds.
Subscribe to the sports newsletter
Get the day's top sports headlines and breaking news delivered to your inbox by subscribing here.
---