Sports > Seattle Mariners
Mariners pitching falters in loss to White Sox
Sat., Aug. 27, 2016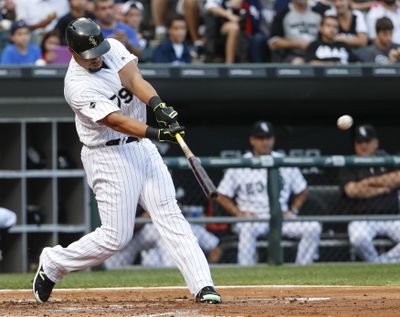 CHICAGO – It was a start that could only stoke the second-guessing that was already smoldering among parts of the fan base.
General manager Jerry Dipoto made the decision earlier in the week: Left-hander Ariel Miranda would remain in the starting rotation and veteran left-hander Wade LeBlanc, who was out of minor league options, would be designated for assignment with the team in need of roster help.
In his first start since that decision, Miranda delivered a less-than-inspiring performance in a 9-3 drubbing by the White Sox on Saturday night at U.S. Cellular Field.
He pitched just four innings, giving up three runs on five hits with three walks and one strikeout. He threw 90 pitches in that short span with just 47 strikes.
"The big thing was fastball command," M's manager Scott Servais said. "It wasn't located great. That's his pitch. He has to get hitters on the fastball before his secondary stuff plays into it. He struggled to get going."
It was his worst start since being acquired by the Mariners from the Orioles in a trade deadline deal for Wade Miley. In his previous two starts, he'd pitched into the sixth inning and allowed just three runs each.
But the lamentation is that LeBlanc, who was 3-0 with a 4.50 ERA in eight starts and three relief appearances, would have been the better option. With LeBlanc's lack of velocity and reliance on command, he's always tiptoes on the edge of being effective and getting shelled.
And yet, the Mariners were 7-1 in his eight starts, thanks often to prime run support. Given the White Sox right-handed heavy lineup playing in the bandbox stadium and Jose Quintana starting for Chicago, LeBlanc could have suffered a similar fate.
If there was a positive for Miranda, he wasn't the worst left-handed pitcher that took the mound for the Mariners (68-61).
That honor went to Vidal Nuno, who turned a 3-1 game into a rout with no chance of a rally. In three innings, Nuno gave up six runs on 10 hits, including three homers. His ERA went from 2.68 to 3.60 with the outing.
"It was one of those weird days that I haven't had in a while," he said. "I had a bad one. Tomorrow is a different day. I didn't get it done today."
In his first inning of work, Nuno gave up three runs on five hits – all after getting the first two outs of the inning. The slow Justin Morneau tripled to right – on a ball that most right fielders make a play on yet Franklin Gutierrez was nowhere near – to score a run. Avisail Garcia blasted a two-run homer to left and Alex Avila followed with a solo homer.
After a scoreless sixth with two more hits allowed, Nuno gave up two more runs in the seventh on a two-run homer to Tyler Saladino.
"I was hoping Nuno could kind of bridge the gap there," Servais said. "But he ran into a buzz saw, five straight hits, and before you know it we were out of the game."
A 32-pitch first inning where the White Sox scored two runs, including a homer from Jose Abreu, and had seven hitters come the plate was a sign of Miranda's early struggles and erased a 1-0 lead.
"I didn't have good command of my fastball, especially early in the count and that's why I didn't have a good outing," Miranda said through interpreter and third-base coach Manny Acta.
Perhaps the only bright spot was the debut of reliever Dan Altavilla. Called up from Double-A before the game, Altavilla retired Melky Cabrera, Abreu and Todd Frazier in order in the eighth, flashing a fastball that touched 100 mph.
"You never want to smile when a team loses, but a debut like that, it was tough to hold back," he said. "With my family in the stands going crazy, it was tough to hold back my emotions."
Local journalism is essential.
Give directly to The Spokesman-Review's Northwest Passages community forums series -- which helps to offset the costs of several reporter and editor positions at the newspaper -- by using the easy options below. Gifts processed in this system are not tax deductible, but are predominately used to help meet the local financial requirements needed to receive national matching-grant funds.
Subscribe to the sports newsletter
Get the day's top sports headlines and breaking news delivered to your inbox by subscribing here.
---