Sports
Baseball notes: Tim Tebow shows solid power, shaky skills in MLB workout
Tue., Aug. 30, 2016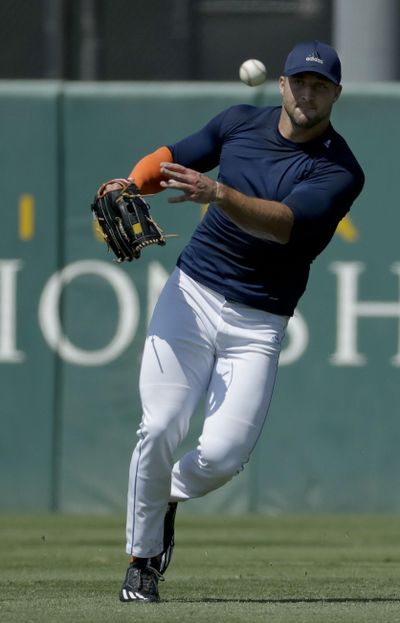 Tim Tebow has taken his first big swing at a baseball career, showing off a powerful bat and a few areas of needed improvement in a workout for dozens of major league scouts in Los Angeles.
The Heisman Trophy-winning quarterback worked out at the University of Southern California's Dedeaux Field on Tuesday. Scouts and reporters tracked, timed and recorded his every move.
Tebow's 255-pound muscled physique and 6.70-ish time in the 60-yard dash were impressive. So was a series of long homers into the trees and off the scoreboard.
The 29-year-old outfield hopeful also showed he still needs baseball seasoning. Former big-leaguers David Aardsma and Chad Smith repeatedly fooled him with off-speed pitches later in the hitting drills.
Tebow's representative would like to see him in instructional league play starting in September.
Indians acquire Crisp
Coco Crisp is headed back to his first baseball home.
The switch-hitting outfielder is on the verge of returning to the Cleveland Indians, who have agreed in principle to a trade with the Oakland Athletics, a person familiar with the deal told the AP. MLB still must approve the deal.
The trade would have to be official by Wednesday for the 36-year-old Crisp to be eligible for the postseason. Crisp spent his first four seasons in the majors with the Indians.
MLB, union aid flood victims
Major League Baseball and its players' union are making a joint donation of $250,000 to help flood Louisiana flood victims.
The contribution includes $125,000 for the American Red Cross. The Baton Rouge Area Foundation and High Socks for Hope each will receive $62,500.
The Baton Rouge Area Foundation is forwarding donations to the Louisiana Flood Relief Fund. It was set up by former LSU players now in the major leagues – Alex Bregman, Louis Coleman, Kevin Gausman, Will Harris, DJ LeMahieu, Mikie Mahtook, Aaron Nola, Anthony Ranaudo and Ryan Schimpf.
Clearing the bases
Dodgers ace Clayton Kershaw took a big step toward a return by throwing two solid innings during a simulated game at Dodger Stadium. The three-time N.L. Cy Young Award winner has been sidelined with a minor disk herniation in his lower back since late June. … The Pirates have sent outfielder Tito Polo and left-hander Stephen Tarpley to the Yankees to complete the Aug. 1 deal in which Pittsburgh acquired right-hander Ivan Nova. … Pirates ace Gerrit Cole expressed confidence he'll return this season. Cole was placed on the 15-day DL Monday and traveled to Los Angeles for a second opinion with a specialist, who confirmed posterior elbow inflammation. … Left-hander Steven Matz is not ready to come off the DL and the Mets have scratched him from his scheduled start Thursday night against the Marlins. Jacob deGrom will be moved up a day to start in his place.
Local journalism is essential.
Give directly to The Spokesman-Review's Northwest Passages community forums series -- which helps to offset the costs of several reporter and editor positions at the newspaper -- by using the easy options below. Gifts processed in this system are not tax deductible, but are predominately used to help meet the local financial requirements needed to receive national matching-grant funds.
Subscribe to the sports newsletter
Get the day's top sports headlines and breaking news delivered to your inbox by subscribing here.
---