Sports
Better shooting, balanced attack leads CV boys past CdA
Fri., Dec. 2, 2016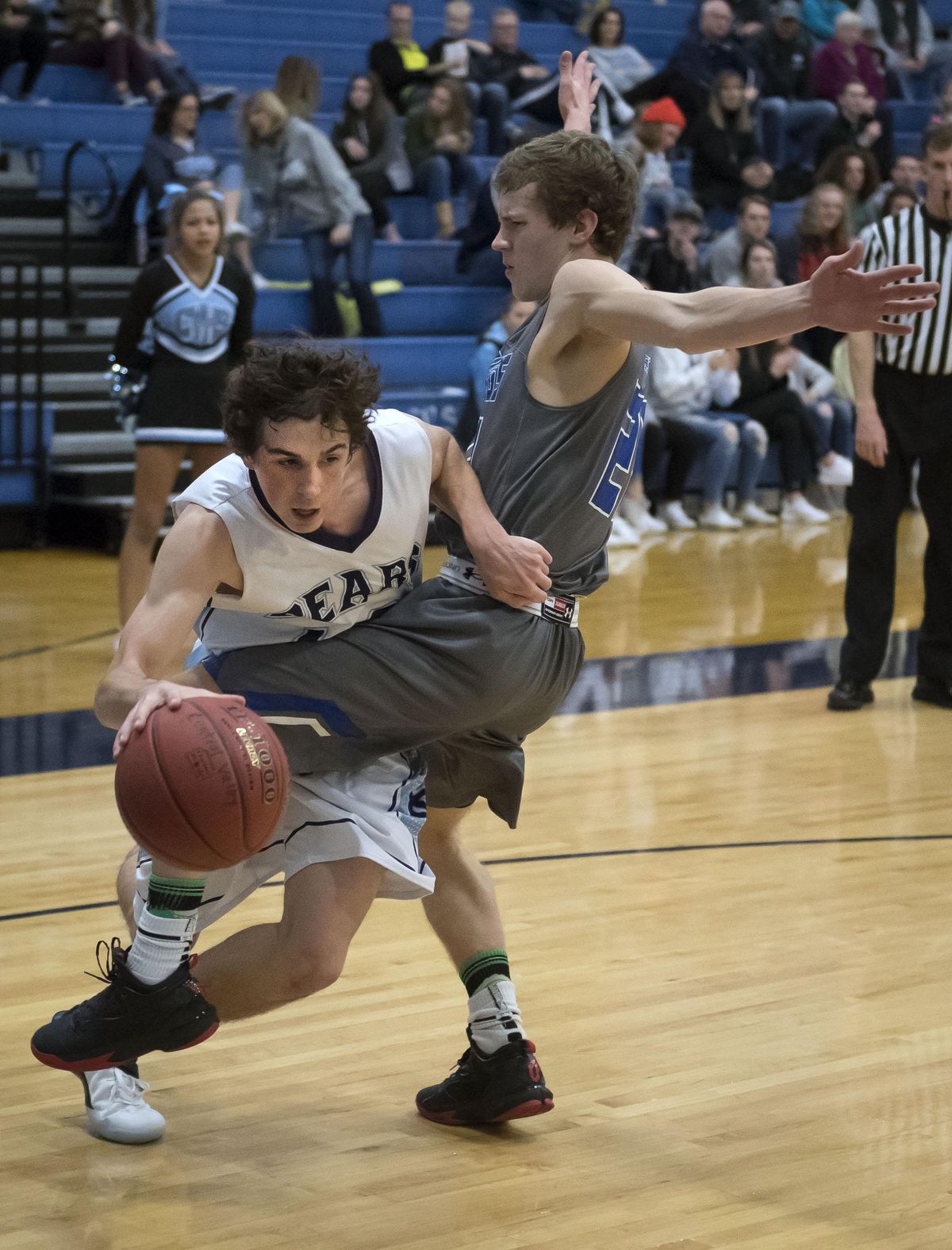 Coeur d'Alene guard Sam Matheson tries to stop Central Valley guard Grant Hannan from entering the key during the first half of a boys high school basketball game, Fri., Dec. 2, 2016, at Central Valley High School. (Colin Mulvany / The Spokesman-Review)
Considering how frigid the Central Valley boys basketball team's shooting was three days earlier, the Bears were downright on fire Friday.
CV made just 3 of 21 shots for 13 points in the first half of a 49-48 win at Ferris on Tuesday.
The Bears bounced back for 42 points on 18-of-31 shooting Friday in their 69-53 win over the visiting Coeur d'Alene Vikings.
"Our offense was a heckuva lot better," CV senior post Ryan Rehkow said. "(Against Ferris) I think it was first-game jitters. That was the first varsity game for a lot of our team. In this game we just came out ready to play."
And it showed. By halftime against short-handed CdA, the Bears led 42-33.
Once CV (2-0) got the lead to double digits in the second half, the Vikings (0-2) didn't have an answer.
"I thought we had a nice inside-out game," CV coach Rick Sloan said. "Zach (Stocker) hit some big shots, Michael (Plunkitt) did a nice job running the show and Ryan (Rehkow) was his usual self inside."
CV put four players in double-figure scoring. Rehkow led with 15 points and nine rebounds, Stocker came off the bench for 14, nine coming on three 3-pointers, Jase Edwards had 14 and Plunkitt added 12.
CdA is without returning senior starting point guard Brody Lundblad, who is recovering from plantar fasciitis, turf toe and a nerve issue in his back suffered in CdA's final football game.
Lundblad expects to be back by the Vikings' third game – which won't come for another two weeks. Also injured is junior guard Caleb Beggerly, who is expected to provide minutes off the bench. He had minor knee surgery after the football season ended.
The Vikings played their second game in as many nights. They fell 72-56 at Shadle Park on Thursday.
"We got a good look at our guys the last couple of nights and I liked what I saw and we saw some things we need to work on," first-year CdA coach Tony Hanna said. "We have some parts missing for sure, but there are some things I'm really pleased with, too."
CV opened things up early, building a 20-10 lead late in the first quarter. But the Vikings used a 10-0 run to pull even when Colson Yankoff hit a jumper with seven minutes to go in the second quarter.
The Vikings, who never led in the game, found themselves in another hole after Sam Matheson pulled them even at 31 on a driving basket with 2:49 to go before halftime.
CV finished the half on 11-2 surge.
"We're athletic and they're coachable and buying into what we're trying to do," Sloan said. "It was fun to see after we struggled Tuesday."
Joe Naccarato led CdA with 22 points and six rebounds.
Local journalism is essential.
Give directly to The Spokesman-Review's Northwest Passages community forums series -- which helps to offset the costs of several reporter and editor positions at the newspaper -- by using the easy options below. Gifts processed in this system are not tax deductible, but are predominately used to help meet the local financial requirements needed to receive national matching-grant funds.
Subscribe to the sports newsletter
Get the day's top sports headlines and breaking news delivered to your inbox by subscribing here.
---