News > Spokane
Dakota pipeline protest inspires local Native Americans to make the 16-hour drive to Standing Rock
Fri., Dec. 2, 2016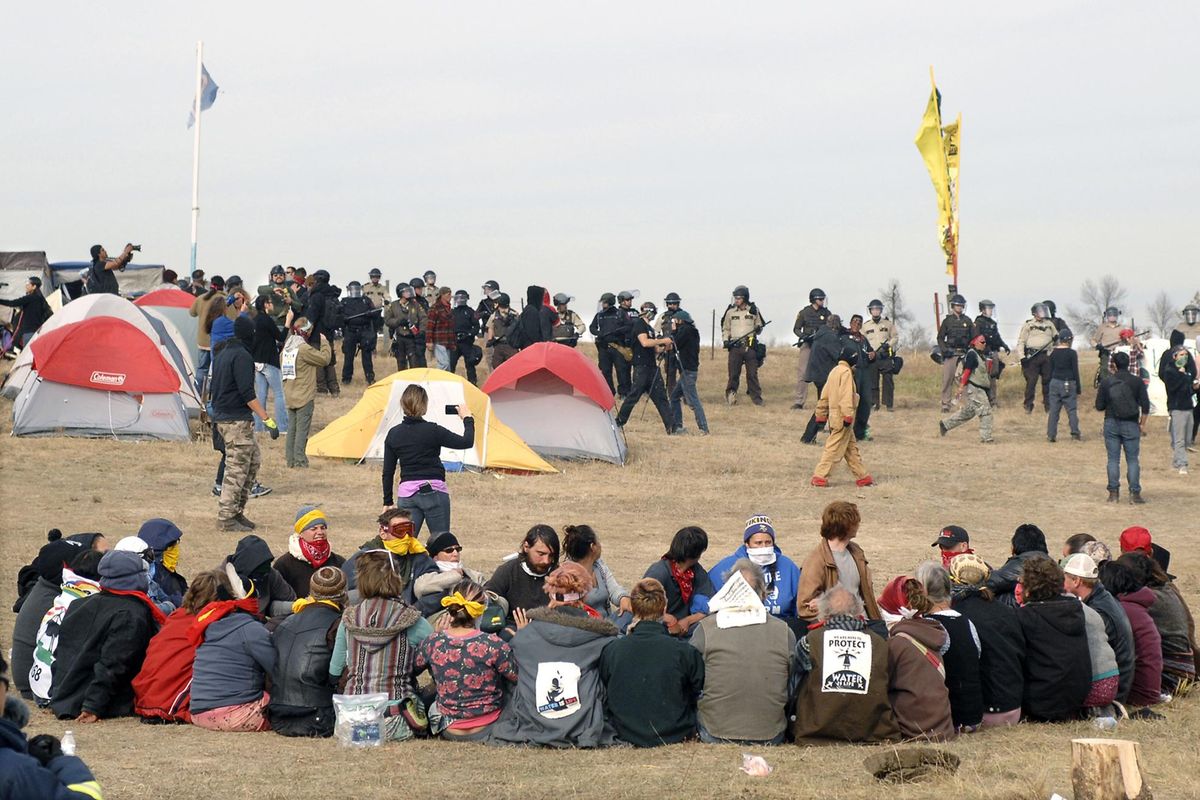 FILE – In this Oct. 27, 2016 file photo, Dakota Access Pipeline protesters sit in a prayer circle at the Front Line Camp as a line of law enforcement officers make their way across the camp to remove the protesters and relocate to the overflow camp a few miles to the south in Morton County, North Dakota. Members of more than 200 tribes from across North America have come to the Standing Rock Sioux Tribe's encampment at the confluence of the Missouri and Cannonball rivers since August, the tribe says. (Mike McCleary / The Bismarck Tribune via AP)
Hemene James grew up on stories of his dad's activism on Indian fishing rights during the 1960s.
The protests called attention to Northwest tribes' treaty rights to harvest salmon, eventually producing favorable court decisions for tribal fishers.
When the Standing Rock Sioux Tribe called for others to join them in protesting and blocking construction of the Dakota Access pipeline, James figured it was his generation's turn to step up.
"There was no question: It was time to make my own stories," said James, 40, a member of the Coeur d'Alene Tribe.
James paddled down the Missouri River in a hand-carved cedar canoe with others from Northwest tribes in September, arriving at the confluence of the Cannon Ball River to show solidarity with the Standing Rock Sioux.
Protests against the Dakota Access pipeline have attracted international attention, with images of protesters being shot with rubber bullets, doused with pepper spray and sprayed with water in subfreezing temperatures as they try to stop a segment of the pipeline construction near the Standing Rock. For some, the protests are reminiscent of the civil rights marches of the 1960s and the American Indian Movement in the 1970s.
Locally, the protests have inspired James and dozens of other Inland Northwest residents to make the 16-hour drive to North Dakota. Members of Northwest tribes have delivered tents, firewood, food and first aid supplies to the protesters on the high plains encampment since last summer, staying days or sometimes weeks.
The 1,172-mile pipeline would transport crude from North Dakota's Bakken oil fields to southern Illinois. The Standing Rock Sioux say the planned route would disturb sacred sites and threaten the Missouri River, the drinking water source for the tribe's reservation and millions of people downstream.
Texas-based Energy Transfer Partners, which is building the $3.7 billion pipeline, disputes that it would be an environmental hazard. The pipeline design exceeds federal safety standards, the company said on its website. More than 500 people have been arrested since the protests began, according to the Associated Press.
Jeff Ferguson, a member of the Spokane Tribe, decided to visit Standing Rock this fall after a friend showed him cellphone video of dogs being released on protesters.
"If they can do it there, they can do it anywhere," he said.
Ferguson spent three days at Standing Rock, interviewing protesters and photographing and filming events in the camp, which numbered about 7,000 the weekend he was there. At night, he fell asleep to the sound of singing and drumming.
"It was a life-changing experience," said Ferguson, 46, a professional photographer and videographer from Spokane. "One young man told me that for the first time, he felt it was OK to be Indian."
Donell Barlow, a Spokane hair stylist and health coach who is a member of the Ottawa Tribe of Oklahoma, spent three days in the camp cooking for protesters over an open fire.
"That was my way of showing love," she said.
The Standing Rock Sioux's struggle to protect land and water resonates throughout Indian Country, both Barlow and Ferguson said. Native Americans view history in timespans measuring at least seven generations, or about 150 years. Within that lens, Indian wars and the forcing of Native Americans onto reservations isn't that distant, Ferguson said.
For him, what's happening at Standing Rock has parallels to issues faced by the Spokane Tribe: the loss of salmon runs from the construction of Grand Coulee Dam in the 1930s, and uranium mining on the Spokane Reservation to support Cold War efforts.
Deb Abrahamson, an environmental activist from the Spokane Reservation, and her two daughters drove to Standing Rock in early November. Abrahamson had promised herself she would make the trip after she finished five months of chemotherapy for uterine cancer.
She found it uplifting to participate in the sunrise prayers and see so many people – Native Americans and others – assembled for common purpose. An orientation, required before entering the camp, emphasized the peaceful nature of the protest.
"They don't want people going with the attitude of retaliation," Abrahamson said.
She and her daughters spent six days in the camp, gathering information for young members of the Spokane Tribe who are interested in making the trip. They had taken masks to protect themselves against tear gas, but no confrontations with law enforcement occurred while they were there. They also dropped off warm clothes and a canvas tepee for friends and relatives who planned to stay into the winter months.
"It was 19 degrees the morning we arrived," said Twa-le Abrahamson Swan, 37, Abrahamson's daughter.
Planning was underway for shelters that would allow protesters to remain during harsh winter conditions. Despite evacuation orders from the North Dakota governor and the Army Corps of Engineers, and recent snowfall, protesters have vowed to remain.
"We've proven that we can stand by each other as Indian people," said James, the member of the Coeur d'Alene Tribe.
He's pondered whether the history of the West would have turned out differently if tribes could have rallied protesters in the 1800s.
Even when his dad, a Vietnam veteran, faced arrest for exercising tribal fishing rights in the 1960s, there wasn't social media to immediately broadcast what was happening to the world, James said.
"There wasn't Facebook or the internet. Not everyone had a cellphone camera in their pocket," he said.
Who knows what might have happened, he said, "if we could have put the call out for thousands of protesters in the 1860s."
Local journalism is essential.
Give directly to The Spokesman-Review's Northwest Passages community forums series -- which helps to offset the costs of several reporter and editor positions at the newspaper -- by using the easy options below. Gifts processed in this system are not tax deductible, but are predominately used to help meet the local financial requirements needed to receive national matching-grant funds.
Subscribe now to get breaking news alerts in your email inbox
Get breaking news delivered to your inbox as it happens.
---