News > Spokane
Knezovich, Stuckart, Baumgartner, Shea announce runs for McMorris Rodgers' seat
Fri., Dec. 9, 2016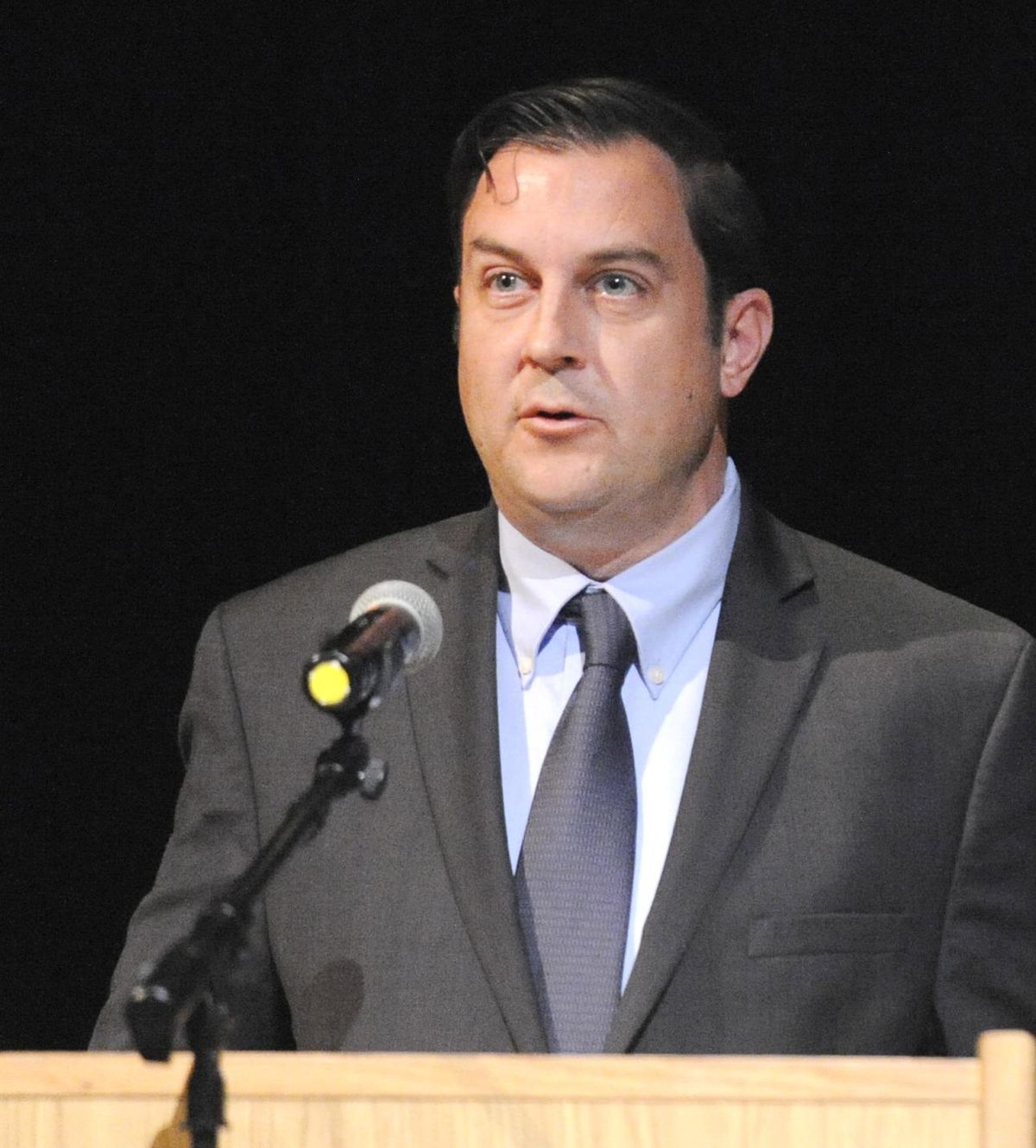 Spokane City Council President Ben Stuckart said the current structure of the Spokane Park Board lacks accountability to voters. (Jesse Tinsley / The Spokesman-Review)
Donald Trump's Cabinet decisions could shake up local government in a big way.
Spokane City Council President Ben Stuckart, Sheriff Ozzie Knezovich, state Sen. Michael Baumgartner and state Representative Matt Shea all said Friday they'd vie to replace Rep. Cathy McMorris Rodgers, who's rumored to be the president-elect's choice to head the Interior Department. Stuckart was the first to announce Friday morning, followed by Knezovich, Baumgartner and Shea later in the day.
"I've been having conversations well before the election about exploring the idea of an '18 run, or '17," said Stuckart, who launched a social media presence Friday morning, shortly after national media reported Trump is expected to nominate McMorris Rodgers to head the Interior Department.
Stuckart announced he'd run as a Democrat in an election for the seat, if it's vacated. Joe Pakootas, the Colville Tribe member who's unsuccessfully attempted to unseat McMorris Rodgers as a Democrat, will not run, he said, and will back Stuckart.
"I'd like to help concentrate on building the party," said Pakootas, who recently took over as chief executive officer of Spokane Tribal Enterprises.
Sheriff Ozzie Knezovich, a Republican who's been elected to three terms as Spokane County's top law enforcement official, followed a few hours later with a tweet: "Family just said go for it. It's official Ozzie for Congress if CMR gets appointment."
Baumgartner, who's served in the state Senate as a Republican since defeating Chris Marr in a hotly contested race in 2010, sent a letter to followers Friday afternoon announcing his congressional aspirations if the McMorris Rodgers appointment is made.
"The one area of government that I don't get to engage on at the state level is the defense of America, and foreign policy," Baumgartner said in an interview. "I'm very eager to help the fight against radical Islamic terrorism."
Baumgartner, a former State Department employee, has set his sights on the nation's capital before, losing a U.S. Senate race to incumbent Democrat Maria Cantwell in 2012.
The announcements set up a possible showdown between the two most visible local faces on either side of the political spectrum, and a state lawmaker with a penchant for creating waves.
Stuckart has pushed progressive policies as head of the City Council, sometimes in defiance of Mayor David Condon, a former McMorris Rodgers staffer. Condon said in an emailed statement he was uninterested in running for the congressional seat if it opens.
"My commitment has been and remains to make Spokane the City of Choice," Condon wrote. "I am honored to serve Spokane and continue as its mayor."
Knezovich is the most popular locally elected Republican, winning large majorities in previous elections. He's also sparred with the far right wing of the GOP, calling out state legislator Shea and his followers for their support of what he sees as lawless protests of government authority.
Baumgartner has in recent weeks criticized the investigation into Washington State University football players accused of crimes and proposed a state constitutional amendment that would negate a state Supreme Court ruling on public school funding.
Knezovich, whose policy focus has been on law enforcement and public safety as an elected sheriff, said he would focus on education opportunities and services for those with mental illnesses if elected to Congress.
"Moving on, at this level, perhaps I can find some solutions rather than just highlighting the problem," Knezovich said.
Shea announced on his Facebook page Friday night that he intends to run for the seat after receiving "literally thousands of requests" that he do so. He wrote that it is time to bring his "Freedom Agenda" of lower taxes, less government and more freedom to Washington, D.C.
Other potential candidates gave more cautious answers about a potential run.
Dave Wilson, who has twice failed to emerge from a top-two primary between Pakootas and McMorris Rodgers, also said he will discuss another potential run with his family. An independent who campaigned on establishing a "centrist caucus" in Washington, D.C., and reforming policies about money in elections, Wilson said if he did run, it would be under the banner of a major political party, though he wouldn't say which one.
"I'm a moderate, and I'm not afraid to say that," said Wilson, who garnered 13 percent of the primary vote in a five-way race in August. "But the country doesn't seem to like moderates right now."
If the seven-term congresswoman is selected and resigns her post before March 7, a special election would be called to fill the 5th Congressional District seat sometime this spring or summer. If her resignation occurs after March 7 but before May 15, the campaign would occur during the general election calendar in 2017, with voters choosing McMorris Rodgers' replacement in November. If her resignation comes after May 15, the seat would remain vacant until after the general election concludes.
A top-two primary would be held 70 days after the call for an election to fill McMorris Rodgers' seat, just as in a regular campaign season.
Tom Horne, a Republican who also mounted two unsuccessful campaigns against McMorris Rodgers from the right, said he wouldn't commit to running again until seeing who would join the fray. Though he voted for the congresswoman, Horne said he believed Oklahoma Gov. Mary Fallin, who was also rumored to be on Trump's short list for interior secretary, would be a better nominee.
"She's from a petroleum state," Horne said. "I think that will be important."
Horne said Stuckart would be foolish to run in the 5th District, which he called a longtime Republican stronghold. Under Stuckart's leadership, the City Council has considered a number of policies, both symbolic and concrete, that hew to a liberal political outlook, including mandating earned sick leave for private employees, granting the city "sanctuary" status for undocumented immigrants and opposing the shipment of oil and coal trains through downtown.
The 5th District has been represented by the GOP since George Nethercutt's defeat in 1994 of then-House Speaker Tom Foley, who held the seat for three decades.
Several state lawmakers said Friday that they would not seek to replace McMorris Rodgers, including Sens. Andy Billig, D-Spokane, Brian Dansel, R-Republic, and Reps. Marcus Riccelli and Timm Ormsby, both Spokane Democrats.
"I believe we've got a lot of important work to do at the state level," Billig said. "This is a very important legislative session."
Dansel said campaigning for a congressional seat every two years and being away from his family prevented him from considering a run.
"I'm not interested," Dansel said. "That's a tough job and a tough one to do well."
In the state House of Representatives, McMorris Rodgers served the same district Dansel now represents.
Former Rep. Kevin Parker, who's campaigned in the district for McMorris Rodgers during the past several cycles, said he couldn't rule out a run for Congress. But he said any announcement would be speculative, and he needed to speak further with his family before deciding.
"There's still a long road to go," Parker said.
Lisa Brown, a Democrat who served in the Washington Legislature from 1993 to 2013, would not say if she was interested in the seat Friday afternoon. She said she was waiting for official word from McMorris Rodgers and Trump before announcing her intentions.
Stuckart said he'd remain in his job as City Council president during the election, citing recent campaigns by Candace Mumm and Nancy McLaughlin for other elected positions while still working at City Hall. The decision to run for Congress rules out a mayoral campaign in 2019, he said Friday. Stuckart registered his candidacy for the 2019 mayor's race with the state Public Disclosure Commission in April.
Even if Stuckart or another Democrat is able to flip Washington's 5th District seat, Republicans would retain comfortable control of the House of Representatives.
Krystol McGee, a Libertarian candidate who finished last in the August primary behind McMorris Rodgers, Pakootas, Wilson and Horne, announced late Friday on social media he'd be running for the seat if it's open.
Local journalism is essential.
Give directly to The Spokesman-Review's Northwest Passages community forums series -- which helps to offset the costs of several reporter and editor positions at the newspaper -- by using the easy options below. Gifts processed in this system are not tax deductible, but are predominately used to help meet the local financial requirements needed to receive national matching-grant funds.
Subscribe now to get breaking news alerts in your email inbox
Get breaking news delivered to your inbox as it happens.
---