News > Spokane
Then and Now: Santa Claus
Sun., Dec. 18, 2016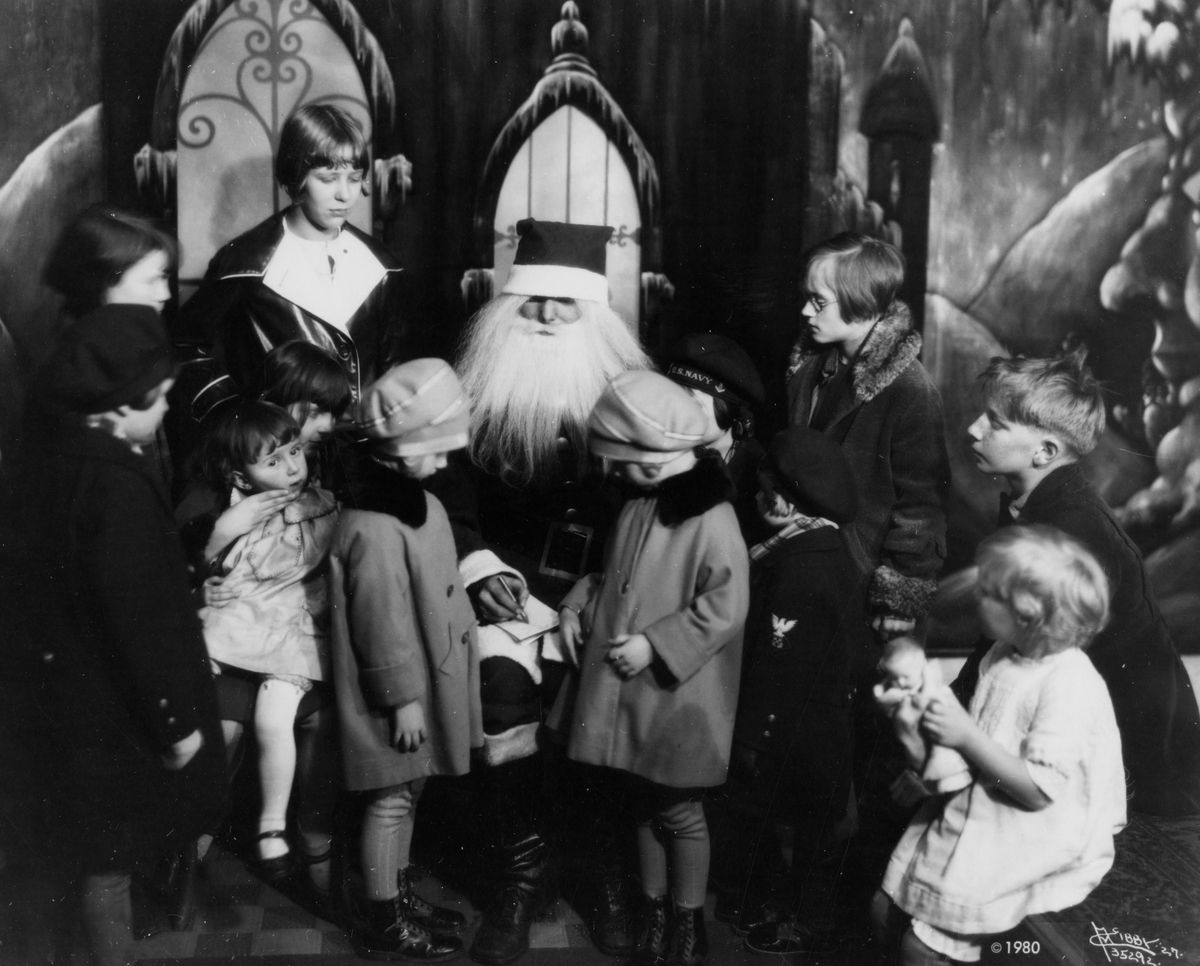 1927: The Santa Claus at the Palace Department Store in Spokane is surrounded by children waiting to share their Christmas lists. The Santa Claus character became popular in America in the 19th century, following the publication of Clement Clarke Moore's poem "A Visit From St. Nicholas," and influenced by many folkloric and religious traditions. Department store Santas date to the mid-1800s. (Libby Collection/Eastern Washington Historical Society archives / SR)
Santa Claus, the icon of American Christmas, came from several different sources. The story began with Bishop Nicholas, a fourth-century saint who lived in what is now Turkey.
Saint Nicholas of Myra was a religious firebrand who attended the Council of Nicaea, destroyed the pagan temple of the goddess Artemis, lobbied the emperor for tax relief and fed the poor during famine years. He is credited with a handful of miracles. His benevolence and his sense of justice spread his fame through the Christian world.
The modern Santa Claus was shaped by folklore from Britain and the rest of Europe. There's the 18th-century Dutch version of St. Nicholas, Sinterklaas, who wore red church vestments and a bishop's miter hat.
There's Father Christmas, a holiday figure derived from pagan traditions in medieval Britain and elsewhere. His fur robe and white beard resemble the Norse god Odin, whose December persona was called Jul, from which we get the term "yule."
Some holiday legends weren't friendly. Krampus was a monster who punished bad children. In Denmark, there were gnomes called "nisse" who lived in your home and caused trouble.
Clement Clarke Moore's beloved poem, "A Visit From St. Nicholas," better known as "'Twas the Night Before Christmas," also contributed to the Santa story. Moore made him an elf with a tiny sleigh and magic reindeer. He does his generous deeds on Christmas Eve, under cover of darkness.
Many different legends created America's Santa Claus, a jolly man in a red, furry suit, giving gifts and wishing everyone well.
In the 20th century, the Coca-Cola Co. used Santa in advertising from the 1920s to the 1960s, exporting the character around the world.
Archibald Wilfred Carriveau worked as a chef for movie mogul Darryl Zanuck in the 1930s and performed as Santa for Zanuck's children. Later, he was a department store Santa Claus in Spokane for many years. He filled the role in the late 1950s at the Bon Marche.
"My love for children is genuine and my moments listening to their little pleas and troubles are the happiest moments of my life," he told Spokesman-Review writer Dorothy Rochon Powers. The only thing that got him down was "seeing the selfishness of some adults in a money-crazed world."
Carriveau died in 1980.
– Jesse Tinsley
Local journalism is essential.
Give directly to The Spokesman-Review's Northwest Passages community forums series -- which helps to offset the costs of several reporter and editor positions at the newspaper -- by using the easy options below. Gifts processed in this system are not tax deductible, but are predominately used to help meet the local financial requirements needed to receive national matching-grant funds.
Subscribe now to get breaking news alerts in your email inbox
Get breaking news delivered to your inbox as it happens.
---