News > Voices
Plant-lovers grow a business
Wed., Dec. 21, 2016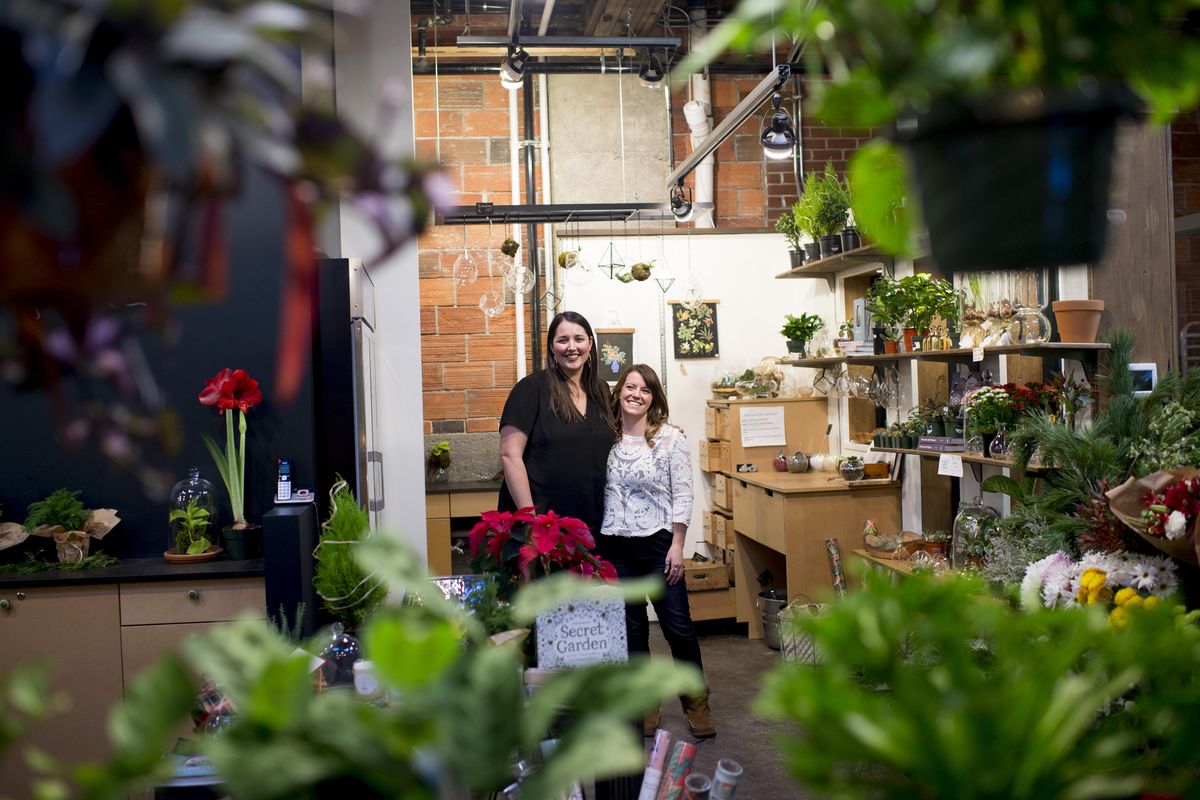 Parrish & Grove Botanicals owners Amanda Parrish left, and Chelsea Updegrove pose for a photo in their storefront on Tuesday, Dec. 13, 2016, at Saranac Commons in Spokane, Wash. (Tyler Tjomsland / The Spokesman-Review)
The newest shop in Saranac Commons offers a bright burst of color in the midst of dreary winter white. Parrish & Grove Botanicals, owned by Amanda Parrish, 30, and Chelsea Updegrove, 27, opened Nov. 19.
On a recent visit, red poinsettias, evergreen wreaths and a rainbow of fresh-cut flowers mingled with more exotic plants like kokedama – a style of Japanese bonsai.
"We specialize in unusual plants and botanicals," Updegrove said.
Snake plants, for example.
"These are great in bedrooms," said Parrish. "They do well in low light and they breathe oxygen out at night."
The store carries several varieties of air-purifying plants.
"English ivy is great for the bathroom because it removes airborne fecal matter – plus it's beautiful," Parrish said.
The novice business owners met through their jobs at the Lands Council where they both still work full time – Parrish as the watershed program director and Updegrove as development/communications director.
"This space was empty for a long time and one night after work Chelsea and I were having a beer and talking about what could go here," Parrish recalled. "I've been saying since the beginning, Saranac Commons needed fresh flowers. Nothing says open-air market like flowers."
Updegrove agreed and they submitted a proposal. When they found out their idea had been accepted, the pair embarked on a crash course to learn all they could about small business ownership.
"Neither Chelsea or I dreamed of being business owners – we just dreamed about having this business in this space," said Parrish.
They took advantage of local resources like SCORE workshops and reached out to friends and family for accounting advice and design/marketing input. Their logo and branding package was created by the visual communication capstone class from Eastern Washington University.
When they hired a store manager, all three of them took floral design classes at Spokane Community College.
"The support from the community has been incredible," Updegrove said.
In just eight months their dream became a reality.
"We think of the shop as an experience," said Parrish. "We want people to be able to come in and grab something, but we also want them to be able to create something – to engage with the materials."
To that end, in addition to pre-made bouquets, shoppers can also choose their favorite flower and create a bouquet around it. Or they can build their own terrarium at the terrarium bar. Drawers filled with colored sand, sparkling gemstones, rocks and pebbles provide the basic foundation.
"You pay by the scoop," Updegrove explained.
A selection of moss and plants completes the project. Glassware is available for purchase or customers can bring in their own bowls or jars. Pre-made Parrish & Grove terrariums are also available for purchase.
A series of workshops and classes is underway, including two terrarium-building workshops for kids on Tuesday.
Also in the works – a subscription delivery service.
"You'll be able to choose weekly, monthly or bimonthly delivery options," Updegrove said.
Sustainability and local sourcing is extremely important to the ardent environmentalists.
"All our plants are grown locally and purchased from nurseries in the Spokane area," Updegrove said. In the spring and summer months they will feature locally grown flowers, as well.
Parrish and Updegrove hope their store communicates the message that the beauty provided by plants and flowers is an integral part of the human experience.
"Botanical life connects you to nature," said Updegrove. "It's not a frivolous expense – it enriches your life."
Local journalism is essential.
Give directly to The Spokesman-Review's Northwest Passages community forums series -- which helps to offset the costs of several reporter and editor positions at the newspaper -- by using the easy options below. Gifts processed in this system are not tax deductible, but are predominately used to help meet the local financial requirements needed to receive national matching-grant funds.
Subscribe now to get breaking news alerts in your email inbox
Get breaking news delivered to your inbox as it happens.
---