Sports
Cougars prepare to send off their seniors
Sun., Dec. 25, 2016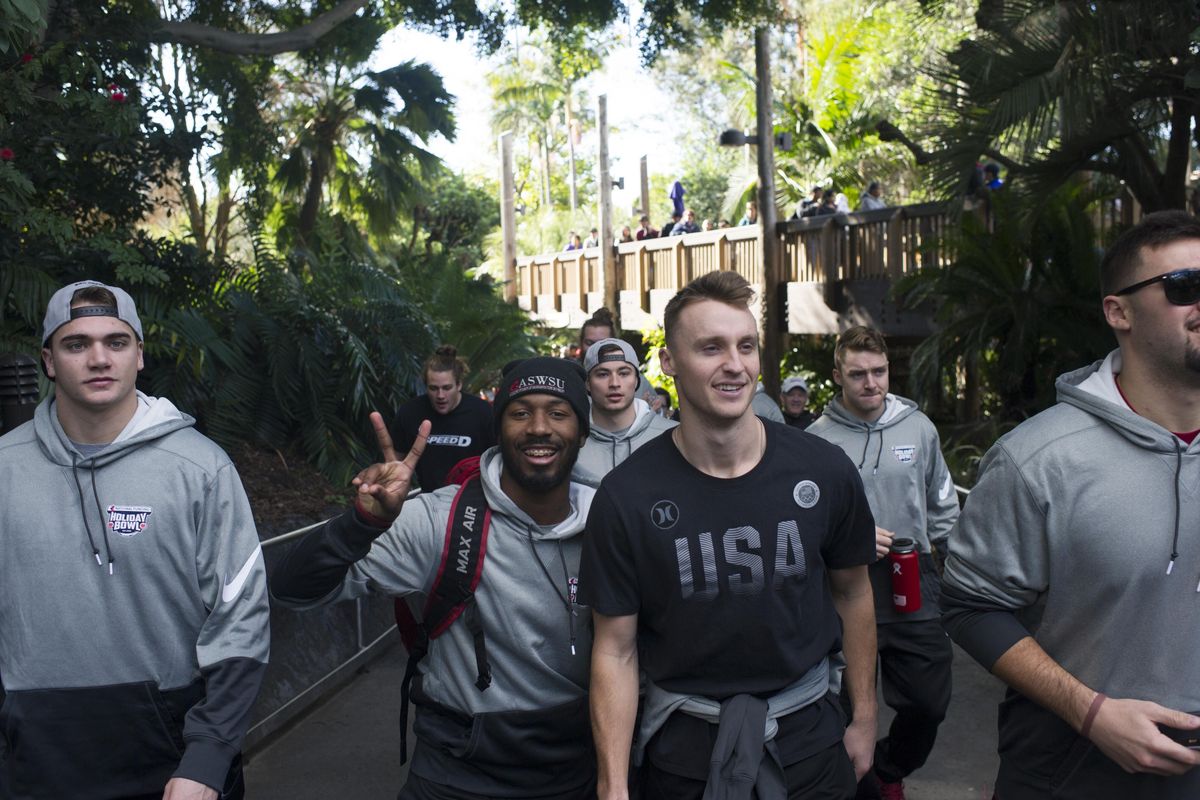 Injured WSU wide receiver River Cracraft and cornerback Marcellus Pippins enter the San Diego Zoo for a a tour with teammates before the 2016 Holiday Bowl on Sunday, Dec. 25, 2016, at The San Diego Zoo in San Diego, Calif. (Tyler Tjomsland / The Spokesman-Review)
SAN DIEGO, Calif. – Fans of Washington State football, aware that the 2016 season is approaching its inevitable conclusion, have taken to social media to express their sadness that the college football careers of Gabe Marks and the Cougars' other seniors are about to end.
"Gonna miss Gabe so much. LOL" wrote a fan after watching a post-practice video of Mike Leach in which Marks lurked in the background making faces at the camera.
Another fan wrote "the city needs to rename a street Cracraft," in response to injured wide receiver River Cracraft not playing anymore.
But while fans ponder life without WSU's seniors, some of those players say they have not given much thought to the fact that their college football days will be over on Wednesday, and that Sunday's practice was their last full practice.
The players who signed in 2012 were the first recruits to join Mike Leach's program at WSU, and those players who redshirted one season are now seniors. The other seniors signed in the 2013 recruiting class.
Many of those players, such as Marks, left guard Eduardo Middleton and center Riley Sorenson, became longtime starters for the Cougars.
"Those guys took their lumps early, but got good game experience," said offensive line coach Clay McGuire. "They've done a heck of a job and I think we're in a position where moving forward we have a culture where people come in and have expectations in the (offensive line) room."
The seniors who joined the program as freshmen will play in their third bowl game during the Holiday Bowl, Dec. 27 against Minnesota. While free safety Shalom Luani only played two years at WSU, the All-Conference safety has been an integral part of the Cougars' defense since transferring from the City College of San Francisco.
Marks and River Cracraft are the only teammates in Pac-12 history to amass 200 receptions apiece while both in school, while Parker Henry improved from little known walk-on and special teams player to occasional starter while earning a scholarship.
"A lot of them played really early, before they would have at other places and before they were probably ready to," Mike Leach said. "But I thought they stepped into that role pretty well and have done a really good job building a foundation here that's led to steady improvement and bowl games."
Cougars spend the day at the zoo
For locals who chose to spend their Christmas Day at the San Diego Zoo, the sight of exotic animals paled in comparison to the spectacle of watching the Washington State football players explore.
Team clown Marcellus Pippins kept up a running commentary, Keith Harrington and Robert Taylor took photos with large African cats, while the defensive linemen saw lions, tigers and bears. The undoubted highlight of the trip was when the Cougars fed giraffes, with the long-necked creatures creeping over a fence to take food right from linebacker Peyton Pelluer's hands.
"The only zoo I've ever been to didn't hold a candle to this one," said linebacker Dylan Hanser. "It's cool just being here with all the animals."
WSU's Holiday Bowl hosts, who sent their opponents, the Minnesota Golden Gophers, to SeaWorld, arranged the trip to the zoo. The teams spent Saturday on board the aircraft carrier USS America, which is based at Naval Base San Diego.
Local journalism is essential.
Give directly to The Spokesman-Review's Northwest Passages community forums series -- which helps to offset the costs of several reporter and editor positions at the newspaper -- by using the easy options below. Gifts processed in this system are not tax deductible, but are predominately used to help meet the local financial requirements needed to receive national matching-grant funds.
Subscribe to the sports newsletter
Get the day's top sports headlines and breaking news delivered to your inbox by subscribing here.
---