News > Spokane
Transgender bathroom rule draws dueling protests in Olympia
Mon., Feb. 15, 2016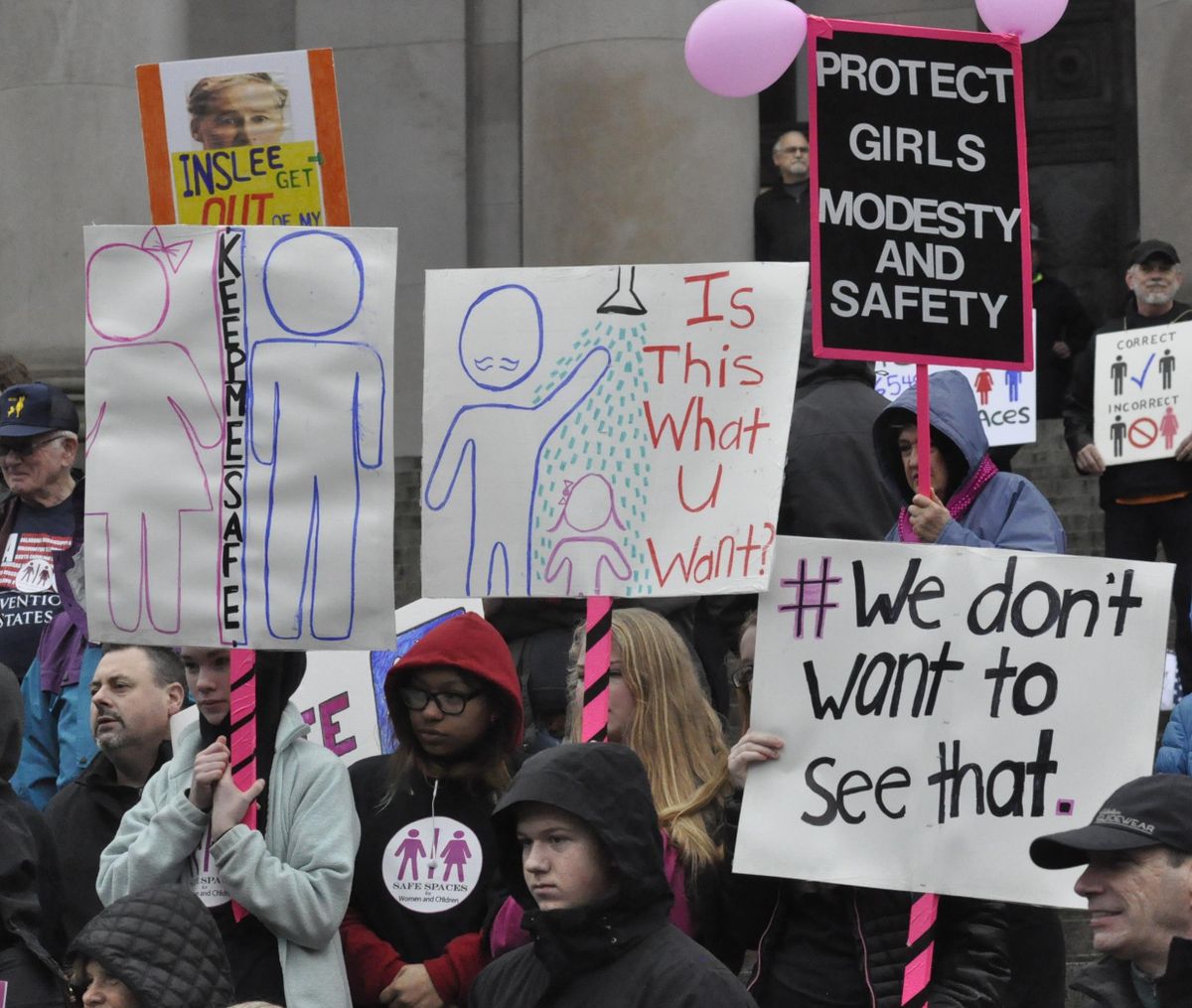 OLYMPIA – Protesters gathered on the Capitol steps last February to denounce a rule that transgender people can use public restrooms and locker rooms based on their gender identity rather than their anatomy. (Jim Camden / The Spokesman-Review)
OLYMPIA – A state rule allowing transgender people to use public restrooms based on their gender identity drew dueling protests at the Washington Capitol on Monday.
Opponents of the rule were told it may be challenged in court and with a ballot initiative.
"We will not stop until we have it thrown out," state Rep. Matt Shea, R-Spokane Valley, told several hundred cheering people gathered on the Capitol steps in a steady drizzle. "We don't want 50-year-old men showering with our daughters."
Those protesters were matched in numbers and volume by a group across the circular drive on the steps of the Temple of Justice, who chanted their support for the rule and argued against opponents' contention it will help sexual predators find victims.
"Transphobia has to go," they shouted. "We're not here to dupe. We're just here to poop."
A Washington State Patrol officer monitoring both groups from the flag circle in the middle of the drive estimated that each had "a couple hundred" members. On both sides of the divide, protesters held signs that accused the other side of infringing on their civil rights.
The rule, enacted by the Washington Human Rights Commission late last year, has created sharp divisions in this year's Legislature and overflow crowds for a pair of bills that would have overturned it. One of those bills failed last week in the Senate, and the other might not get a vote before an upcoming deadline.
Supporters of the rule say transgender people face a high risk of assault if forced to use restrooms based on their genitalia. Opponents say they aren't worried about transgender people but believe sexual predators will claim to be transgender to get into restrooms and locker rooms.
Autumn Bennett, who organized the protest for opponents of the rule, said she understands the other side also has deeply held convictions: "If safety is the issue, we can all agree on that. Let's find a solution in the middle."
Shea said the rule can be challenged for violating constitutional rights, violating state law and not meeting public notification requirements.
Joseph Backholm, of the conservative Christian Family Policy Institute of Washington, said that group hopes to have a state initiative drafted soon that will seek signatures with the goal of getting on the November ballot. But the group wants to raise $100,000 for the campaign and have at least 1,000 volunteers signed up to gather signatures before launching the petition drive, he said.
Local journalism is essential.
Give directly to The Spokesman-Review's Northwest Passages community forums series -- which helps to offset the costs of several reporter and editor positions at the newspaper -- by using the easy options below. Gifts processed in this system are not tax deductible, but are predominately used to help meet the local financial requirements needed to receive national matching-grant funds.
Subscribe now to get breaking news alerts in your email inbox
Get breaking news delivered to your inbox as it happens.
---