News > Voices
Spokane Valley city hall plans move forward
Wed., Feb. 24, 2016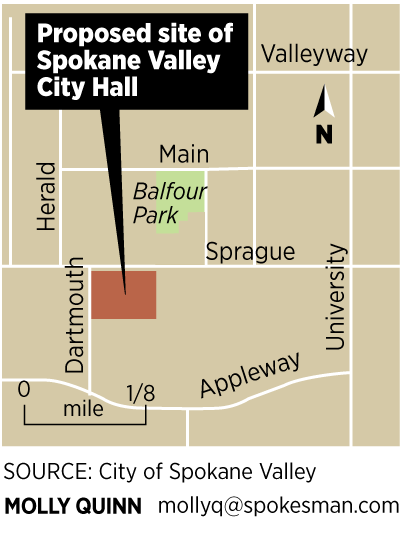 In a unanimous vote, the Spokane Valley City Council allowed interim city manager Mark Calhoun to move forward with the plans for a new city hall by putting them out for bid as soon as possible.
Tuesday evening, economic development director John Hohman gave a brief overview of the $14.4 million project which will be paid for by $6.3million in cash and a 30-year, $8.2 million bond. The new building will be located on the corner of East Sprague Avenue and Dartmouth Road, in what used to be the University City Mall parking lot.
Hohman said building a city hall is something that's been talked about since the city incorporated in 2003, and the project as it looks now is a product of a process that included many public hearings and input from city staff.
Architects West holds the $1million contract for design and construction services.
When challenged by an audience member, Calhoun explained that there are several justifications for building a city hall, including that the building appreciates and that the city can move into a structure designed to meet its needs.
"It will also revitalize the area near our city center," Calhoun said.
The plans are nearly ready to be put out for bid, and a contractor should be selected by the end of summer.
Local journalism is essential.
Give directly to The Spokesman-Review's Northwest Passages community forums series -- which helps to offset the costs of several reporter and editor positions at the newspaper -- by using the easy options below. Gifts processed in this system are not tax deductible, but are predominately used to help meet the local financial requirements needed to receive national matching-grant funds.
Subscribe to the Coronavirus newsletter
Get the day's latest Coronavirus news delivered to your inbox by subscribing to our newsletter.
---