Sports
Oregon jumps out early, hands Cougars 14th consecutive defeat
Wed., Feb. 24, 2016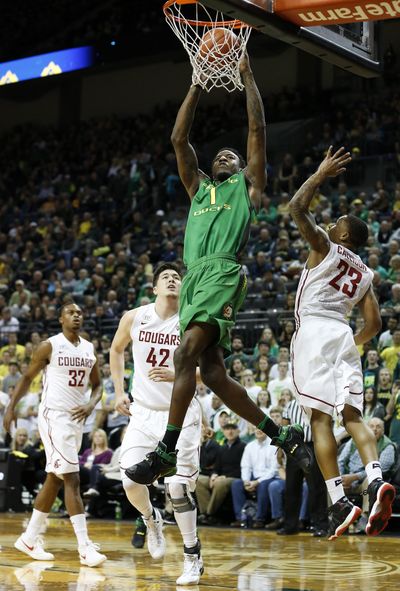 EUGENE – Considering how predetermined the outcome between first-place Oregon and last-place Washington State might have seemed, and the final margin of the Ducks' eventual 76-62 victory, one might easily overlook just how much was actually accomplished in Wednesday night's blowout.
The Ducks won their 24th consecutive home game, breaking a record set in 2003 by a team coached by Ernie Kent, who was of course leading the visitors on Wednesday.
And Oregon took sole possession of first place in the Pac-12 title race, which the crowd found out when Colorado's victory over Arizona was announced just a couple of minutes into the second half, with the Ducks victory apparently assured.
"If they just continue to defend and keep their heads focused the right way, they have a chance," Kent said. "They have a chance to win this thing, close it out obviously and then have a chance to do some damage in the tournament, as well, too, because they should get an excellent seed."
The Cougars, of course, extended their own inauspicious streak by losing their 14th game in a row, which are the most consecutive losses since the Cougars lost 14 in 2002-03. WSU last lost 15 consecutive games during the 1999-2000 season.
WSU actually played even with the Ducks over the game's final 35 minutes. The issue of course is that at that point Oregon had already built a 17-3 lead. The Ducks dominated the interior on offense, with starting forwards Elgin Cook, Dillon Brooks and Chris Boucher combining to score 59 points.
"It was the same old thing that we've seen a lot this year, we had that stretch of the game (without scoring), and this time it was at the start of the game," Kent said."
A road game against the Pac-12's best basketball team was always going to be a pretty big dragon for the Cougars to slay, and the task became effectively impossible when Que Johnson picked up his fourth foul less than four minutes into the second half.
At that juncture no other Cougar had scored more than four points, and Johnson had 16 of WSU's 31. Although Johnson promptly drilled a 3-pointer after checking back in with about 10 minutes left in the game, at 8:52 he picked up his fifth, placing the offensive burden almost entirely on the shoulders of Josh Hawkinson (17 points).
Johnson finished with 19 points in 23 minutes. He is averaging 17.6 points over WSU's last five games, prior to that stretch he was averaging 9.7.
"I just wanted to be aggressive, I guess," Johnson said. "Coach said we need a third scorer, so I guess that was my role to be that guy."
However, as Kent noted, Johnson's recent scoring output has coincided with teams forcing the Cougars to play a slower, more methodical style of play. While that plays to Johnson's strengths, it has come at the expense of Ike Iroegbu, who is one of the team's best scorers but has not reached double figures in the team's last four games.
The Ducks spent most of the game in a three-quarter court press that appeared to confuse the Cougars in the first half, when they turned the ball over 10 times, which included two shot-clock violations.
"They were just trying to slow our break down, because they know we like to play fast," point guard Charles Callison said. "So they were just trying to slow us down and keep us in the half court game."
Kent said after WSU's Sunday loss to California that the team's younger, less experienced players will see more action during the remaining games and that bore out. Freshman guard Viont'e Daniels started and played 22 minutes, the most run he's had since Nov. 20.
First-year sophomore Derrien King played 25 minutes, more than he had in any game since playing 26 at Arizona State on Jan. 14. King scored 11 points, making 3 of 4 3-point attempts.
Wednesday's game saw the return of Callison, who missed the last four games with a concussion.
Local journalism is essential.
Give directly to The Spokesman-Review's Northwest Passages community forums series -- which helps to offset the costs of several reporter and editor positions at the newspaper -- by using the easy options below. Gifts processed in this system are not tax deductible, but are predominately used to help meet the local financial requirements needed to receive national matching-grant funds.
Subscribe to the sports newsletter
Get the day's top sports headlines and breaking news delivered to your inbox by subscribing here.
---