Records advocate wants all Spokane police body camera videos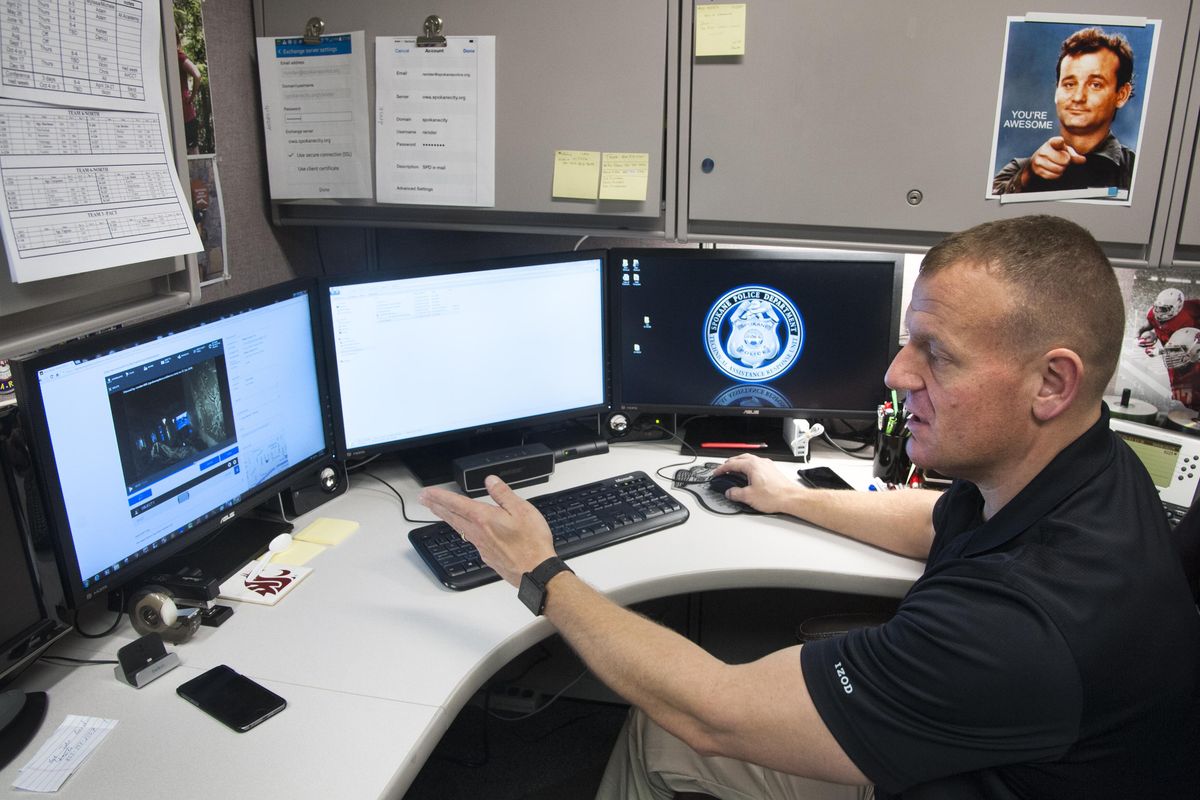 For months, Tim Schwering has been talking to Spokane's Public Safety Committee about a worst-case scenario for the police records unit he supervises.
Half of the department's 202 patrol officers have been wearing body cameras since May, and the other half started in December. As a result, Spokane now hosts what's almost certainly the largest collection of police body camera video in Washington: as of Wednesday there were 46,688 files totaling more than seven terabytes of video, almost all of which is a public record subject to disclosure.
Schwering, who directs the police Office of Professional Accountability, has often told City Council members it would be challenging and costly to fill a request seeking all body camera videos currently in storage. As of last week, that challenge is no longer theoretical.
Tim Clemans, a 25-year-old Seattle-area programmer and transparency advocate who's become notorious for filing thousands of broad records requests with cities and agencies in King County, emailed Spokane's police records unit Jan. 5 seeking all of Spokane's videos.
On Monday, Schwering gave the committee his best estimate on the time and cost of filling the request: a little over six years, assuming one person works full-time and processes 20 videos per day, at a salary cost of $628,000.
"The records unit within the police department is already understaffed as it is," he said.
Schwering said the department can't charge Clemans for staff time needed to fulfill his request.
"This is going to get very, very expensive for the citizens in this city," Councilman Mike Fagan said after hearing the estimate.
But the number could be much lower if the city uses software to automatically blur, mute and release videos en masse, which Clemans said is his goal. If the plan works, Spokane would become an early model for how Washington cities can handle broad body camera video requests.
Transparency crusader
Clemans' Twitter account says his life's mission is "to make government transparent by default." He's working to build a website called Inside Your Government, where he plans to post hundreds of thousands of spreadsheets, police reports and body camera videos – all searchable – so anyone with an interest in police or government affairs can easily find the information they need.
He first made headlines a little over a year ago, when he anonymously filed requests seeking all body camera footage with the roughly 10 Washington police departments that had them in use, including Spokane. He dropped most of those requests after negotiation, but Bremerton shut down its body camera program amid fears of more broad requests for video.
Seattle police, who were starting a pilot body camera program when Clemans filed a request seeking all their videos, took the unusual step of hiring him early last year.
"We had no way to go through and redact all of it so that it would meet the state standard, so we picked him up," spokesman Detective Patrick Michaud said. In the six months he worked for Seattle police, Clemans wrote software to automatically "overredact" videos – blurring the entire frame enough that faces and writing are not identifiable. Using that software, Seattle police were able to automatically post blurred copies of all body camera videos on YouTube.
That came in handy when Seattle police generated about 72 hours of video during the 2015 May Day protest. Reporters interested in the event were able to look through the blurry video on YouTube, see which parts of the tape were actually interesting, and file a narrow request for 17 minutes of video instead of forcing the department to go through all 72 hours by hand.
"When requesters were directed to the site, they were making very narrow, specific requests," Clemans said. He believes police departments can save time and money by putting more information online by default.
Only 12 Seattle officers ever wore body cameras, and Michaud said they generated a total of about 4,300 videos during the pilot program. Body cameras in Seattle are now on hold pending contract negotiations, he said.
Clemans said he quit the department after six months working there, frustrated by the politics and slow pace of implementing some of the changes he worked on. Since then, Michaud said, Clemans has filed several thousand records requests with the Seattle Police Department.
Bulk overredaction
Most body cameras used in the United States are made by Taser International, an Arizona-based company that also makes the electrical weapon of the same name. Taser has now developed software similar to Clemans' program for Seattle, allowing police to select videos in bulk on their storage website, Evidence.com, and blur and mute the footage automatically.
Spokesman Steve Tuttle said the features were added because of concerns from Washington customers about massive public records requests. In some cases, those concerns led cities to scrap body camera programs.
"Nothing comes close to what we saw in Washington," Tully said. "They have some of the most liberal records laws in the nation."
Clemans has requested Spokane police use those tools to provide him with overredacted footage where video is blurred and audio is muted. Technically, that's as simple as clicking a few buttons and letting Evidence.com do its work. But legally, the city is still unsure if it can release that video without having someone watch all of it and make sure it's correctly redacted.
The $628,000 price tag assumes someone has to be paid to watch all the videos. If Spokane can skip that step, it would significantly lower the cost, though no one is sure exactly how much.
Police records supervisor Mardee Ellis told Clemans in an email that she's still working that out with the city attorney's office.
"It would make it much quicker if we can go the Seattle route," she wrote to Clemans. If the answer is no, Clemans said he'll appeal, but withdraw the request if he can't persuade the lawyers to change their minds.
"I don't want to end body cameras. I want a way for the public to find 'interesting' videos," he wrote to Ellis.
Legislative action
Fears over requesters like Clemans already have led some legislators to seek changes in the state's public records law, a development open government advocates say is troubling.
One bill introduced this session would limit release of body camera video to cases where the requester can specifically identify a person or officer involved in the incident, or provide a case number. It would also allow a law enforcement agency to charge fees for redacting the video except in a few circumstances, including when the requester is a person involved in the video or their attorney.
"We think the Legislature may react to it now that they have a concrete example" of someone filing broad requests, said Toby Nixon, president of the Washington Coalition on Open Government's board and a Kirkland City Council member. "That could be very damaging to the news media, to the vast majority of citizens who use the Public Records Act responsibly."
Laws limiting body camera disclosure are being discussed in other states. An Indiana House committee voted earlier this week to advance a bill that would require people seeking body camera video to prove release is in the public interest.
Nixon said members of the coalition have met with Clemans and suggested he narrow some of his requests, including ones he's filed seeking to inspect every record ever produced by all 39 cities in King County.
"I also explained to him my perspective on how much damage he could do to the Public Records Act for everyone else, and he was basically not concerned about that," Nixon said.
Schwering said he thinks the Legislature could help ease the burden of providing large amounts of video, but isn't sure of the specifics he'd like to see in a bill. He would not favor a bill that restricts certain people from making requests for footage.
"If you want body cameras to be an accountability tool, it doesn't do any good not to release the video," he said.
Clemans is still waiting for Ellis to hear back from the city attorney's office before he decides how to proceed with Spokane police videos. He's unlikely to stop making broad records requests.
"I'm just a firm believer that everyone should have access to the same records at the same time," he said.
---