Sports
Julian Harrell fills void for Eagles
Wed., Jan. 27, 2016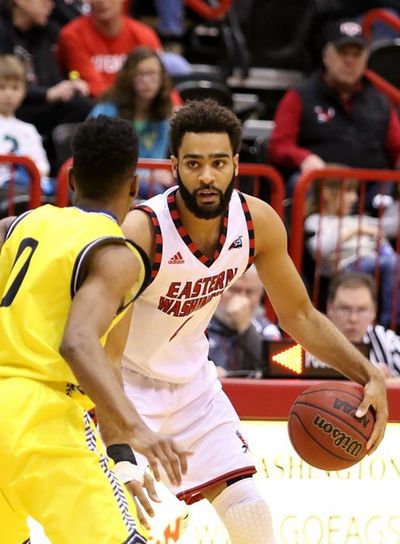 Coach Jim Hayford knew it even before Julian Harrell played a game at Eastern Washington.
By early January, Eagle fans knew it too.
"He's the missing piece," Hayford said after Eastern swept a trio of home games against Idaho, Southern Utah and Northern Arizona.
After missing a dozen games with an off-the-court wrist injury, Harrell looked like he'd been on the floor all year. Harrell got his first start against Idaho on Jan. 9, scoring 14 points and leading a defensive effort that held the Vandals to 33 percent shooting.
Through six games, Harrell is playing 22 minutes a game while averaging 9.8 points and shooting 55 percent from the field. At the same time, he's defending the opponents' biggest offensive threat. In other words, Harrell is doing a little of everything.
"He's a smart player and he knows how to digest a game plan," Hayford said. Harrell did that even as he was recuperating from surgery, making the most of a bad situation by standing on the sidelines observing "what works and what doesn't."
The 21-year-old Harrell is a quick study. He was smart enough to get accepted at Penn of the Ivy League and modest enough to say merely that he "did well enough on my SATs to get accepted."
Harrell, a 6-foot-5 wing from Los Angeles, redshirted as a freshman in 2012-13, then played sparingly the following year while enduring a knee injury. After deciding that Penn "wasn't the right fit," he transferred the following year to San Francisco City College, where former Eagles Collin Chiverton and Garrett Moon played.
After averaging almost 15 points and five rebounds at SFCC, Harrell looked for the right place to spend the last two years of his college career. He found it first on television.
Some of Harrell's friends also knew former EWU star Tyler Harvey. "They said, 'You have to watch this guy,'" Harrell said. While viewing the Eagles' NCAA Tournament game against Georgetown, he marveled that "the way they played, there was no fear – I like that about the team."
Mutual friends drew him and Hayford together, but even before that, Harrell was intrigued by Eastern's playing style. "They're one of the best offensive teams in the country," he said.
During his campus visit, Harrell was impressed with the program's family atmosphere. "On the court, you have to have real trust, knowing that you're going to war with dudes that you trust," Harrell said.
One of them was another transfer, point guard Austin McBroom; they played against each other in AAU ball. "I didn't know he was coming here when I committed, but now I finally get to play with him," Harrell said.
Getting on the court was another matter. Harrell said the pain in his wrist was nothing compared to the "frustration" of waiting for it to heal. That happened at the end of December, and Harrell saw his first action in a loss at North Dakota.
"We've been missing a piece," Hayford said after the Idaho game. "We were throwing different freshmen there trying to find that fifth piece, knowing it would be Julian. He's a really good player. That kind of rounded us off, and took away some of the bumps we were hitting."
There will be more bumps – the Eagles are 9-10 overall and 3-4 in the Big Sky going into Thursday's home game against Portland State – but Harrell is ready.
"I hate losing," Harrell said. "I try to be well-rounded … but I just really want to win more than anything."
Local journalism is essential.
Give directly to The Spokesman-Review's Northwest Passages community forums series -- which helps to offset the costs of several reporter and editor positions at the newspaper -- by using the easy options below. Gifts processed in this system are not tax deductible, but are predominately used to help meet the local financial requirements needed to receive national matching-grant funds.
Subscribe to the sports newsletter
Get the day's top sports headlines and breaking news delivered to your inbox by subscribing here.
---