Spokane Valley high school students learn about WWII from those who lived it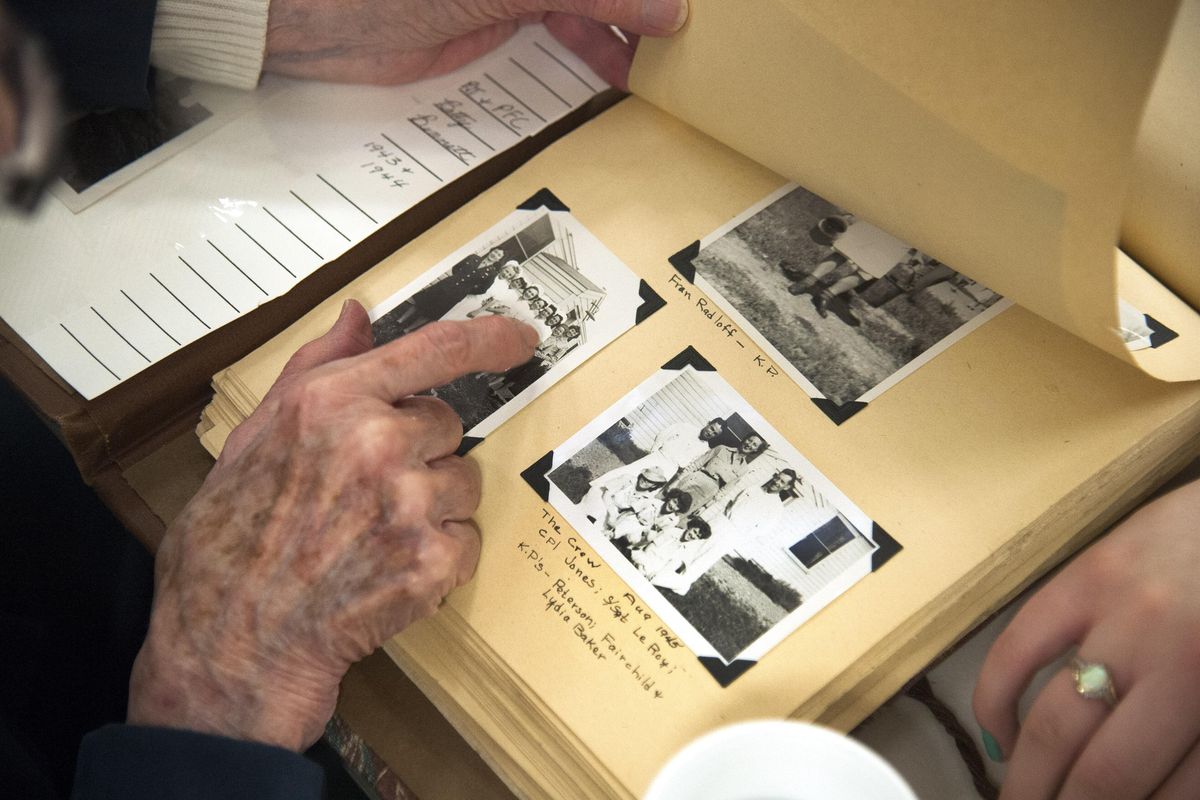 Harvard Park Retirement Community buzzed with energy and conversation Friday morning as 40 teens from Spokane Valley Tech and Barker high schools chatted with residents and guests.
This was no ordinary field trip. The students have been studying World War II history in a unit launched Dec. 7, the 74th anniversary of the attack on Pearl Harbor. The curriculum developed by teachers Karen Kielbon and Jana McKnight includes local author Carol Edgemon Hipperson's books, "Radioman" and "The Belly Gunner."
"Many teachers in the U.S. have added 'Radioman' or 'The Belly Gunner' to their students' reading lists," Hipperson said. "This is the first I've heard of a school choosing both as preparation for a field trip to a retirement community."
Instead of merely memorizing a list of historical dates and facts, Kielbon said her students are discovering "a more human picture of war."
For example, when learning about the nonaggression pact between Germany's Adolph Hitler and the Soviet Union's Joseph Stalin, Kielbon asked, "What were the people in your book doing when Hitler broke the agreement?"
The Lilac City Chapter of the national Pearl Harbor Survivors Association donated nearly $700 toward the purchase of the books.
In preparation for the visit to Harvard Park, students practiced interviewing techniques and developed questions to ask the 15 veterans and civilians they met.
Harvard Park residents were also briefed on what kinds of questions the students might ask. Many of them came prepared with photographs and scrapbooks.
Betty Graham showed pictures taken during her stint as a WAC. She served in the Women's Army Corps from 1943-1945. She laughed, pointing to a picture of her and several other women in uniform with their skirts pulled up a bit to show their military-issue underwear. They didn't have to hike their skirts up much.
"They gave us these awful long underwear," she said. "I asked my mom to send me some shorter ones."
She was quite young when she signed up, which prompted a student to ask, "Did you ever get teased because you were the youngest WAC in the unit?"
Jack Hawkins, who served in the Army from 1944-45 and the Army Air Force 1946-48, was asked a different question.
"Do you have any stories behind your tattoos?"
He slowly shook his head. "Noooo," he said. Then he shrugged. "I was young."
Jean Flechel, widow of a Pearl Harbor survivor, graduated from high school in 1942. She told students about being in a park across the street from the White House on VJ Day – the day Japan surrendered.
Travis Reeder, 18, interviewed her. "She said pandemonium broke out – guys were kissing girls they didn't know. She also told us how her husband was at the dispensary in Pearl Harbor and how he treated the wounded."
Tristan Vierth, 17, chatted with Marie Moe. "She had a brother who was deployed while she was still in high school," he said. "She said the hardest thing for her was watching him leave."
In addition to the sad goodbyes, Vierth learned about rationing and other difficulties of wartime life for civilians.
"Marie told us how they had to pool their ration cards together just to make a birthday cake," he said.
The memories of military service also struck a chord with the students.
Levi Meinzinger, 18, visited with Navy veteran Joe Glidewell, who was a corpsman injured by a mortar explosion in the Philippines in 1945.
"They don't view themselves as heroic or courageous," Meinzinger said. "They say they were just doing their part."
The students took careful notes and will write up their interviews and print them into booklets to give to the folks they met at Harvard Park.
As Hipperson walked around the room observing the students interacting with the seniors she said, "I think Ray (Daves) would be thrilled. This is exactly what he wanted."
She said the only reason Ray Daves ("Radioman") and Dale Aldrich ("Belly Gunner") agreed to let her tell their stories in the first place was her argument that an eyewitness account from an "ordinary" combat veteran would be welcome in American schools.
Hipperson hopes the student interviews will encourage other schools to arrange field trips to other retirement facilities in the region.
"They are such rich environments for learning the real story of what happens when America goes to war," she said.
Quinn Feider, 17, agreed. "This is way more valuable than the average history class. You get to experience and sense what it was like during this time. It paints a picture for you."
---