Sports > Seattle Mariners
Former Mariners star Ichiro still going strong with Marlins
Sat., July 2, 2016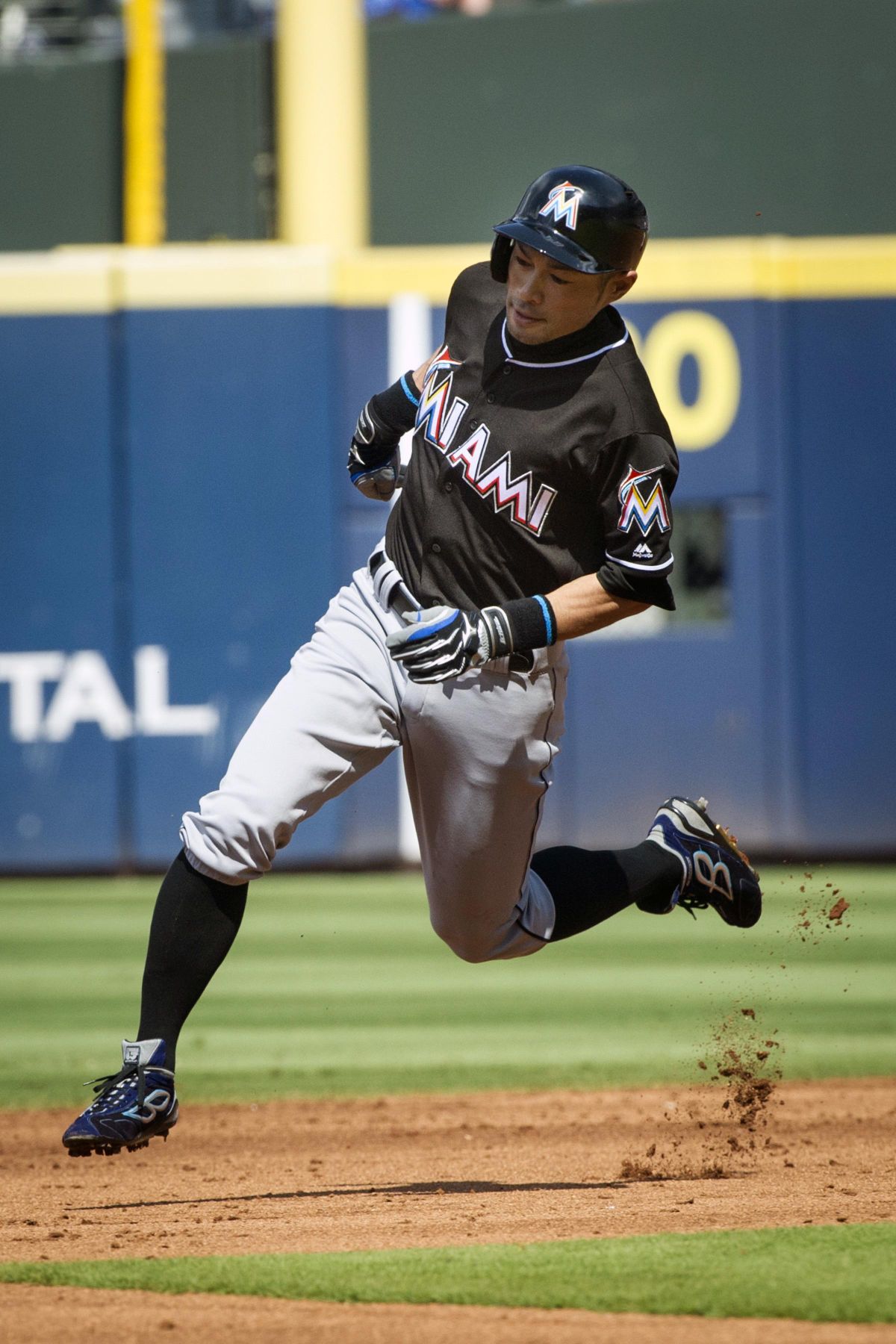 Miami Marlins' Ichiro Suzuki turns the corner at second base on an RBI-triple during the third inning of a baseball game, against the Atlanta Braves, Saturday, July 2, 2016, in Atlanta. (John Amis / Associated Press)
MIAMI – At times, it seems Ichiro is caught in some kind of bizarre time warp.
His body, at age 42, is as lithe and limber as ever. "If I ever get a belly, I will retire,'' he tells me, repeating a familiar refrain – but there's little chance of that, despite Ichiro's insistence, perhaps playful, that he now eats three cheeseburgers with fries for lunch on the road. I dare say he'll have a flat stomach at 52, 72 and 92.
When Ichiro steps to the plate, his idiosyncratic gyrations – the grand pinwheel of the bat, culminating with him pointing it at the pitcher almost like a telescope – are precisely the same as in his first Mariners at-bat on April 2, 2001, right down to the smoothing of the dirt.
Miami Marlins
The results this year certainly are vintage. After five consecutive seasons under .300 – the average that was a stone-cold lock for the first 17 years of his career in Japan and Seattle but seemed to have been lost forever – Ichiro was hitting .342 through Wednesday's games with a .417 on-base percentage.
That surge has put him just 12 hits shy of 3,000 hits, one of baseball's most hallowed milestones. And it has brought me to Miami to catch up with one of Seattle's most vaunted – and at times polarizing – athletes.
Life after the Mariners
Ichiro still has his home in the Seattle area, though he says he spends less time there than his wife, Yumiko, and their dog. (It's the same spitz named Ikkyu that Ichiro once said persuaded him to sign a five-year contract extension with the Mariners in 2007: "He said, 'Woof, woof, woof,' which meant, 'Stay, stay, stay.' Of course, I listened.")
Ichiro shows me the obligatory cellphone photo of Ikkyu, asks about the Mariners and expresses concern about Felix Hernandez's calf injury. But he points out that the connections to his Mariners era, which ended with his stunning trade to the Yankees on July 23, 2012, are diminishing.
When I ask Ichiro if he still thinks, with the passage of time, that he did the right thing by requesting the trade, I get a nostalgic dose of the Tao of Ichiro.
"It's tough to say one way or the other, because there's only one of me, and I can't take two paths,'' he says, as always through an interpreter. (Though during the course of our conversation Ichiro often answers, in Japanese, before Allen Turner has a chance to translate the question.)
Up close, there are a few more visible signs that age has indeed taken its toll, mostly the flecks of gray in his hair. And Marlins manager Don Mattingly would tell me later in the midst of rhapsodic praise of Ichiro, that he "probably" has lost a step.
"But he's still an above-average runner,'' Mattingly continued. "He's an above-average defender at three positions. He's throwing, I don't know if it's as good as ever, but he's still throwing well above average. And I said about a month ago, we've got to quit talking about his age, because if he was 32, no one would bat an eye. The fact he's been able to do all these things is a testament to him."
8 more years?
I ask Ichiro about a recent quote I read that he would like to play until he's 50. Is that accurate?
"At least 50,'' he responds.
When I chuckle, he shoots back, "It's not a joke. It's definitely not a joke."
He says he doesn't have concerns about his physical capability to play another eight years. The only comp for a position player in modern-day baseball is Julio Franco, who was productive into his mid-40s and played a few games at age 49 for the Braves in 2007.
"Mentally is where I think it can be tough,'' Ichiro said. "I think it's going to depend on what kind of teammates you've got, and what kind of organization you have."
Ichiro's teammates in Miami, where he's working on a one-year, $2 million deal with a 2017 option (bringing his career earnings in MLB to around $160 million), revere him. He's seen as not just a baseball savant but a respected elder who combines wisdom with an unexpected (to many) sense of humor.
There's none of the questioning of his methods that stained a stretch of Ichiro's time in Seattle, where some teammates viewed him – unfairly, in my opinion – as a selfish player. In a 2008 Seattle Times article, a clubhouse insider told Geoff Baker of Ichiro, "I just can't believe the number of guys who really dislike him. It got to a point early on when I thought they were going to get together and go after him."
The comments of reliever David Phelps, who has been Ichiro's teammate every season of his post-Mariners career, the first three with the Yankees and past two with the Marlins, are typical of what I get when canvassing the Miami clubhouse.
"You don't really get the fun side when you're playing against him,'' Phelps said. "You hear some stories, but the guy loves baseball. He loves to be a teammate. He's funny, too. He's just a good person. … He makes it enjoyable to come to the ballpark on a daily basis."
Marlins television broadcaster Rich Waltz, who worked on Mariners broadcasts early in Ichiro's career, believes Ichiro has changed in subtle ways.
"He's a lot more at ease with himself now,'' he said. "I remember in 2001 when he got there, he was under so much pressure. I don't think people realize the pressure he was under from his country, coming from Japan as their (Ken Griffey Jr.). If he had come over and failed in '01 and '02, that would have been just an incredible letdown for him and the rest of the country.
"Now when I watch him and see him interact with the younger players, he's much more at ease with himself and enjoying the game. That's the thing you realize about him, how much he loves the game. He'll run every ball down in the outfield in batting practice. He'll do his behind-the-back catches like in the old Mariner commercials and stuff like that. He'll joke with the other outfielders. I didn't see that early when he got to Seattle in '01 and '02.
'Happy' about Rose comments
Ichiro's pursuit of first Pete Rose's hit total (which he reached, appropriately, with an infield single in San Diego on June 15, his 4,256th hit combined between Japan and MLB; No. 4,257 was a double to the gap later in the game) and now 3,000 hasn't gained as much traction as you'd expect in Miami. In fact, says Waltz, "The biggest momentum you feel is from the clubhouse. He's genuinely loved by the players in here."
They faithfully gather the ball from every hit, with hitting coach Barry Bonds having the honor of presenting them to Ichiro. And they defend him against the recent remarks of Rose, who has argued that Ichiro's 1,278 hits in Japan are essentially invalid.
"I don't think you're going to find anyone with credibility say that Japanese baseball is equivalent to major-league baseball,'' Rose told USA Today. "I'm not trying to take anything away from Ichiro, but the next thing you know, they'll be counting his high school hits."
All of which Ichiro takes in with a typically unique interpretation. In his mind, this is Rose's method of paying homage to Ichiro.
"I was actually really surprised and happy that he was so serious about it, and so vocal about it,'' he said. "Because in the 16 years I've been here, what I've noticed is, usually, let's say Americans, if you're looking at another player, and you feel you're better than that person, then it's easy for that person to give encouragement or give praise to that player.
"But as soon as they're maybe at the same level or maybe they've passed that person, then they start becoming defensive and maybe stronger in their words. How I took it was, he really was interested and serious about that. He didn't just let me be. He got into it. I was really happy he actually was even acknowledging the fact it was happening.
"Some people have told me about five years ago he did an interview where he wished and hoped I could pass that number. I feel like back then he probably didn't think I could do it."
Doubters become believers
If there's one thing Ichiro thrives upon, it's defying expectations. That goes all the way back to his first spring in Peoria, Arizona, when Mariners manager Lou Piniella was fretting about his new outfielder who couldn't seem to pull the ball.
"I knew that coming in – here's this skinny Japanese guy coming into the big leagues,'' Ichiro said. "I knew the players and manager would be, like, 'Who is his guy?' And I was ready for it. I knew if I played well, and did what I needed to do on the field, I could turn those doubts into believers."
That didn't take long. Ichiro was a revelation from the start, winning the American League batting title at .350 and Most Valuable Player Award as a rookie with the 116-win Mariners in 2001. The season hits record (262) followed in 2004, as well as a streak of 10 .300 seasons, 10 All-Star Games and 10 Gold Gloves.
Cubs manager Joe Maddon, in Miami for a series with the Marlins, recalled those early Ichiro days from the perspective of an Angels bench coach in charge of defensive alignments.
"Wherever you were standing, he'd hit the ball someplace else,'' he said. "That's what I remember. It was uncanny how he would just hit line drives that would miss people, or ground balls and you couldn't throw him out."
In fact, Ichiro has amassed nearly 700 infield singles in his career, nearly 25 percent of his total. And sure enough, in one of the games I watch, he hits a grounder in the hole to Cubs shortstop Addison Russell, who hurries his throw so much it skips past the first baseman. Voila. Career hit No. 2,984 and a free trip to second base. Talk about a time warp.
The art of the infield single is a subject Ichiro is eager to talk about. I once dubbed him The Sultan of Slap, but there was a method to his madness.
"Sometimes it's not something I meant to do,'' he said. "But a lot of times, I'm trying to get those hits. When I do that, it can be really damaging to the pitcher, the infielders, the catcher. That's a gratifying feeling to me."
A pitcher can rationalize a home run he gives up on a hitter's count, Ichiro noted, because he had to groove it.
"But when I get my infield hits,'' he said, "it's the pitcher's count, he's trying to get that strikeout, and he's got the ball down and away where nobody can reach it. He made the right pitch, the pitch he wanted to make, and I get that infield hit. That can be really damaging and really have them thinking about that, which is satisfying."
Putting it in perspective
When I ask Ichiro what 3,000 hits mean to him, he ponders for a long time.
"I really don't know right now,'' he says finally, "but I think it's taken too long to get here. I said the same thing with the Pete Rose thing. … I felt I could have gotten there a lot faster."
He acknowledges that transitioning into a bench role the past three seasons has been a difficult adjustment, and learning the National League was a daunting challenge as well. Last year, he was unexpectedly thrust by a series of outfield injuries into a full-time job and hit .229 – an unthinkable number for Ichiro – in 153 games.
This year, however, Mattingly has found the perfect mix of playing time for Ichiro as a fourth outfielder, and his performance has sky-rocketed. His pursuit of 3,000 is not just a sideshow, either; it is happening in the context of a successful season for the Marlins.
"Last year was a recognition year for him,'' teammate Martin Prado said. "He took this offseason and pushed himself a little farther."
Ichiro doesn't believe he's working any harder, though he remains devoted to the elaborate exercise machines that he believes keep him loose and flexible. But he does acknowledge that he has his groove back.
"Not necessarily the numbers, but the way it feels when I hit the ball,'' he said. "That feeling of when you play the game, it's come back to me. That's what I'm most happy about it."
I ask him if he had lost that feeling.
"Obviously, if I'm thinking about it, today, I did, probably,'' he said. "I didn't have it. I lost it. But while I was going through it, I was still trying to get it. I didn't think I had lost it. But I can say that now."
And so now Ichiro is back in the national spotlight, a dangerous presence on the field and once again carrying the hope and pride of his nation. And once again, he is vaguely amused by the fuss he has engendered, much as he was as he went after George Sisler's hits record in 2004.
"I think it's funny,'' he said. "I just go about it the same way every single day. When things like this happen, the media comes, and they're really high. They're up here (raising his hand to eye level), and I'm here (waist level), just going at it. That gap is kind of funny to see."
But maintaining that gap, and being the calm presence in the eye of the storm, has allowed Ichiro to thrive in his 40s and perhaps will push him to age 50.
"If I was the type that was up and down, I don't think I could have lasted this long,'' he said.
Ichiro isn't going anywhere any time soon. He's enjoying the Miami lifestyle, becoming a convert to Cuban cuisine. He feels blessed to have played his career in three culturally unique cities.
And on the fast-approaching day he becomes the 30th major leaguer to reach 3,000 hits, cinching an already ironclad Hall of Fame case, Ichiro will think back to those early days of doubt and angst in Seattle.
"When you think about how I started, and now I'm at this stage of my career, kind of leading up to this 3,000 number, I guess I can say I do have pride in what I did,'' he said.
Local journalism is essential.
Give directly to The Spokesman-Review's Northwest Passages community forums series -- which helps to offset the costs of several reporter and editor positions at the newspaper -- by using the easy options below. Gifts processed in this system are not tax deductible, but are predominately used to help meet the local financial requirements needed to receive national matching-grant funds.
Subscribe to the sports newsletter
Get the day's top sports headlines and breaking news delivered to your inbox by subscribing here.
---