Sports
MLB Notes: C.J. Cron goes 6 for 6 in Angels 21-2 pounding of Red Sox
Sat., July 2, 2016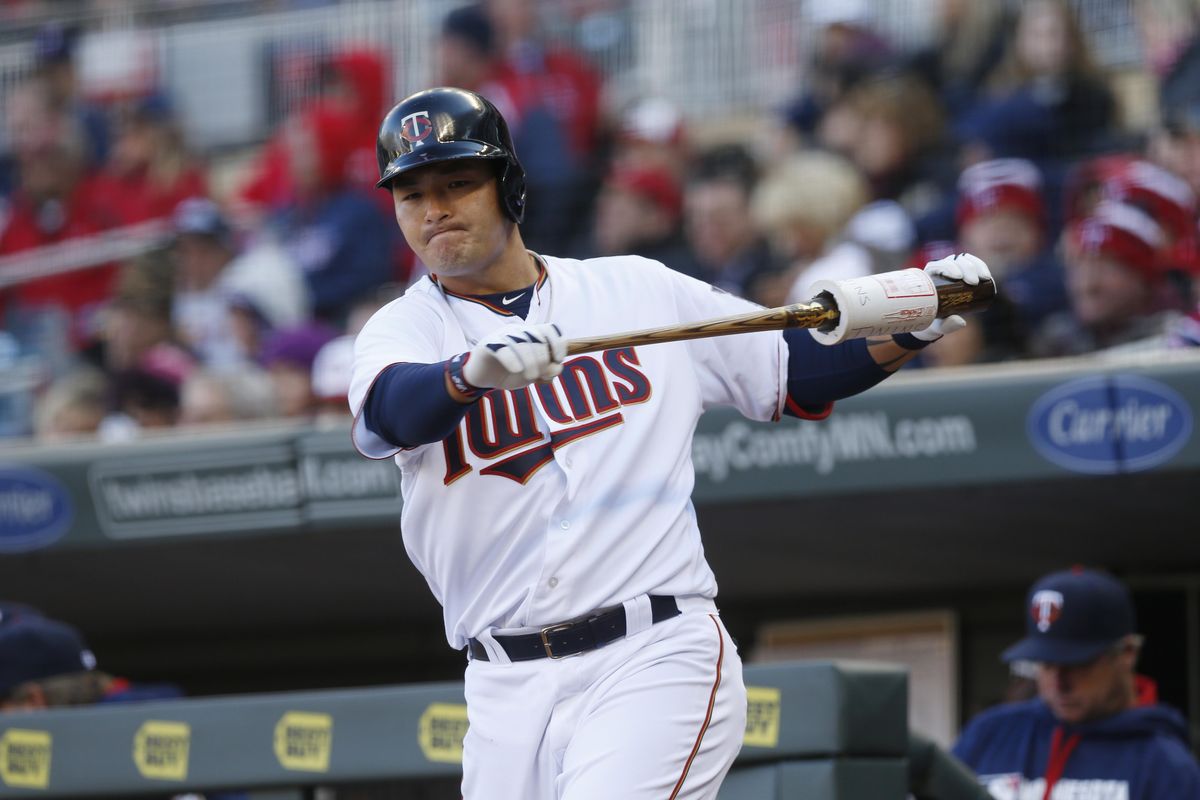 Minnesota has sent struggling South Korean Byung Ho Park to the minor leagues after he hit 191 through his first 62 games. (Jim Mone / Associated Press)
BOSTON – C.J. Cron went 6 for 6 with two homers and five RBIs, Carlos Perez had five hits and drove in six and the Los Angeles Angels walloped the Boston Red Sox 21-2 on Saturday night to end a four-game losing streak.
Albert Pujols hit his 575th career homer – a two-run shot – and had five RBIs for the Angels, who had lost 10 of their last 11 games.
Cron and Perez both homered during an 11-run seventh inning. They are the first set of teammates with at least five hits and five RBIs in the same game since Gene Moore and Buck Jordan for the Boston Braves in 1936, according to ESPN.
It's the sixth time the Angels reached 20 runs, the last coming against Kansas City on Aug. 25, 2004. The club record for runs is 24, set at Toronto on Aug. 25, 1979.
Mookie Betts had a solo homer and three hits for Boston, which won the series opener after losing four of five.
Red Sox outfielder Ryan LaMarre pitched the ninth, giving up no runs and two hits.
Hector Santiago (5-4) got the win, holding the majors' highest scoring team to one unearned run and four hits over six innings.
Clay Buchholz gave up six runs – three earned – in 4 1/3 innings.
With Los Angles leading 4-0 in the fifth, Perez's three-run double capped a five-run inning that broke it open. Buchholz (3-9) was lifted with runners on first and second with one out. Travis Shaw then fired high to second for an error on a probable double-play grounder by Pujols, with the relay late to first. One out later, Cron hit his two-run single.
Johnny Giavotella singled to re-load the bases before Perez cleared them with a double off the center-field wall.
Cron homered over the Monster in the fourth to make it 4-0.
Baker talks about Harper's hustle
Nationals manager Dusty Baker says he spoke with Bryce Harper for not immediately running on a long hit in Friday night's 3-2 win over the Reds.
Harper had two singles against Cincinnati, but one of them probably should have been at least a double.
Leading off the fourth, the reigning NL MVP hit a liner that appeared headed for the seats but instead struck the top of the wall in center field. Harper admired the drive too long and was barely past first base by the time the ball was returned to the infield.
Baker said before Saturday night's game: "Come on, you know I wanted to see him on second and I addressed it, and Bryce told me that he knew he was wrong and said it won't happen again."
A's land a top Cuban prospect
The Oakland Athletics have landed another top Cuban prospect, agreeing to terms with versatile outfielder Lazaro Armenteros on Saturday.
He receives a $3 million signing bonus from Oakland, which originally signed Yoenis Cespedes before the 2012 season.
The 17-year-old Armenteros, a right-handed hitter with speed and a body A's assistant general manager Dan Feinstein likened to that of "a young Frank Thomas," batted .462 for Cuba in the 15-and-under World Cup in Mexico two years ago. He hit .416 with a league-leading six home runs in Cuba's 15-and-under league.
"To say we are excited to add this level of talent to our minor league system would be an understatement," Feinstein said. "Our International scouts work tirelessly throughout the year, and it's great to see those efforts rewarded."
Local journalism is essential.
Give directly to The Spokesman-Review's Northwest Passages community forums series -- which helps to offset the costs of several reporter and editor positions at the newspaper -- by using the easy options below. Gifts processed in this system are not tax deductible, but are predominately used to help meet the local financial requirements needed to receive national matching-grant funds.
Subscribe to the sports newsletter
Get the day's top sports headlines and breaking news delivered to your inbox by subscribing here.
---