News > Idaho
What's growing in that there field? New signs tell the story
Sat., July 2, 2016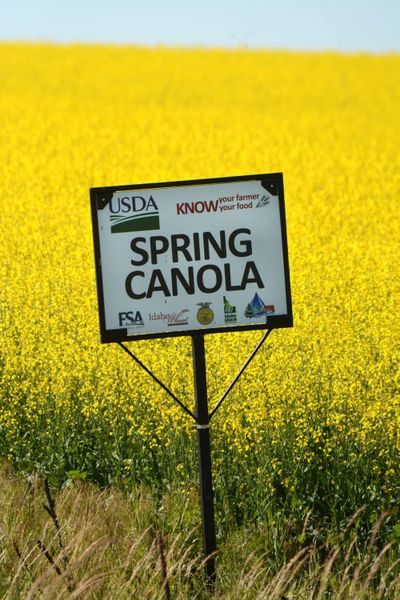 GRANGEVILLE, Idaho – If you've ever driven by ripening grain fields and puzzled over what's growing there, the U.S. Department of Agriculture's Farm Services Agency has a solution for you.
This year, shortly before Memorial Day, signs identifying the various crops that are grown in Idaho and Lewis counties began sprouting up along U.S. Highway 95, state Highway 162 between Grangeville and Nezperce and in some spots beside U.S. Highway 12.
It's a project sponsored by the Idaho and Lewis counties' farm agency offices, said Julie Fowler, executive officer for the Idaho County office.
"It was an outreach project," Fowler said. "We have a lot of people who will come in and ask us what crops are planted. So this lets people know this is canola or dark northern spring wheat, or whatever.
"It just brings an awareness of it. A lot of people don't know what kinds of crops are planted in Idaho, so this gives us an idea of what we do in Idaho County."
Lewis County has planted the crop signs since 2014.
Kaci Ralstin of the county's farm agency office said: "We've had tons of compliments on them and it's a project we enjoy doing."
The idea came from the U.S. Department of Agriculture's Know Your Farmer, Know Your Food program, Ralstin said.
"The reason I started this project, I thought the signs would be a great way to show the public local crops that are growing throughout the area," Ralstin said.
Each county has produced 30 signs at a cost of about $100 per sign. Funding for the Idaho County signs comes from the agency, the Idaho Wheat Commission, Idaho County Soil and Water and the Idaho County Grain Producers.
In Lewis County the underwriters include the agency, the Idaho Wheat Commission, Hillco Technologies and the Nezperce FFA chapter.
Industrial technology and FFA students at Grangeville and Prairie high schools, as well as the Nezperce FFA chapter and agency employees, did the metal work and built and distributed the signs.
Fowler said the signs were erected in mid-May and probably will be removed before harvest begins.
"I'd like to leave them, but I think they might get in the farmers' way when they harvest," she said.
Local journalism is essential.
Give directly to The Spokesman-Review's Northwest Passages community forums series -- which helps to offset the costs of several reporter and editor positions at the newspaper -- by using the easy options below. Gifts processed in this system are not tax deductible, but are predominately used to help meet the local financial requirements needed to receive national matching-grant funds.
Subscribe now to get breaking news alerts in your email inbox
Get breaking news delivered to your inbox as it happens.
---