Sports
MLB notes: Pitchers Max Scherzer, Bartolo Colon selected as All-Star Game replacements
Fri., July 8, 2016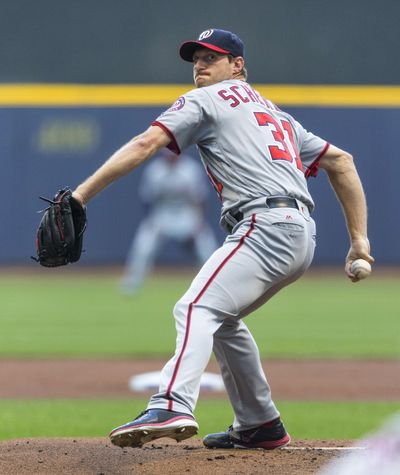 Bartolo Colon and Max Scherzer are headed to the All-Star Game, picked as replacements for other pitchers originally selected for the National League team.
Major League Baseball also announced Friday that Toronto Blue Jays outfielder Michael Saunders and San Francisco Giants first baseman Brandon Belt won the final two All-Star roster spots, elected by fans in online balloting.
Saunders joins the American League team, while Belt gets a slot on the N.L. squad.
The 43-year-old Colon was chosen to replace Madison Bumgarner in Tuesday's showcase in San Diego because the Giants ace is scheduled to pitch Sunday against Arizona. A fan favorite with the New York Mets, Colon is 7-4 with a 3.28 ERA.
Scherzer will substitute for Washington Nationals teammate Stephen Strasburg, who came off the disabled list Sunday and won't pitch in the All-Star Game as a precaution. The Nationals say Strasburg, who is from San Diego, plans to attend the game.
Crisp, Stanley receive suspensions
Oakland Athletics outfielder Coco Crisp has been suspended for one game for intentionally throwing his bat toward home plate umpire D.J. Reyburn.
The bat hit Reyburn's foot after Crisp struck out to end the fifth inning of Oakland's 3-1 victory at Houston. Crisp was ejected following his third strikeout of the game.
Crisp apologized after the game and said he didn't mean for the bat to end up so close to Reyburn. He said: "That was pretty bad. Just also to let him know that I didn't want it to come out where it was going to hit him."
Free-agent catcher Cody Stanley has been suspended for 162 games by MLB for testing positive for the same performance-enhancing substance that generated a previous positive test and suspension last year.
Stanley tested positive for dehydrochlormethyltestosterone, an anabolic steroid used to increase speed and strength. The 27-year-old Stanley made his major league debut with the St. Louis Cardinals last year but was suspended for 80 games in September after he tested positive for the same steroid.
Stanley says in a statement released by the players' union that he "will never apologize for something I didn't do."
Rounding the bases
The Padres agreed to terms with 17-year-old Cuban pitcher Adrian Morejon, pending a physical. The left-hander led Cuba's 15-under league with 113 strikeouts in 68 innings in 2014, and had a 1.93 ERA while issuing 40 walks. … The Cleveland Indians traded utilityman Michael Martinez to the Boston Red Sox for cash. Martinez batted .283 with one home run and three RBIs in 32 games for the Indians this season. … The New York Mets say Matt Harvey will have season-ending surgery for his thoracic outlet syndrome injury. The team says the operation will be performed in St. Louis by Dr. Robert Thompson but didn't announce a date.
Local journalism is essential.
Give directly to The Spokesman-Review's Northwest Passages community forums series -- which helps to offset the costs of several reporter and editor positions at the newspaper -- by using the easy options below. Gifts processed in this system are not tax deductible, but are predominately used to help meet the local financial requirements needed to receive national matching-grant funds.
Subscribe to the sports newsletter
Get the day's top sports headlines and breaking news delivered to your inbox by subscribing here.
---