News > Spokane
Riverfront Park groundbreaking celebration finally arrives
Fri., July 8, 2016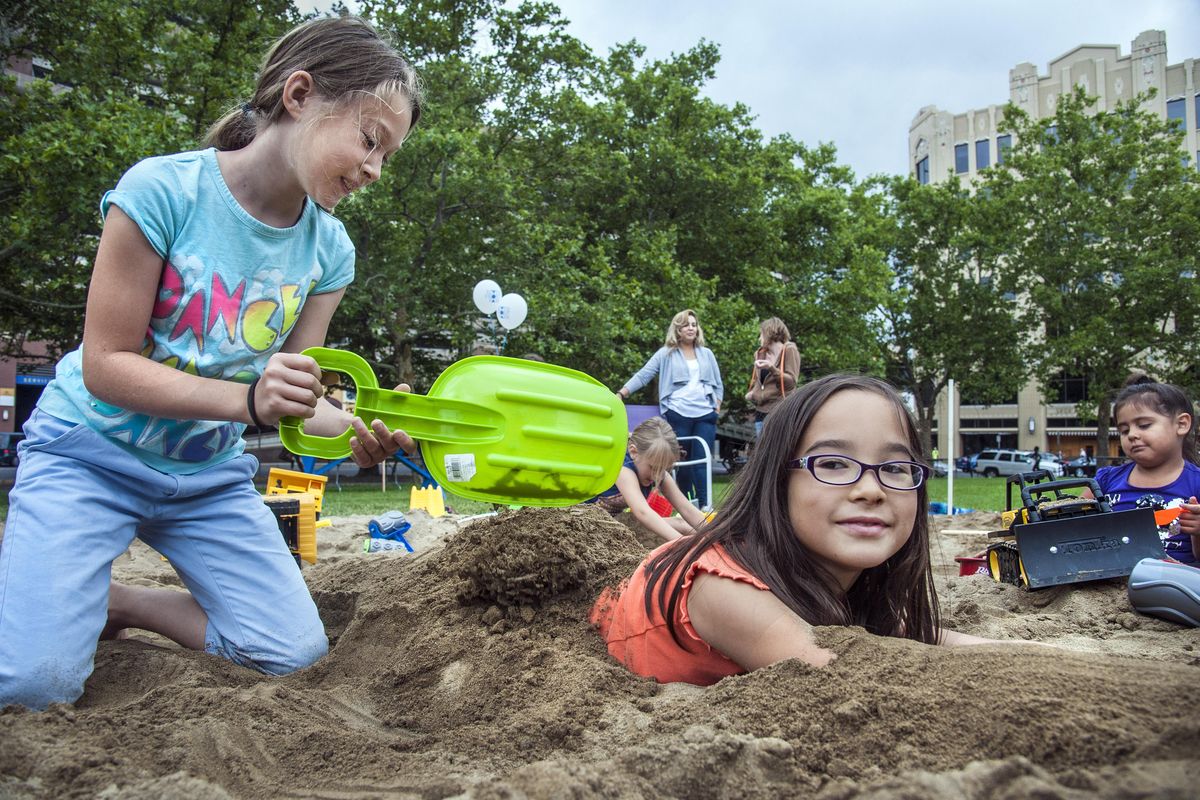 Serena Takekoshi, left and her sister Lela, of Manchester, New Hampshire, are up to their knees and elbows in fun as they play in the 30-ton sandbox in the Gondola Meadow, July 8, 2016, in Riverfront Park. A kickoff celebration for construction of the park's renovation also included a beer garden, live music, and a field of ping pong tables painted by local artists. An ice ribbon skating rink is planned for the area of the sandbox. (Dan Pelle / The Spokesman-Review)
When you have been waiting 613 days for the Riverfront Park renovation project to begin, it calls for a party.
A member of the Spokane Tribe sang a blessing and politicians spoke before a ceremonial groundbreaking on the $64.3 million project took place in the Gondola Meadow on Friday afternoon. A five-hour celebration followed that included live music, a beer garden, a 30-ton sandbox and an interactive rendering of the planned park improvements paid for by a voter-approved bond.
Also on hand was Mary Cole, daughter of King Cole, who was the president of Expo '74 – the World's Fair that saw the area transformed from a railroad yard to a grand park.
"This park holds a very special and sentimental place in my heart," she said.
Cole called Riverfront Park a gem and said her father would be pleased by the planned improvements. "It's time for some much needed polish and shine," she said.
Spokane Mayor David Condon said the goal is to update and improve the park for the next generation.
"This downtown gem hasn't had a significant upgrade in 42 years," he said. "Thank you for trusting the city with a significant investment."
The redesign has been delayed by concerns over unanticipated costs to repair the park's aging bridges. Construction will begin with demolition of the South Howard Street bridge, which spans the Spokane River channel north of the Rotary fountain. Workers also will begin construction on the $2.2 million ice-skating feature – an "ice ribbon" – in the Gondola Meadow this year.
A new building to house the historic Looff Carrousel and work on the north bank of the Spokane River will follow next year, at a cost of $8.5 million and $6.5 million, respectively, according to planning documents. An overhaul of Havermale Island, including the construction of a new concert pavilion, an event center and improved playgrounds, will follow in 2018 and 2019. That work is expected to cost about $23 million.
The 100-acre park, constructed for the World's Fair, will remain open for events throughout the five-year construction project. Planners have said they are seeking private funding for additional improvements not included in the 2014 bond measure.
The park's redevelopment has been plagued by resignations of key officials and disagreements over the costs of design. But in a column submitted to The Spokesman-Review earlier this summer, Spokane Parks Director Leroy Eadie and Park Board President Chris Wright wrote they are committed to transparency and completing construction on time, which is scheduled for 2019.
Local journalism is essential.
Give directly to The Spokesman-Review's Northwest Passages community forums series -- which helps to offset the costs of several reporter and editor positions at the newspaper -- by using the easy options below. Gifts processed in this system are not tax deductible, but are predominately used to help meet the local financial requirements needed to receive national matching-grant funds.
Subscribe now to get breaking news alerts in your email inbox
Get breaking news delivered to your inbox as it happens.
---